CASC-OR Regional Autoslalom - Event 1&2 - St. Lac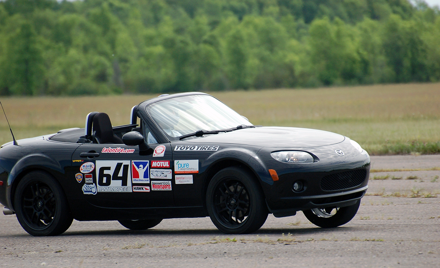 CASC Ontario Region - Autoslalom
Saturday, May 25, 2019
Picton Airport
,
Picton

,

ON
Registration closed May 25, 2019 10:00 PM on May 25, 2019 10:00 PM EDT Registration ends May 25, 2019 10:00 PM on May 25, 2019 10:00 PM EDT Registration opens April 17, 2019 10:00 AM on April 17, 2019 10:00 AM EDT Registration runs from April 17, 2019 10:00 AM to May 25, 2019 10:00 PM
St. Lac is pleased to present the first two rounds of the 2019 CASC Ontario Regional Autoslalom Championship! This could be the last Picton event ever!
Important Information:
All three air strips will be used for the course on Saturday and on Sunday the course will be reversed.

We will have Security on duty over both Friday and Saturday nights to ensure safety of both the venue and competitors equipment.
Unfortunately, camping on site is NOT allowed by local by-laws.
Pre-registration is MANDATORY and day of entries may not be allowed. Registration closes at 9 p.m. on Friday May 24.
If paid online in advance general entry fees are:
$60 per single day and $110 for both days.
$50 per single day and $90 for both days for CASC-OR Regionally Registered Competitors.

If paid in person general entry fees are:

$70 per single day.
$60 per single day for CASC-OR Regionally Registered Competitors.
We use SCCA classing and their rulebook can be found at https://www.scca.com/pages/solo-cars-and-rules
If you need help with classing or registration, please email the registrar or you can join us on the CASC-OR Autoslalom Facebook group at http://www.facebook.com/groups/748795628486875/
The events will NOT stop for lunch to ensure our daily target of 6 official runs. A caterer will be present to serve lunch from approx 10 AM to 2 PM on both days. 

 

Portable toilets will be on site.

Loaner helmets will NOT be available.

Registration will be in a trailer in the paddock

.

Pre-grid and grid spots will be assigned.

Start and Finish will be at the westerly end of the converging active air strips.
Event Schedule:
7:00: Registration Opens
8:30: Registration Closes/Driver's Meeting
9:00: Course Drive
9:30: Marshalling Assignments/Competitors Line Up
10:00: First Car on Course
Visiting Prince Edward County and Picton, Ontario
Picton is located in Prince Edward County, which is a beautiful tourist area and is rapidly developing a significant wine making industry due to its unique ecology. If you are entering both events and consequently staying over the weekend, many hotels/motels are available in the area. Information on the Picton area can be found at http://www.pec.on.ca/picton.
The airfield has been used for scenes in many Movie and TV shows with The Discovery Channel TV series "Canada's Worst Driver" being one of the most recent. Incidentally, the OPP and RCMP conduct some of their high-speed car training on the same airfield sections that we will be using. As the airport was designed for the heavier demands of bomber training during WWII, the foundation and surface have survived quite well. Moreover, there is a certain "ambiance" about the place with all the old hangers and military camp buildings. It's believed that the airfield's unofficial on-site dump is the home to a V2 rocket smuggled home from the war by none other than Farley Mowat. A simple online search can point you in the right direction.
Where to Say: There are few places in North America as beautiful as Sandbanks Provincial Park. You can find out more at https://www.ontarioparks.com/park/sandbanks Those of you who would describe themselves as indoorsy, can find information for this option at http://prince-edward-county.com/item/town-of-picton/
What to Do: Whether its camping for the kids, visiting the Lake on the Mountain, seeing the Bay of Quinte from above no visit is complete without some antique shopping (downtown) or dropping by one of the many area wineries.
Hope to see you there!