About this event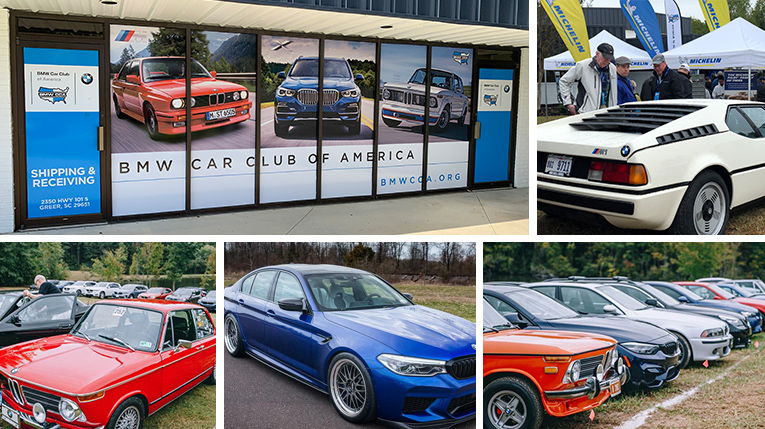 Cars & Coffee At BMW CCA National Headquarters, October 24
We have some exciting news to share! The club will host a Cars & Coffee event at the national headquarters in Greer, South Carolina, on Saturday, October 24 from 9 to 11 am, as part of the FoundationFest weekend. We know so many of you are excited to share your BMW passion again with fellow enthusiasts and the time has finally come! Set your navigation to the BMW CCA national office at 2350 Highway 101 S, Greer, South Carolina 29651!
Located just 3 miles from the BMW Performance Center and the Foundation, the national office will welcome all members to display their BMWs, MINIs, and BMW Motorcycles on the lawn Saturday morning. In addition, the club's lifestyle store will be open, so you can pick something up from our latest collection of official BMW CCA apparel and accessories. Plus, this year's incredible Grand Prize raffle car—the 1-of-1 BMW CCA Edition M5 Competition Build by Turn 14 Distribution—will be on display in the garage. We'll also have a coffee and donut truck onsite to fuel your caffeine and sugar intake!
Registration Info
Parking in the Cars & Coffee is $10 per car, which includes a swag bag with $5 coupon for the onsite BMW CCA Store. Cars & Coffee parking is limited to 200 spaces, so make sure to register soon. Spectator admission is free and general parking will be available across the street.
Food Drive: Bring Non-Perishable Food To Benefit United Ministries
During the event, we will be holding a food drive to benefit the food pantry of United Ministries. Please bring non-perishable cans and dry goods. Many families are in a tough spot during this time and we'd like to help out.
Here are some examples of needed goods:
Canned meats (beef stew, tuna, chili)
Canned fruit and veggies (green beans, peas, corn)
Dry goods like pasta, cereal, beans, peanut butter, powdered milk
Others: rice, noodles, mac & cheese
Event requirements
Health & Safety
For the health and safety of our fellow members, guests, and staff, the use the face coverings is encouraged during the event.
Please make plans to join us at the epicenter of all things BMW in the U.S. on Saturday, October 24! We look forward to seeing you soon!