CAL CLUB Autocross Double Test n' Tune June 20-21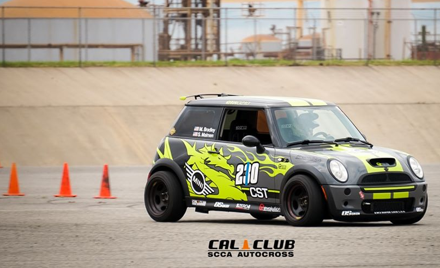 SCCA - Cal Club Autocross
Saturday, Jun 20 — Sunday, Jun 21, 2020
Auto Club Speedway
,
Fontana

,

CA
Registration closed June 19, 2020 11:59 PM on June 19, 2020 11:59 PM PDT Registration ends June 19, 2020 11:59 PM on June 19, 2020 11:59 PM PDT Registration opens June 11, 2020 12:00 AM on June 11, 2020 12:00 AM PDT Registration runs from June 11, 2020 12:00 AM to June 19, 2020 11:59 PM

We are happy to announce our return to autocross with a special double Test n Tune weekend to be held at Autoclub Speedway in Fontana, CA on June 20-21, 2020.
NOTICE: Due to the current COVID-19 situation we will be modifying some of our operating procedures. Prior to completing your registration please take a moment to read through the guide attached below.  It details our response plan which is required by Autoclub Speedway.  Take special notice of our new policy regarding spectators.  To stay in conformance this event WILL BE CLOSED TO SPECTATORS.  Please do not bring your family, friends, etc. unless they are registered participants!
Autocross, aka Solo, is a timed competition that challenges drivers to a course marked by cones laid out on an asphalt parking lot or a concrete aircraft runway. Safety is emphasized because cars enter the course one at a time and are spaced out to minimize risks to competitors and event workers. A key emphasis is placed on handling and car control, which breeds some of the most intense competition down to the hundredth or thousandth of a second! Learn more about us at solo2.com.
Cal Club Autocross is sanctioned by the Sports Car Club of America (SCCA). The Sunday Autocross and Saturday Test n Tune are open to all SCCA members. If you're not an SCCA member, do not worry. During the online registration process, you can buy a weekend membership that goes towards an annual membership should you decide to join later!
Saturday and/or Sunday Test n Tune—June 20th & 21st
The purpose of Test n Tune days are for drivers to test and tune setup changes. There is no live timing on Test n Tune days, and the times are not audited or posted online like they would be for our Championship Sundays (but you will get time slips).
Space is capped to ensure a lot of runs, so be sure to register early for your best chance at acceptance. Registering for the event late DOES NOT GUARANTEE YOUR ENTRY. However, once you are on the confirmed entry list, your entry is then guaranteed. To avoid confusion once the practice sells out, we have added a new 'Waitlist' registration option. If the Test n Tune is sold out by the time you register, the only registration open will be for the waitlist. 
The Details 
People usually get 12 runs
Work assignment is required
Bring water and snacks
No overnight camping allowed (you may leave your car and gear on site, however)
If you bring an EZ-up, you must have 50 pounds of ballast at each corner
Schedule (subject to change)
7:00 am—Tech/registration opens; course opens for walking
8:00 am—Course closes for walking
8:10 am—Mandatory driver's/safety meeting
8:20 am—First group workers check-in; tech/registration closes
8:30 am—Run groups begin
Fees (Unlike Championships, cancellation deadline is 11:59:59pm the Wednesday before the event)
Single entry—$80
Split Entry—$95 (two drivers sharing the same car, one set of ~12 runs, and one normal work assignment)
Junior Karts are currently suspended by the SCCA
An SCCA membership is required

If you're not an SCCA member, you will need a weekend membership for $15 during the checkout process. This membership is good for the entire weekend, both Saturday and Sunday. Your first two weekend membership can also go towards an annual SCCA membership should you decide to join later! Some restrictions do apply. See https://www.scca.com/pages/member-benefits for details. 
Note: Once on the entry list, your credit card will be charged unless your cancellation is received by Wednesday midnight, prior to the event. There will be no refunds or credits after that time.
Weekend Details
When you arrive
Sign the event waiver at our entrance gate
Register
Tech your car 
Walk course (there will be no parade laps, this is your only chance to see the course before you run) 
Driving Directions
Exit 210 or 10 freeways at Cherry, then head South (from the 210) or North (from the 10). You will see the large entryway gate. Tell the guard you are with the SCCA, they will tell you which lot we are in (usually we're in Lot 6).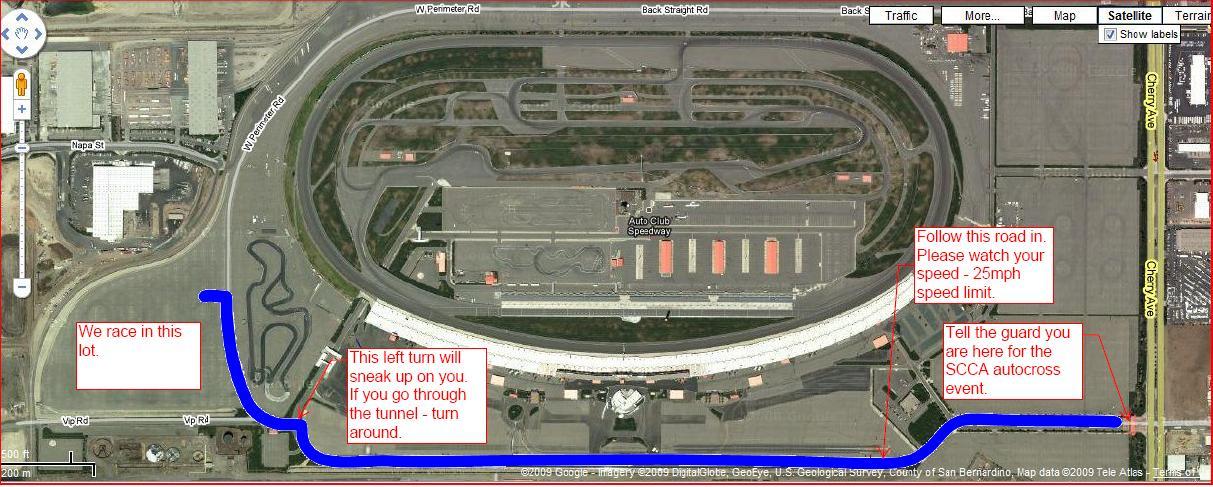 Event Chiefs
Event Master - Randy Gonzalez
Registration - Laura Corodimas/Chelsea McBride
Timing and Scoring - Rick Brown
Course Designer - TBD
Workers - Neelu Yeoh
Tech - Kyle O'Rourke
Gate -  Xavier
Novice Coordinator - Leonard Cachola
Safety Steward - Stephen Yeoh