About this event
The Autocross Series is open to Boston Chapter BMW CCA members. If you are not a member of the Boston Chapter BMW CCA, you may join for only $58 per year. If you are a BMW CCA member, you may add the Boston Chapter to your current membership. You do not have to own a BMW to be a member of the BMW CCA.
IF YOU CAN'T REGISTER AND ARE NEWLY SIGNED UP, IT TAKES A FEW DAYS TO VERIFY MEMBERSHIP
All events are held at Moore Airfield in Ayer, Massachusetts (entrance at 90 Fitchburg Rd., Ayer, MA).
Schedule: This is an all-day event with two running sessions and two working sessions. Please do NOT sign up if you cannot stay the full day.
Gates Open: 7:00 AM
Tech Inspection: 7:15 - 8:00 AM
Drivers Meeting: 8:00 AM
Course Walk: after the Drivers Meeting
First Car Off: 9:00 AM
Event concludes: between 4:30 PM and 5:30 PM
You must sign the Speedwaiver prior to the event, the link is on the event page and will also be emailed out in the DOE (day of event) email.
All participants must classify their cars before registering for this event:
Read the Autocross Classing Rules: Autocross Classes
Access the online classification system here: Classification
Complete the IMF Form : IMF Form (Please email the form to bmwcca.boston@gmail.com)
If you have any issues accessing the classification system, please contact autox_registrar@boston-bmwcca.org
Please also read the Autocross Policies & Rules here: Boston BMW CCA Autocross
Click here to add BMW CCA Boston Chapter Autocross to your account.
Event requirements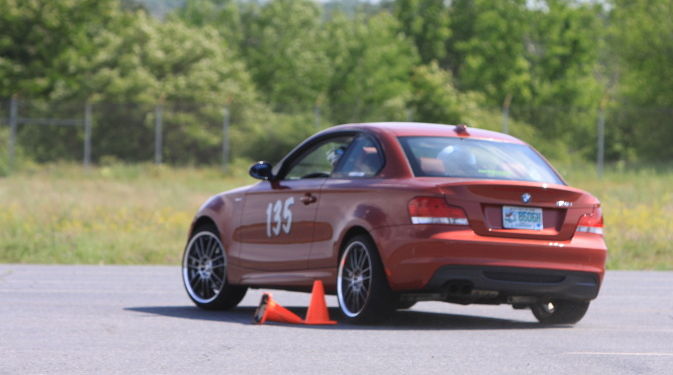 Cost: $60 (Payment is required when registering - cash or checks are not accepted).
Payments
Payments are processed upon close of registration, you are NOT charged until registation has closed. Credit will be issued if you cancel prior to registration closing. Credit is good for that one calendar year. If you cancel AFTER the close of registration, or you do not show up, no refund or credit will be given.
Eligibility
Licensed drivers 16 years old or older are welcome to participate in our driving events. All participants, guests, and spectators 16 or older must sign the waiver of liability form. Everyone under 16 must have a parent or guardian sign a release form at the site. The forms are signed when you enter the gate at the autocross site.
Please note that no one under 16 is allowed as a passenger. Backseat passengers are not allowed. Also, only registered drivers are allowed out on course, guests must stay in the paddock area. Children and dogs must be attended at all times.
BMW CCA Membership
You must be an active BMW CCA member to participate in our driving events and Motorsportreg.com will verify your member number automatically. Please follow this link to join if you are not a BMW CCA member or you need to renew: BMW CCA. If you are a BMW CCA member, you may add the Boston Chapter to your current membership.
Proxy Drivers
Proxy drivers are not allowed. By signing up for this event, you are guaranteeing that YOU are the driver who will be attending the event. You may not register yourself and have some other person attend the event in your place. If you do, the person at the event will be immediately removed and you will be prevented from attending future autocross events.
Car Numbers
Driver numbers are unique and held for 3 years. You may choose your number from the available drop down menu, Please contact: autox_registrar@boston-bmwcca.org if you have questions.
Tech Inspection Checklist
Your car must be in good condition and it must pass the on-site technical inspection to participate in the event. Vehicles are allowed to run at the sole discretion of the Autocross Chair.
A tech inspection sticker good for the whole season is available. This season long inspection sticker is attractive to many drivers but is voluntary. All drivers who want an Annual Tech Inspection sticker request one from the tech inspectors. should Random tech inspections will be performed for cars with the Tech Inspection sticker.
Please note that BMW drivers competing for season points must submit the completed IMF prior the season end.
Verify all of the following conditions are met before arriving at the event:
Helmet - must be with your car for Tech Inspection
Each driver must wear a helmet. The helmet must be rated Snell M2015 (or later) or Snell SA2015 (or newer).
Non-compliant helmets will be confiscated and returned at the end of the day.
A limited number of loaner helmets are available.
Engine Compartment
Motor mounts solid.
Battery securely mounted.
No cracked hoses, belts tight.
No oil, gas, antifreeze, hydraulic, or other fluid leaks.
Throttle must be free with no binding.
Brake fluid reservoir must be full, no dirty brake fluid
Wheels and Suspension
Tires must have adequate tread; no cracks, blisters, or cords showing.
Lug nuts must be torqued to spec.
Hubcaps must be removed.
Wheel bearings must not show excessive play and must be properly adjusted.
Interior
Solid brake pedal feel with no bleed down.
Seat belts must not frayed or cut.
All loose items removed from interior, storage compartments, glove box, and trunk.
Numbers
Numbers must be affixed to both sides of the car, be at least 8" and a different color from the car. Numbers must be able to be read by the Course Workers. We prefer the numbers to be affixed to the body panels; not the windows.
Sound Levels
We will be using a sound meter at multiple locations each event and each run group. The determination of whether a car is excessively loud is at the discretion of the Autocross Chair and Tech Chief. If your car is deemed over the limit, you will be asked to muffle the sounds in order to reduce its level or leave the event.
Work Policy
All autocross registrants are required to work their assigned position. You will be required to work twice in one day.
BMW CCA - Boston Chapter - Autocross