About this event
Are you looking for a safe and affordable way to race your street or modified car near El Paso/Hobbs Airfield Speedway? Look no further than Border Racing Group.
Check out our website for more information: Border Racing Group
We know your choices for motorsport competition in El Paso/Hobbs NM is limited, so go with the best option for car racing.
Test the limits of you and your car by signing up for our next autocross.
Border Racing Group has secured 3 ACRES of FLAT, SMOOTH, and GRIPPY concrete at Hobbs Airfield SpeedWay - 5333 North St. Hobbs, NM 88240.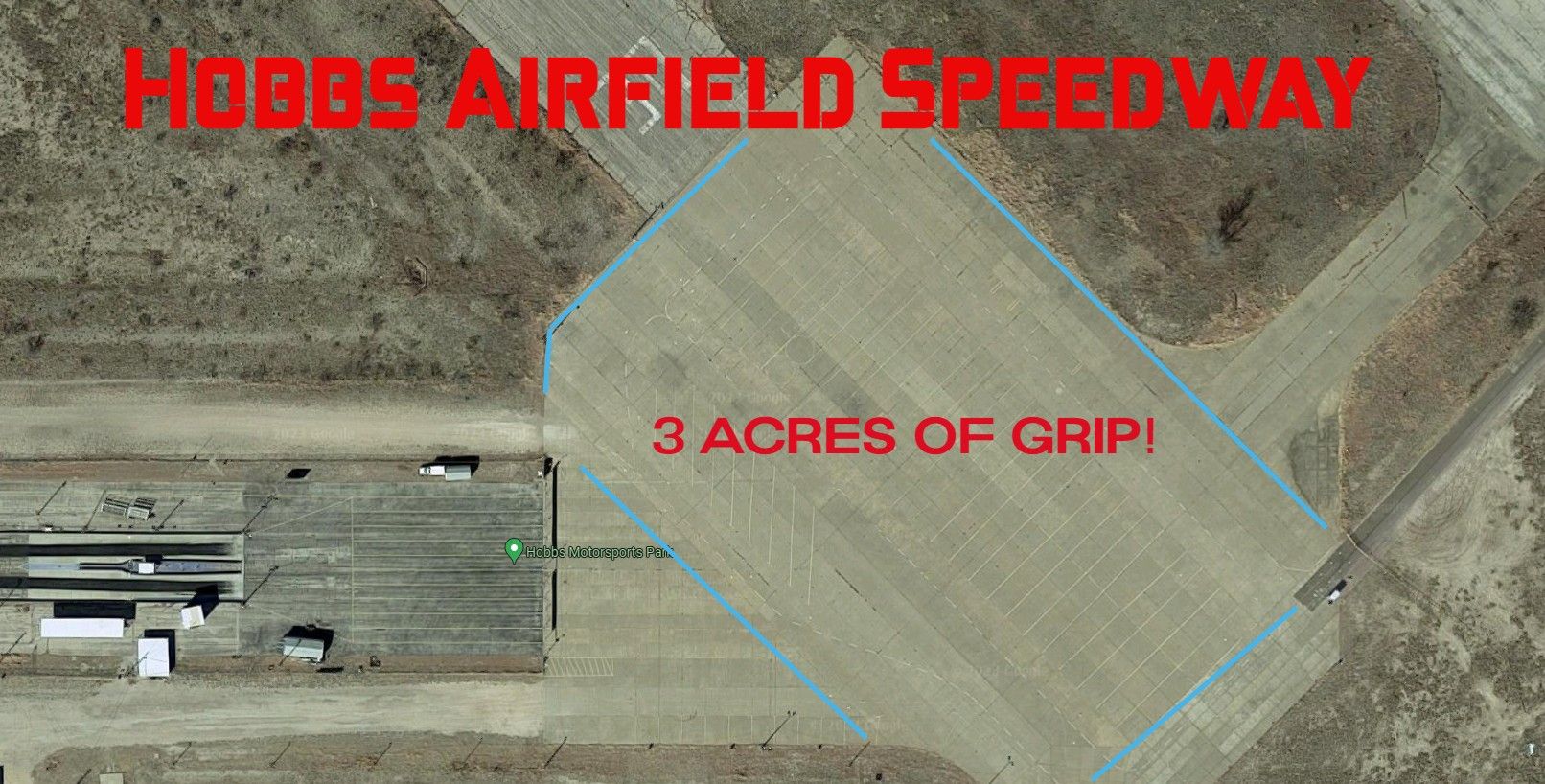 Event requirements
ABOUT THIS EVENT
Join us for the SEVENTH of 8 - 2 DAY Autocross Events!
SATURDAY & SUNDAY
Approximate Event Times: 7:30am – 4pm
Entry Fee: $65.00 (for 1-day OR 2-days of competition).
Online Entry Registration and online fee payments must be made in advance. No walk-on registrations accepted, except if prior arrangements have been made. An extra $10 fee will be accessed for at-site registrations.
Registration will open from 6:30 - 8:00 am.
Participants must sign the event waiver and wear the correct wristband each day.
Walk the course from 6:00 until 8:30 am.
Vehicle Technical & Safety Inspection: 7:00am – 8:00am (one-time vehicle annual inspection). Be in line before 7:45 am!
A Drivers Meeting will be approximately at 8:45am.
First car out on the course: 9:30 (Sat.) – 9:00am. (Sun)
No COVID-19 requirements are in place.
Helmets with a Snell rating of 2007 or above are required are required for all drivers and passengers. Loaner helmets are available.
All competitors will be required to help with course work assignments, and with the course tear down right after the event is completed.
The number of runs for each competitior will be determined at the event. We typically will get 5-6 runs in the morning and same in the afternoon depending on how the event is progressing and number of entries per day. (Sunday we expect to start and end a little earlier in order to give participants time to make the drive back home)
All competitor's vehicles must have seat belts, mufflers, and be relatively quiet. PLEASE BE AWARE THAT MUFFLERS ARE REQUIRED ON ALL VEHICLES. (we will not enforce a db limit)
Some vehicles will not be allowed to compete due to insurance regulations such as SUV's, Crossovers, and Motorcycles.
Tires must be in good condition with no bald spots or bulges on the sidewalls, and no deep cuts or loose tread.
No engine coolant, oil, transmission fluid, differential fluid, or fuel leaks will be tolerated.
All vehicle's batteries must be securely fastened or secured with proper battery hold-downs. No exceptions.
No alcohlic beverges may be consumed at the site.
ALL PARTICIPANTS ARE REQUIRED TO HELP WORK the event - when you're not driving, you'll likely be working.
Let's have a fun and safe time at all of our 2023 autocross events.
AUTOCROSS CLASSES
We will be using current SCCA classes, which are divided into the following categories:
Street
Street Touring
Street Prepared
Street Modified
Prepared
Modified
Kart
New for 2023! SUPER STREET UNLIMITED
SSU-A
Any forced induction engine regardless of displacement is allowed.
Full interiors or fully-gutted interiors allowed.
All RWD, AWD, & FWD vehicles allowed.
Any size wheels with any size 200-treadwear summer performance tires are allowed.
Must have muffler(s). No minimum weight.
PAX Index of .852

SSU-B
Any normally aspirated engine regardless of displacement is allowed.
Full interiors or fully-gutted interiors allowed.
All RWD, AWD, & FWD vehicles allowed.
Any size wheels with 200-treadwear summer performance tires are allowed.
Must have muffler(s). No minimum weight.
PAX Index of .845
(For additional help in classing of your vehicle - please go here: https://www.scca-classifier.com/a/index.html)
These categories are then divided into class depending on the model and year car you have and what modifications have been done to the car.
COMPETITION DIVISIONS
NOVICE – First time in autocross competition (for 2 years)

INTERMEDIATE – For less experienced drivers or cars not prepared at top level. No time limit for this class.

PRO – This a category that is reserved for drivers that have demonstrated very strong driver skills and experience (not to be judged in years), excellent car preparation and/or possess a vehicle that has a distinct and clear advantage over the competition due to its power, weight, tire & wheel size, car classification and/or PAX Index.
NUMBER OF RUNS
We may have a total of 5 to 8 runs per event depending on the number of entries and any time constraints.
WHAT IS THE COST?
The cost is $65 for all entrants. (for 1 or BOTH days!)
POINT SYSTEM
1st-25; 2nd-18; 3rd-15; 4th-12; 5th-10; 6th-8; 7th-6; 8th-4, 9th-2; 10th-1.
CAR NUMBERS
Competitors are encouraged to bring their own numbers and letters. Blue painter's tape will be available for making your own numbers and class letters. Numbers must be at least 8″ tall with a 1.5″ stroke in a contrasting color. We will also have shoe polish available for application on a window!
PAX stands for "Professional Autocross." It is a handicapping system developed by Rick Ruth many years ago to equalize the times across the myriad of classes developed by the SCCA. Each car class will have a PAX index, or multiplier for each car's raw time. A new index is updated every year by analyzing local and national level autocross events across the U.S.
For example, A Modified (AM) is the fastest class and has a PAX index of 1. The slowest class is H Street (HS), which has a PAX index of 0.780. Theoretically, the PAX times for these two cars can be compared in competition and a winner determined even though they are in vastly different classes.
To see your car's PAX index, visit SoloTime.
HOTEL INFORMATION:
Our host hotel is the Hilton Garden Inn, 4620 N Lovington Hwy, Hobbs, NM 88240. We have secured a special room rate of $109/night + tax: Mention Hobbs Airfield Speedway to receive the rate. Call: 575-393-5645
FOOD AND DRINK
Please bring your own food and drink to the event. Food will not be provided at the venue.
Hobbs Airfield Speedway
Hobbs , NM