AC3: Advanced Car Control Clinic May 2020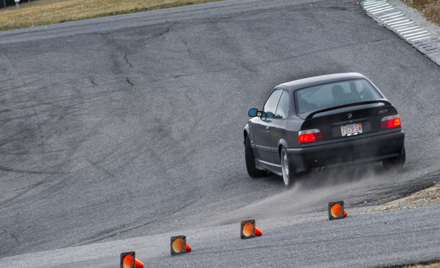 BMW CCA - Boston Chapter - Advanced Driving Skills School
Saturday, May 2, 2020
Lime Rock Park
,
Lakeville

,

CT

In addition to the Boston Chapter's usual Advanced Driving Skills School (ADSS), we are now offering our Advanced Car Control Clinic (AC3). AC3 utilizes the Skid Pad and Auto Cross course on the upper level at Lime Rock. ADSS is designed to introduce and develop car control skills, but AC3 will help take your car control to the next level!
Information for Students
There are a very limited number of student slots available for this event to ensure maximum seat time.
This is a half day event with a morning and afternoon sessions available. Plan to arrive by 45 minutes before your start time. End of Day will be noon approximately for the morning session and 5pm for the afternoon session.
In order to attend AC3, you must meet one of the following conditions:
Have attended AC3 in a prior year
Have attended one or more ADSS events
Have attended one or more BMW CCA High Performance Driving Schools
If you are entirely new to high performance driving, please register for the Advanced Driving Skills School held the following day, April 7th, at NHMS:
Description of Exercises
Theory -  Each session begins with a "chalk talk", where our instructors explain about vehicle dynamics, the techniques students will be taught, and summarize the exercises for the day.

Skid Pad - The practical exercises include spending part of the session on the skid pad learning about: understeer, oversteer, steering with the throttle, secondary effects, "the line", and power-slides. These basic building blocks are key to learning how to bring your car under control, when the unexpected happens, and how to establish whatever cornering attitude you want to put the car in.
Car Control Course - The practical exercises also include spending part of the session applying your car control skills will put your skidpad practice to the test: braking while turning, inducing rotation, countering understeer and applying oversteer, and other techniques by navigating through this challenging course. 

This is a driver education school and is not practice for any racing or speed contest.
Registration Fees
| BMW CCA Member | Non-Member |
| --- | --- |
|           $225 |   $325 |
Membership
You don't need to own a BMW to be part of the club and participate in our Driving Events! We offer a huge variety of events to our community all across the country, making club membership a rewarding and worthwhile experience. Annual membership costs $48 and includes a subscription to the fantastic BMW CCA magazine, Roundel.
If you are not a member you can apply at the link below and then return to this page and enter your new membership number. The BMW CCA website will provide your membership number immediately with your enrollment.
https://myaccount.bmwcca.org/PortalTools/NewUser/EmailCheck.cfm
Questions?
For questions regarding registration or Driving Schools in general, please email the registrar using the "Contact Host" button on the right side of this page.