About this event
NOTE: NEW FOR 2023, Motorsportreg.com automatically adds a $2 fee to online payments. This is not a fee from NWOR nor does NWOR recieve this money.
THE NORTHWESTERN OHIO REGION OF THE SPORTS CAR CLUB OF AMERICA
2023 NWOR Event #3
Sunday May 28, 2023
The Owens Community College Center for Emergency Preparedness, Walbridge, OH
THIS EVENT WILL BE CAPPED AT 125 ENTRANTS!
SCCA Members - $33
Non-SCCA Members - $48; Sign up for an SCCA Membership with NWOR and your first event is Free!
EVERYONE ENTERING THE EVENT SITE MUST SIGN A RELEASE AND WAIVER FORM FOR BOTH OWENS COLLEGE AND SCCA
***SPECIAL NOTES FOR 2023***
EVENT IS PRE-REGISTER/PRE-PAY ONLY, NO WALK-UPS WILL BE ALLOWED
NO PAYMENTS WILL BE ACCEPTED ON-SITE

If you choose to not pay online, you must send a check by Friday, April 21, to:

Doug Stoots
NWOR-SCCA, Treasurer

5331 Pickle Rd

Oregon, OH 43616

LOANER HELMETS WILL BE AVAILABLE!

Waivers:

A table will be set-up with the SCCA waiver and any other site required waiver, if applicable.

Tech:

Please have your numbers and class on the vehicle.

Make sure your vehicle is in competition configuration (empty loose items, correct wheels and tires, etc.)

Pop your hood and trunk.

If there are no class, number, etc., changes, you will be checked off the registration list by a check-in person before you leave the Tech area.
***STANDARD NOTES FOR 2023***
1). All new regular and supplemental SCCA classes are available.
2). Junior Kart classes are currently not available at any SCCA event.
3). The Pro Race Tire Class is open to NWOR members only. (SSR, SSP, CSP, DSP, ESP, FSP, SM, SSM, SMF, XP, BP, CP, DP, EP, FP, AM, BM, CM, DM, EM, FM, FSAE, KM, HCR)
4). The Pro Street Tire Class is open to NWOR members only. (SS, AS, BS, CS, DS, ES, FS, GS, HS, SSC, STS, STX, STH, STR, STU, STP, CAM T, CAM S, CAM C, HCS, XS, XA, XB, EV)
5). Ladies classes are all together and run on index. Ladies have the option of running the appropriate Open class. Ladies entrants can be Novices within any class including the Ladies Index (LI)
6). Street tire for Street Modifieds (TSM) is available for SMF, SM, and SSM with tread wear rating of 200+. An index correction factor of 0.975 will be applied.
Site opens at 7:00 am
Registration and Tech are open from 7:30 am to 9:00 am
Novice Walk starts promptly at 9:00 am
Driver's Meeting begins at 9:30 am
First Car off at 10:00 am
Event Notes:
Paddock parking is at a premium. Please use the middle of paddock for people with trucks and trailers. Individual cars please use the east and west sides of paddock. Leave the north end open for vehicle traffic. See image at bottom.
Bring sunscreen and rain gear. If you bring only sunscreen, it will rain and you will be soaked. If you bring only rain gear, it will be sunny and you will burn.
Pets are allowed, but must be leashed.
No alcohol or drugs permitted.
FOR ADDITIONAL INFORMATION, PLEASE CONTACT:
Solo Chairs: Alex Jones - alextjones@gmail.com or David Colletti - djc986@comcast.net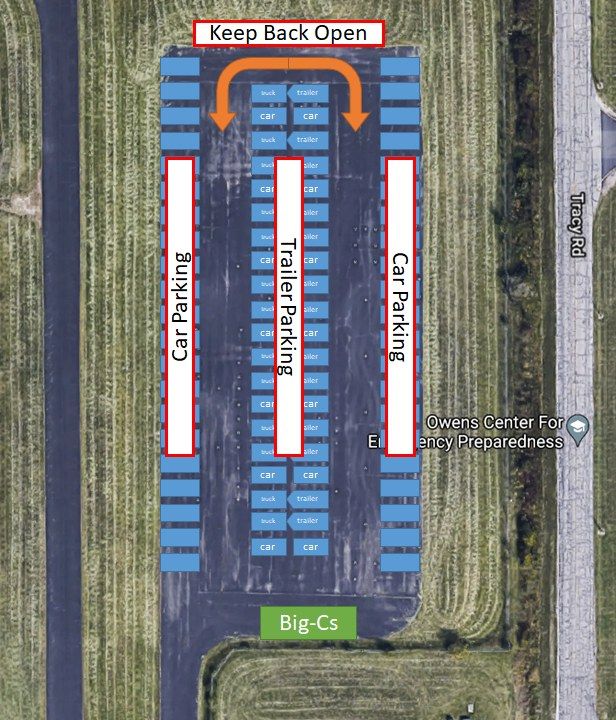 Event requirements
SCCA Members - $33
Non-SCCA Members - $48; Sign up for an SCCA Membership and NWOR as your region and your first event is Free!
Pro classes are open to NWOR members only.
OCC Cntr for Emergency Preparedness
Walbridge, OH
SCCA - Northwestern Ohio Region
More events from this organizer