Sat, Apr 9, 2022
2022 STL RallyCross RX0 "Test and Tune"
Deyeme Racing
About this event
Held under 2022 SCCA RallyCross Rules
St Louis Region SCCA RallyCross Event RX0 "Test and Tune" Saturday, April 9th, 2022.
Location: Deyeme Racing, 645 Hwy J, Troy MO 63379, Private site in Troy, MO
Event Description: Welcome to 2022! The St. Louis Region RallyCross program will be holding a test and tune for our first event this season. This will be a non-competitive, non-points event. Bring your car out for a pre-season shakedown and get it dialed in. 100AW competitors are welcome and the event is located outside the restricted radius of 100AW. We will have a continuously running course during each session to allow drivers to get as much seat time during the allotted time. We are planning a morning and afternoon session with a lunch break in the middle. Entry includes both sessions!
Entry Limit: 15 car limit. Entries over that limit will be put on a waitlist. We will clear the waitlist on the evening of Thursday, April 7 and confirm wait-listed entries of their status.
Cost: $50 members $65 non-members (includes weekend membership)
No onsite registration or payment accepted. All registration and payment must be done online through motorsportsreg.
All persons driving in a car at this event must have an SCCA membership, either full or weekend. Ride-alongs are free but are required to sign a waiver as well.
Everyone is required to sign a waiver.
All entrants are required to work at the event.
Helmets must be worn by all drivers and passengers during competition. Helmets must be in good condition, fit properly, provide adequate peripheral vision and the chin strap must be securely fastened. A list of approved helmets for 2022 can be found here: 2022 Solo and RallyCross Helmet Stickers
Loaner helmets will NOT be available.
All vehicles must have a signed tech sheet prior to competing. You will be given a Tech sheet at time of check-in/ registration if you do not print one out prior to arriving. Tech inspection will be the responsibility of each competitor. If you require assistance in tech-ing your own vehicle, contact an event official and someone will help you. Tech sheets can be found at the following link.
https://rallyx.stlscca.org/rules-and-regulations/
Please place tech sheet on your windshield, open your hood and have your helmet ready for inspection once you are in grid. Your car should be race ready when you bring it to grid.
Penalties: No penalties. This is a non-competitive event and will not be scored.
Schedule:
Registration and Course Set Up: 9:00 am - 9:45 am
Driver's Meeting: 9:45 am - 10:00 am
Morning Session: 10:00 am - 12:00 pm
Break: 12:00 pm - 1:30 pm
Afternoon Session: 1:30 pm - 3:30 pm
Course Cleanup: 3:30 pm - 4:00 pm
Local Facilities: Fuel, air, food and water are available in Troy, MO. This is about 10 minutes from the site. It is recommended to bring everything you need for the day to maximize your time on course.
Directions: From Highway 70 near Wentzville, MO: https://goo.gl/maps/L1xwya9YDq7q3rw88
The current entrance is a temporary entrance and a shared driveway. Please be considerate of this shared driveway. When you arrive: pull into the shared driveway and make an immediate left into the field the follow the right side of the field around to registration. Please visit registration before unloading/setting up your paddock. A map of the site layout is below.
The blue pin in the top right corner is the shared entrance, follow the green line to registration, paddock and grid.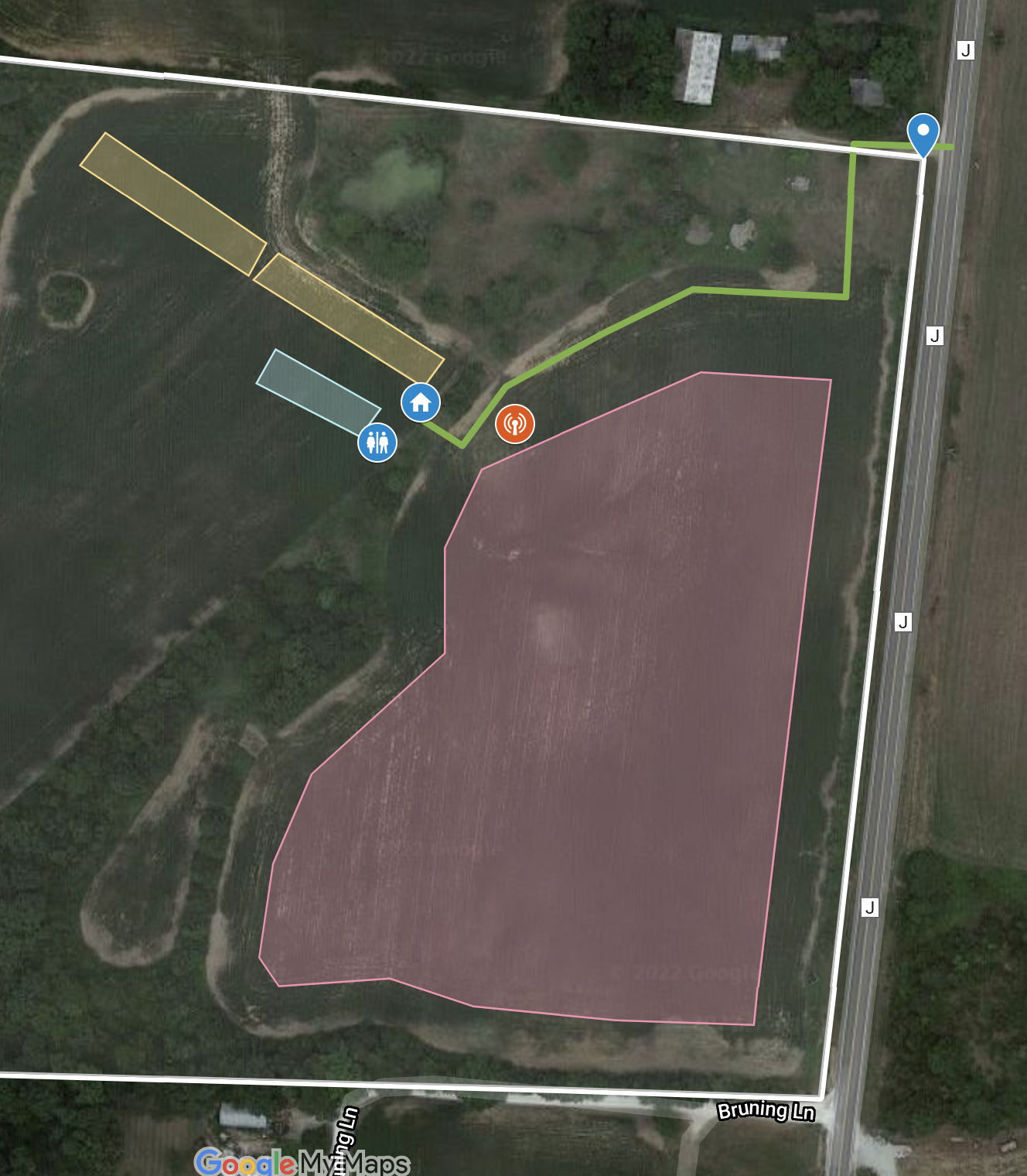 Event requirements
Supplemental Rules:
1. 10 mph speed limit when not on course.
2. Before exiting the the course to the Paddock and Grid area you must come to a complete STOP.
3. All servicing must be done in the paddock area. No servicing on course or in grid.
4. This is an un-scored event. Timing equipment will not be set up and course times will not be available.
SCCA - St. Louis Region - RallyCross