About this event
WHO IS PAUL HENRY ??
Paul Henry attended the first "Put-in-Bay Road Races Reunion" in 2009 and immediately fell in love with the event and the founders' vision. Paul created our first website and contributed many hours of his time supporting the event until his untimely passing in 2011. Paul was the son of original PIB racer Chuck Henry, who's MGTC (shown here with Paul at the wheel) is still in the Henry family and today is lovingly maintained by Paul's brother Kit Henry. Since 2012, the event's "Paul Henry Award" has been presented more or less annually in Paul's memory to the participant(s) deemed best demonstrating Paul's dedication to and enthusiasm for this event and what it stands for.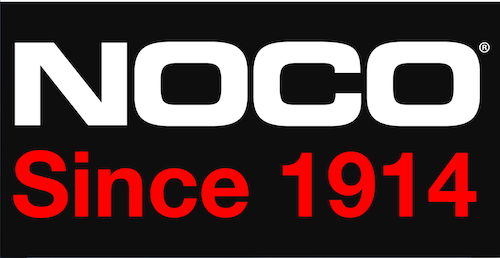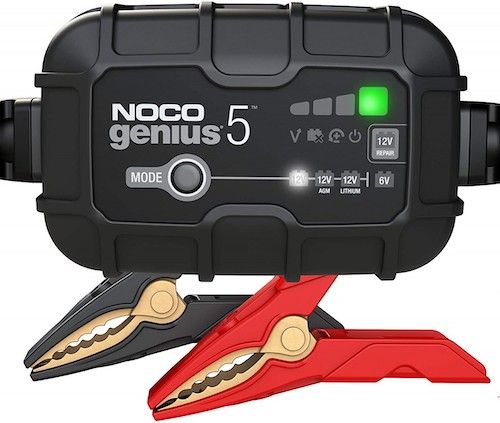 We are pleased to announce that effective May 3, 2022 The NOCO Company has signed on as Presenting Sponsor of the 2022 Put-in-Bay Sports Car Races. Founded in 1914, The NOCO Company ("NOCO") is based in the Cleveland, Ohio area and is a leading global designer and producer of a broad range of highly innovative consumer battery chargers, tenders and related products. NOCO's compact, hand-held battery chargers -- under the brand names Genius, GeniusPro, BoostX, Boost Max and others -- are helping batteries do their jobs the world over. The company also provides battery tender products to many automotive brands.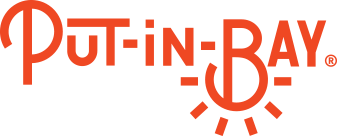 CLICK HERE TO VIEW TEASER PROVIDED BY BARRY PROSSER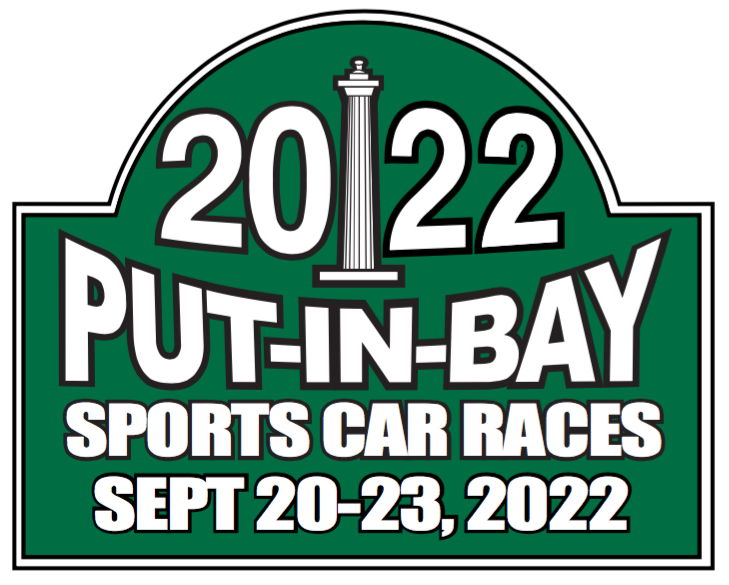 Put-In-Bay Road Race Heritage Society Website
The Miller Ferries can take full size motor coaches and Semi-Car Haulers.
CLICK HERE >>>> MILLER FERRY...World's Greatest!!
2022 Provisional Event Schedule-B.pdf
2022 Provisional Racing Schedule.pdf
CLICK HERE FOR CURRENT ENTRY LIST
HERE IS A SHORT VIDEO FILMED AT "CEMETERY TURN" IN 1958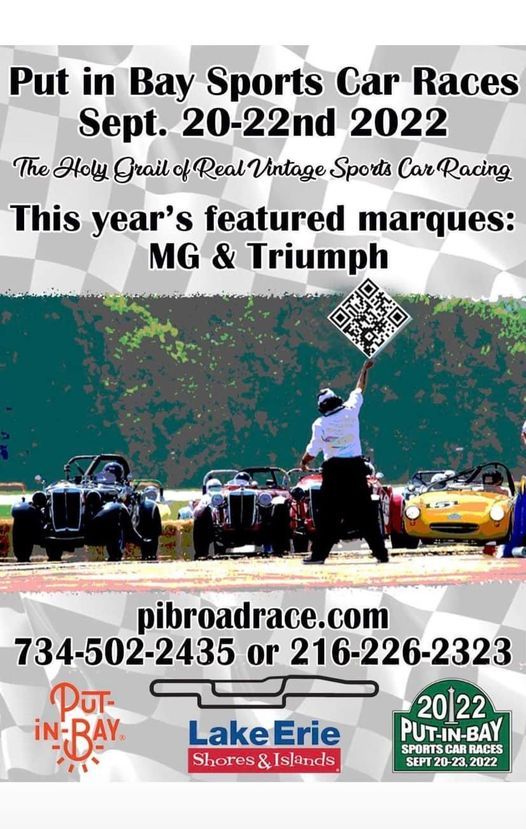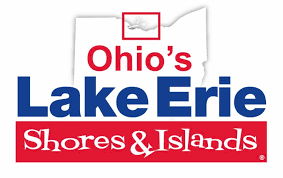 SPONSORS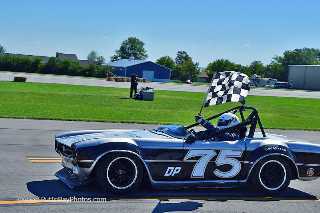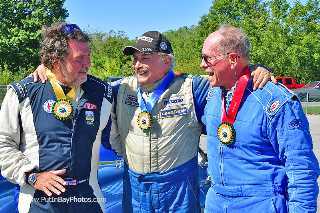 2019 & 2021 Put in Bay Cup winner ~ "KING OF THE ROCK" ~ Sam Halkias
FEATURED MARQUES FOR 2022
MG and TRIUMPH including SPECIALS POWERED by MG and Triumph engines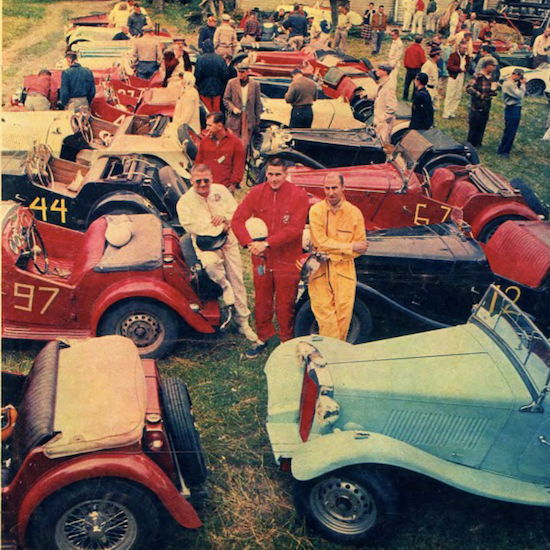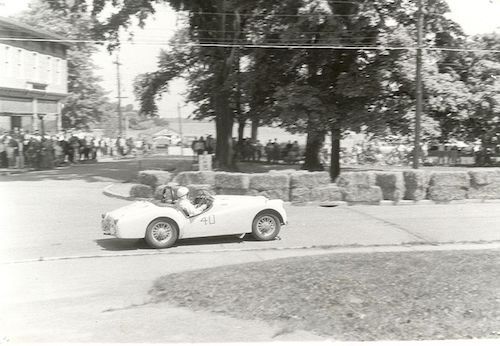 Featured marque entries will receive a $50 discount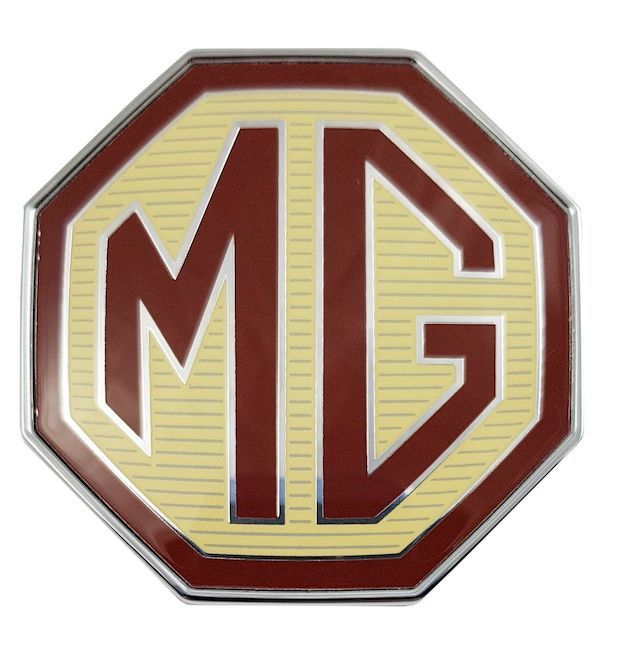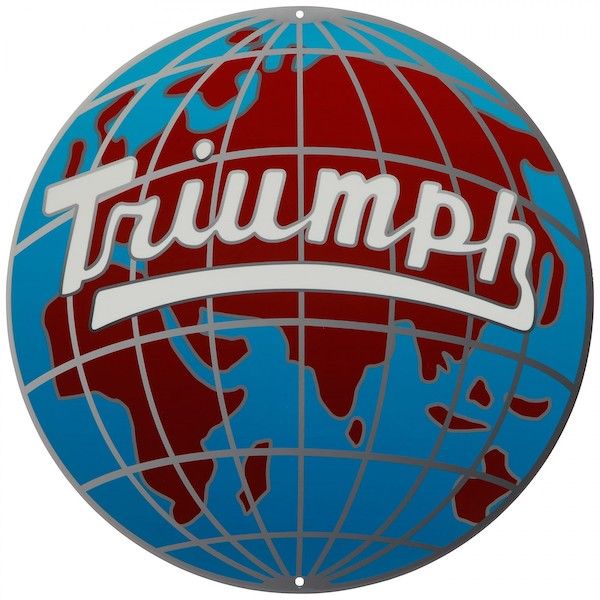 The 2022 Put-in-Bay Sports Car Races & Reunion will provide two full days of racing on the Put-In-Bay Airport as well as a full day of pre-racing events preceding the race days.
Much more than just a VINTAGE RACE; the Put-in-Bay Sports Car Races and Reunion also welcomes owner-drivers of non-racing, vintage sports cars of types similar to the race cars.
These "street cars" participate in all the various events and activities, except for the actual races.
Beginning with a small event in 2009, the Put-in-Bay Road Races Reunion celebrates sports car races that were held on the streets of the town of Put-in-Bay on Ohio's South Bass Island from 1952 to 1959 and in 1963. The three-day reunion engages racers and non-racers alike in an event that reaches back in time to capture the history and re-create the atmosphere of sports car racing of that era in a uniquely beautiful setting. Book-ended around two days of Vintage sports car racing at the island's airport, is a balanced mix of events honoring the island's racing history, a few social gatherings, a car show, original course controlled laps and airport-track lapping, self conducted island rally, rocker cover races and plenty of unstructured time as well.
Put-in-Bay is a nostalgic island enclave and a short ferry ride off the shore of Lake Erie near Sandusky, Ohio. A summer resort community little changed from the '50s, it is one of the very few places in North America where post-war sports cars raced through towns and countryside on public roads and where those roads exist today virtually unchanged.
PIB Period "Dress Code" Ideas Courtesy of Tom Lipovits
Provisional Overview of Events ~ What to Expect
Sunday, September 18 - Weekly Island "Antique" Car Parade (1:30 pm).
Monday, September 19 - Load-in to paddocks, Registration, Tech Inspection (1 - 5 pm).
Tuesday, September 20 –Load-in to paddocks, Registration, Tech Inspection, All-Entrants Meeting (Island Rules of Engagement), Entrants Car Show, Laps of Original Put-in-Bay Race Course, History Recollections Roundtable, Wine & Cheese Welcome Party.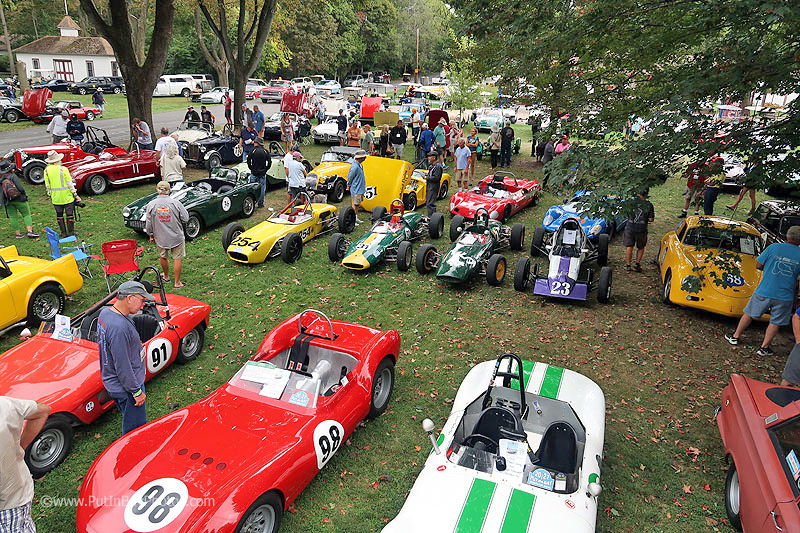 Wednesday, September 21 - Driver's "School", Racing/Exhibition Driver's Meeting, Racing orientation and practice sessions commence at 10 am, Ladies Luncheon, Rocker Cover races at the Goat Soup & Whisky Tavern. Following the Rocker Cover races will be the Event Buffet Diner at the Goat, with the announcement of the 2022 Paul Henry Award.
Thursday, September 22- Race Day 2 at the Put-in-Bay airport. Featuring qualifying races in the morning, track "Lunch Lapping" for Street Car participants, followed by Feature Races and the Put-In-Bay Cup race with the winner being crowned "King of the Rock" 2022!!!
AWARDS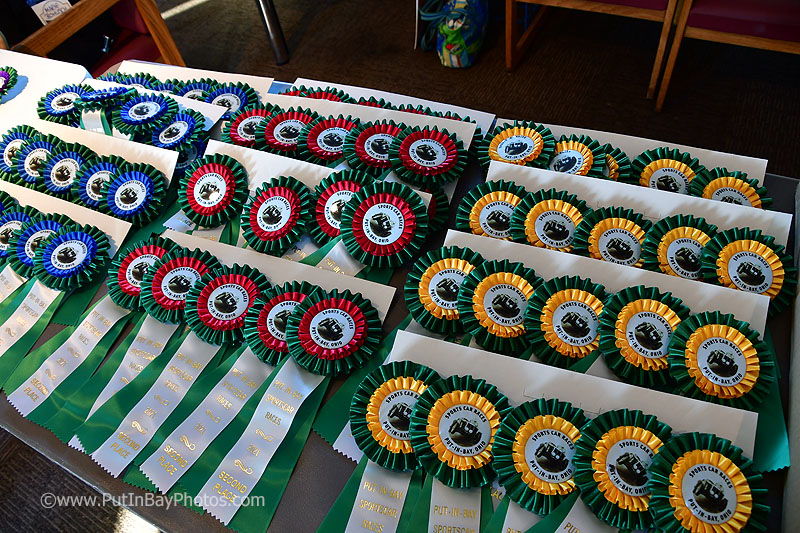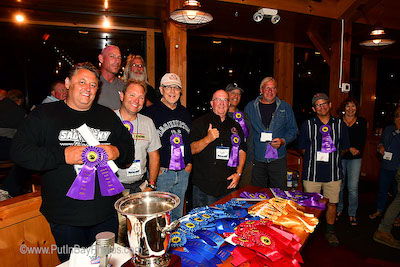 Exhibition Drivers get awards too!
Put-In-Bay Road Race Heritage Society Website
HOW TO ENTER
2022 PAPER MAIL-IN Entry Form-D+.pdf
FOR On-line entry, CLICK REGISTER NOW
NOTE: We PREFER that you enter by mail using a check.
MSReg charges us 6% and those fees add up quickly. Please use this if you intend to pay with a check.
HOWEVER, we certainly welcome credit card entries using MSReg of course!!
NOTE TO FOLKS WHO WERE ENTERED AND PAID IN 2021, BUT WHO FAILED TO ATTAND...
WE WILL GIVE FULL OR PARTIAL CREDITS TOWARD 2022.
PLEASE EMAIL: JACKWOEHRLE@AOL.COM TO DISCUSS.
CLICK HERE for Printable Track Map (Thanks to Bob Kansa)
OFFICIAL EVENT SHIRT: Every year we have a commemorative shirt with the year's logo embroidered over the pocket.
Shirts are $45 each in S/M/L/XL/XXL
Ladies, kids and larger men's sizes may be special ordered at the same price.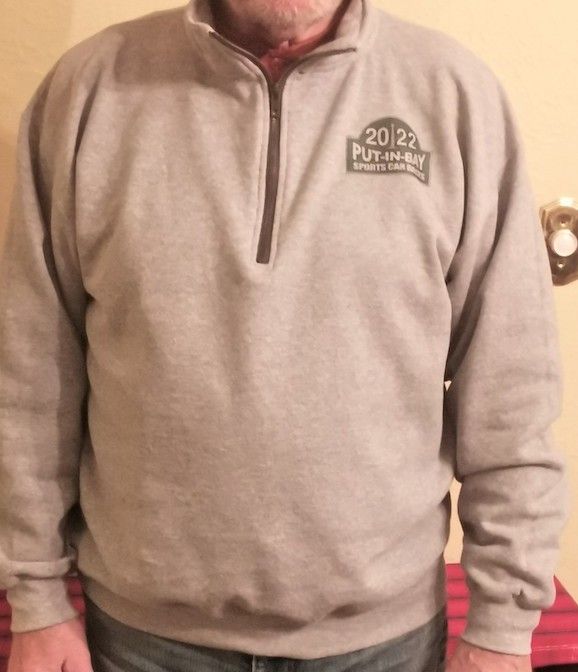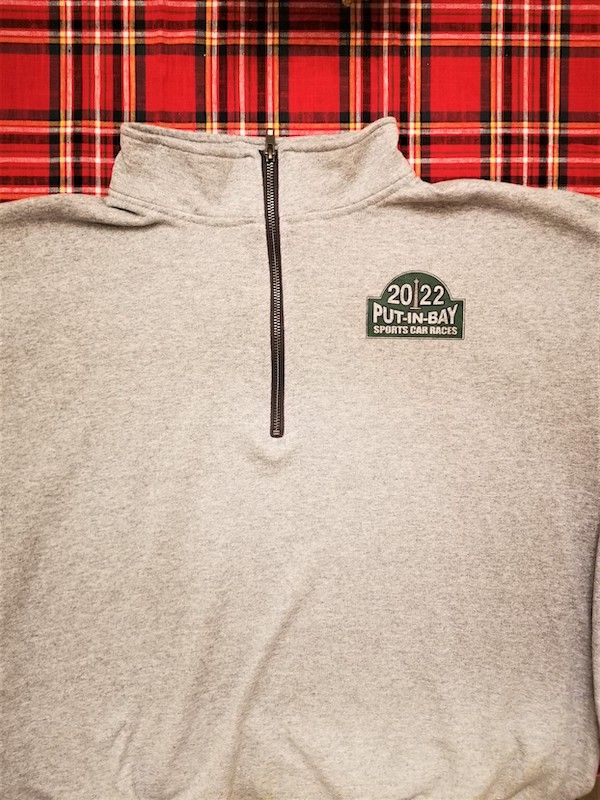 Barry Prosser "holding court" (the Judge is IN) !
CLICK HERE for the CITR FaceBook site

Put-in-Bay Road Races Facebook Group
Put in Bay Island Guide FaceBook page
Previous Event Photos Provided by Official PIBRRHS Photographer ~ Dan Mainzer
2021 Road Race Reunion Photo Gallery Provided by Island Photographer ~ John Rees
Old Course Parade Laps Thanks to Bob Kansa
Put-in-Bay weekly Sunday car parade This "parade" is not part of the event but all early arrivals are invited...Sunday September 18 at 1:30 pm.
All attendees who arrive by 1 pm Sunday September 18 are encouraged to participate in the Sunday Island Car Parade. It is free and is a good way to get a preview of the island and it always ends at a picnic or gathering of some sort.
Street Car Activities Lunch Track Touring & Laps around the original Race Course.
Autoweek Article about 2017 event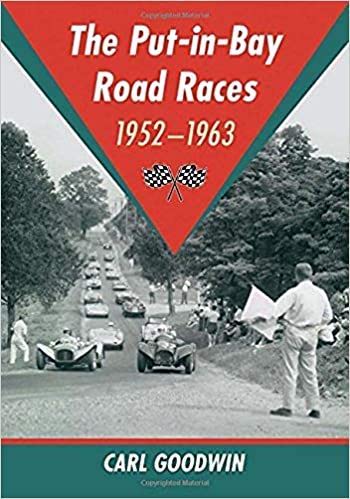 The organizers recommend that all potential participants and spectators read Carl Goodwin's excellent book that chronicles the early races at Put in Bay.
You can order the book directly from this link. ORDER HERE
It's $35 plus shipping.
You can also call Carl @ (719) 229-7245, (440) 557-5089 or Sally Carroll @ (440) 338-4202.
Carl will individually sign each book. If you already have the book, bring it with you for Carl to sign!
Event requirements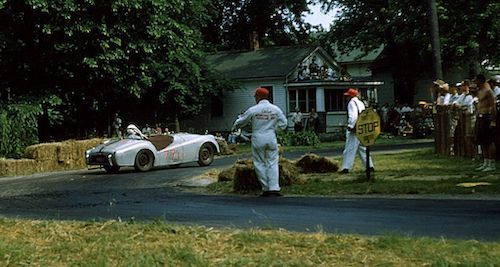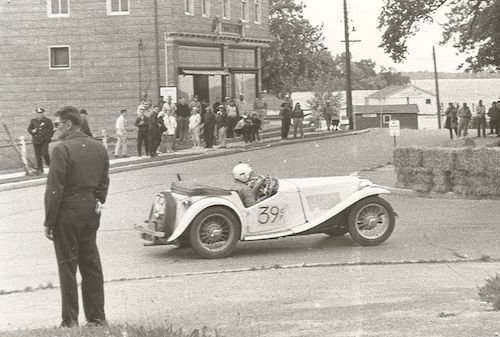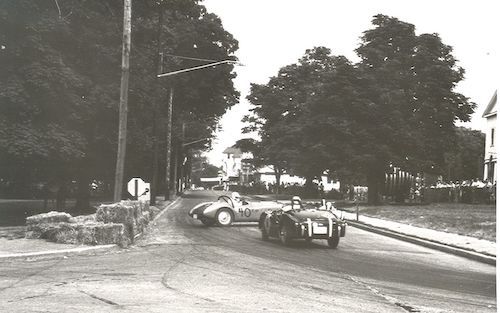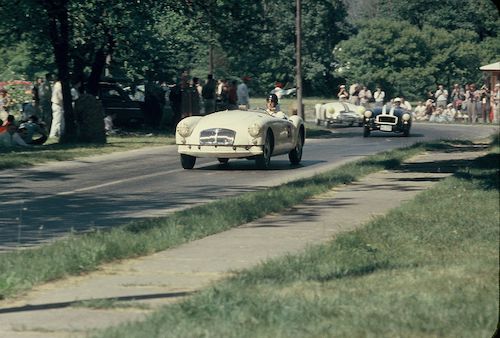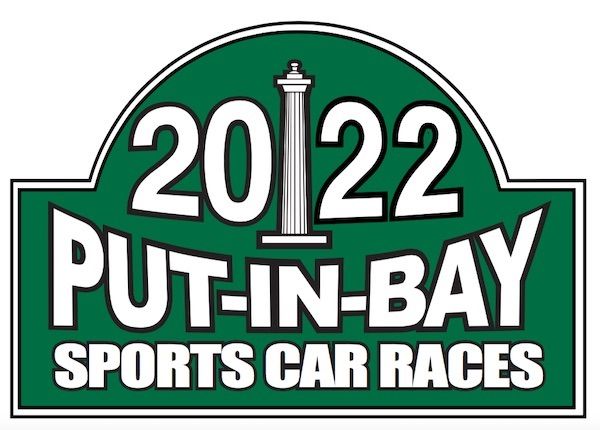 2022 Race Car Eligibility.pdf List of car types that normally are accepted for racing. Cars not listed will be considered on a case by case basis, don't be afraid to ask.
Note: Since 2019 we have been accepting V-8 and other larger than 3.0L cars on a case by case basis. These cars are given closer scrutiny for inappropriate details and over preparation...Again, don't be afraid to ask.
2022 Street Car Eligibility.pdf While the Put-in-Bay Road Race Reunion celebrates the sports car racing that took place on South Bass Island, we always have a large contingent of street car participants. The street car categories participate in all the activities except the actual wheel-to-wheel racing, at a reduced entry fee. Street cars are accepted on a case by case basis and should be makes and models that embrace the spirit of racing at Put-in-Bay.
There are two Street Car Categories; Heritage: pre 1964 and similar continuation models Guest: 1964 ~ 1972 and similar continuation cars.
POST 1972 Street Cars: Entrants unknown to the organizers may be placed on a WAIT LIST until details are assessed and a confirmation is granted.
All Eligibility questions should be directed to: Jack Woehrle (803) 463-5388 jackwoehrle@aol.com
2022 PIB General Rules & Regulations.pdf
Preparation and Licensing requirements for Race Cars and drivers.
(RCIS) Basic car information REQUIRED for all first time PIB racers.
2022 PIB Exhibition Regulations.pdf
Rules and requirements for the Exhibition category participants.
List of legal tires for race cars.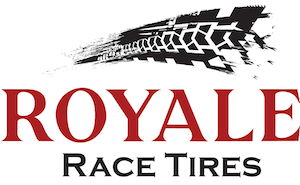 ROYALE RACE TIRES OFFICIAL TIRE SUPPLIER FOR PIB SPORTS CAR RACES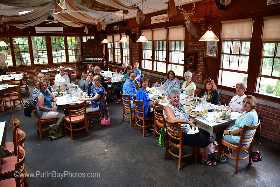 Ladies Luncheon A special gathering and luncheon for all the ladies (and others) who support the Road Race Reunion and Sports Car Races. Specific details will be posted at a later date. Last year's luncheon was held at Joe's Bar and hosted by Noreen Hahn and crew.
PIB-ROCKER COVER RULES 2022.pdf
2022 Rocker Cover Race Announcement:
After a very successful upgrade to the race track with "run-out" extensions panels in 2021, Steve Nemec is in the process of adding a center divider and edge barriers so that cars that don't track perfectly straight will not be eliminated by going off course. This should help to keep more entries from being disqualified. Straight tracking is still important, of course so we shall see how this works out!
Rocker cover races; a fun event with lies, drinking and some semi-serious technology on display.
courtesy of Steve Nemec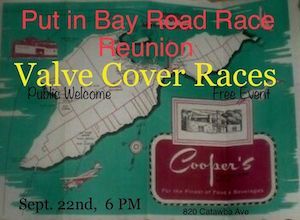 Rocker Cover Trophy presented br Steven Nemec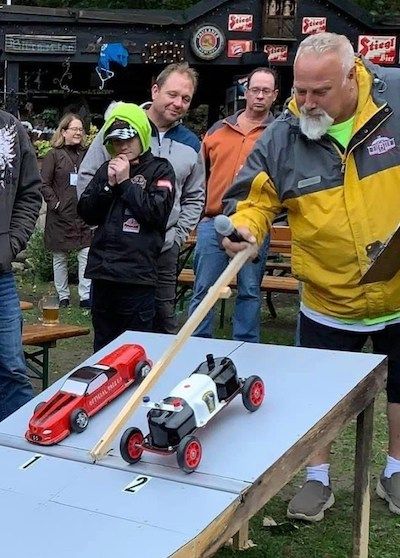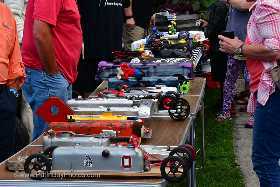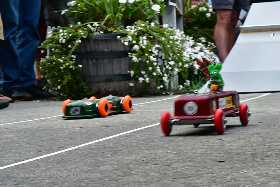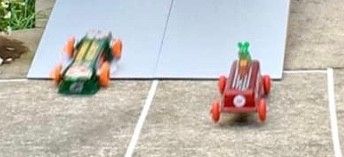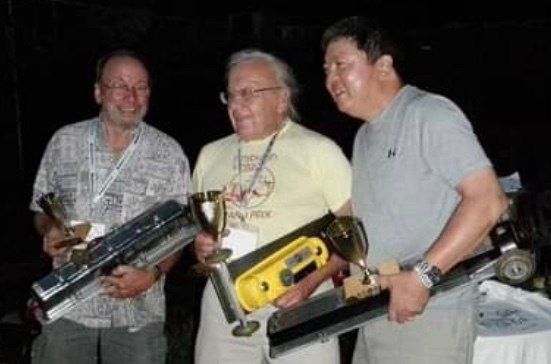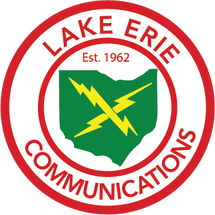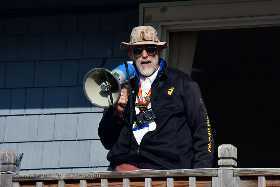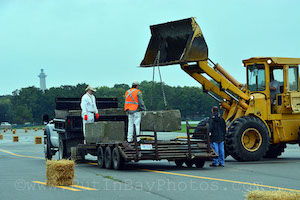 The Put in Bay Sports Car Races could never happen without the dedicated folks of Lake Erie Communications and their associates. LEC is well known as the go to folks when an SCCA race is going on. We see their people at races from Mid-Ohio to Daytona and Sebring where they hold court almost every weekend during racin' season. We are very honored that they have become a signature part of the Put in Bay races.
PADDOCK MAP (Aerial View)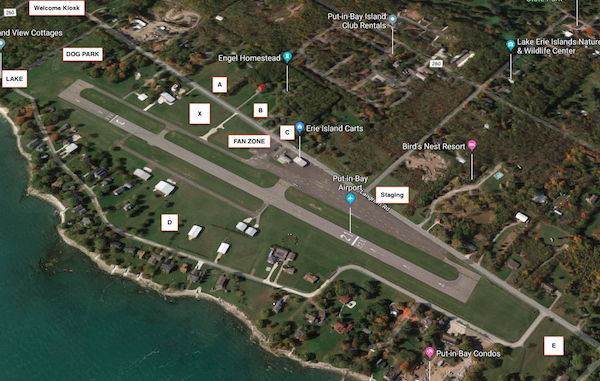 Paddocks will be assigned as you arrive on the island, on a first come / first served basis. We will do our best to accommodate your preferences. Folks wishing to paddock together can have a representative save nearby spaces.

Miller Boat Line Ferry from Catawba to Put-In-Bay This is how you get there! They can handle all size rigs up to 80'.
Miller Boat Line in the 'fifties!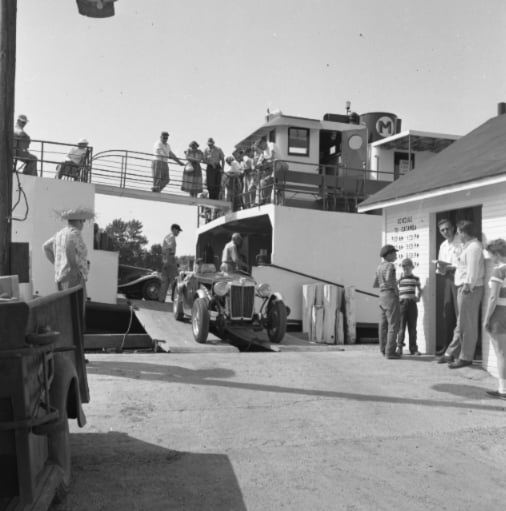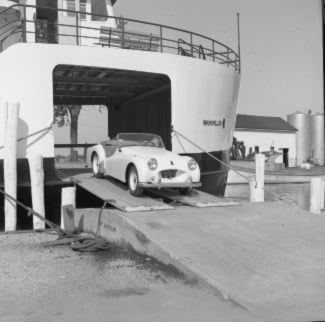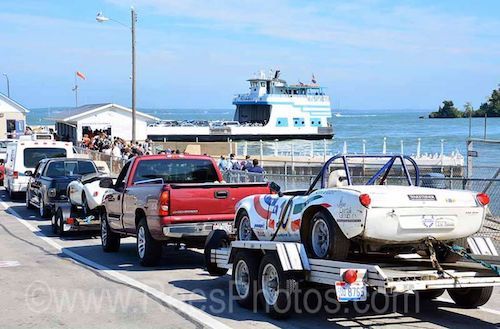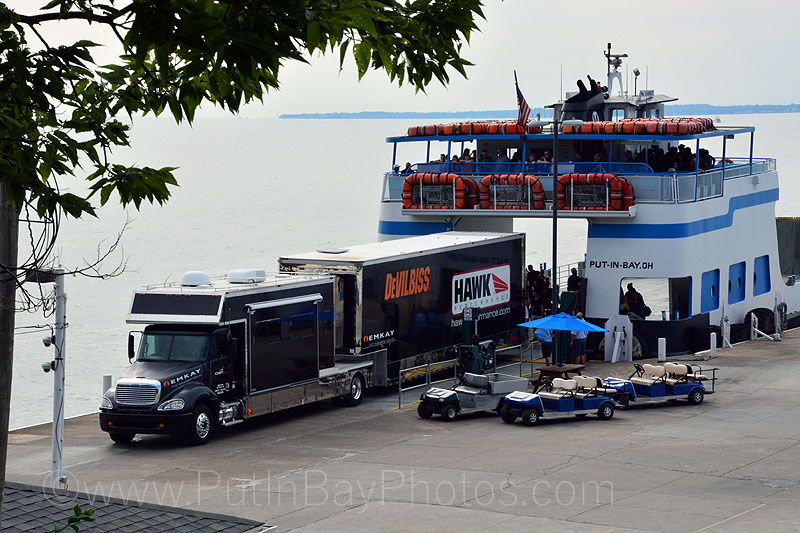 Put-in-Bay Chamber of Commerce General island information and lodging tips.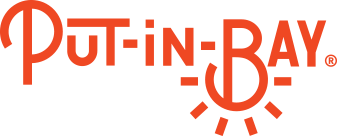 Put-In-Bay Lodging Non-judgmental list of places to stay. You can camp at the State Park or stay in anything from a nice B&B, modern hotel, cottage in the woods or a mom and pop cabin, to sleeping on the beach near the paddock!
2022 Island Guide Includes lodging suggestions.
CLICK HERE to contact PUT IN BAY LODGING CO-ORDINATOR ~ NOREEN HAHN if you need help with lodging questions or assistance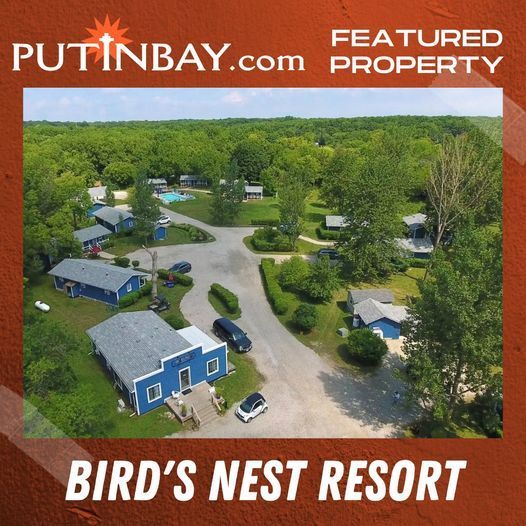 Contact Information:
Manley Ford (734) 502-2435 ~ Overall Event Coordinator, Media Relations, Advertising, Program Editor.
Rich Hahn (216) 226-2323 ~ Island Liason, Car Show, Event Coordination.
Chris/Adrienne Wilson (616) 915-1853 ~ Registration, Hospitality.
Jack Woehrle (803) 463-5388 ~ Co-founder, Eligibility, Technical Information. jackwoehrle@aol.com
NOTE: Click REGISTER NOW to see registration options. When the form asks for your "Member Number" just click past it.
Put-in-Bay (Airport Course)
Put-in-Bay, OH
Download track map
Watch a video tour/lap
Put-In-Bay Road Race Reunion