About this event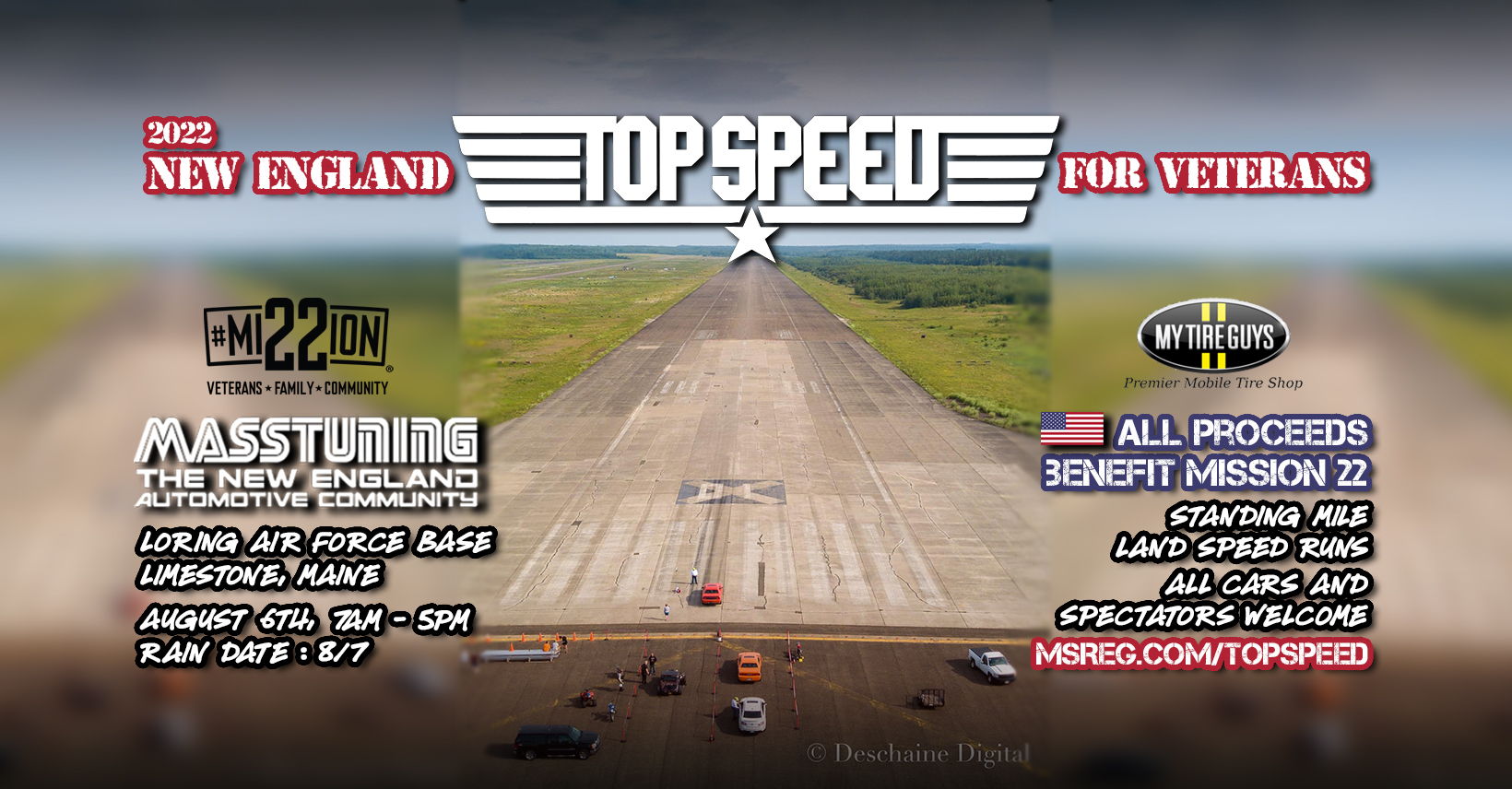 Spots are limited to 100 drivers and can sell out! Check out this video of a previous land speed event at Loring AFB!
Sponsored by My Tire Guys - Mobile Tire Shop who is offering to also transport wheels/tires to/from the Boston area!
A day of high performance driving at the longest asphalt land speed surface available in the world at almost 3 miles!
Drive your fastest runs safely and legally for official speed printouts. Any and all expenses will still be less than one ticket and insurance surcharges!
This track day is open to all vehicles from beginners in regular street cars to professionals in built race cars. No sound limits!
Spectators are welcome. The event will be entirely outdoors. Prepare for any possible weather conditions.
Onsite camping is free. Most hotels are in the neighboring towns of Caribou and Presque Isle.
Fees:
Spectators: FREE (Donations encouraged!)
Passengers: $40 (register at the event)
Military Discount Registration: $99 (must provide ID at check-in)
Early Registration: $149 (for the first 22 registrations!)
Regular Registration: $199
Optional Helmet Rental: $25 (first come, first serve and includes purchase of brand new balaclava)

For vendor and sponsor opportunities, please email MassTuning@gmail.com

Lastly if you'd like to socialize online about this day and other upcoming events, feel free to join us on Facebook!
MassTuning TrackFest 2022 Schedule: www.MSReg.com/TrackFest
Event requirements
Driver Requirements:
Valid driver's license and closed toe shoes are required. Short pants and short sleeve shirts are okay but no synthetic clothing allowed.
Drivers must attend the morning driver's meeting. Make arrangements with the event organizer in advance if you absolutely can not make it.
Pay attention to all event officials. Repeat offenses will result in being ejected from the track.
Before attempting maximum speed, all vehicles must gradually increase speed, with 125mph, 150mph and 175mph (if applicable) consecutive runs.
During each run, braking must begin at the 1 mile mark as there will be 1 mile of shutdown.


Runway Requirements:
If a mechanical failure occurs, in a safe manner pull off the driving line as quickly as possible. All spills must be cleaned immediately.
Keep the facility clean. We operate on a carry in, carry out policy. You are responsible for all of your belongings and trash.
While this will be a safe and controlled environment, there are risks similar to all forms of motorsports. Rescue services will be onsite.
Loring Air Force Base
Limestone, ME
More events from this organizer