About this event
What's up with the 2022 Midwest Musclecar Challenge?
This year's setup will give you plenty of track access to really hone those driving skills in preparation for the rest of the season's events you will be attending. The event will still be held to raise money for the Lawrence Country Cancer center with all proceeds being donated after the event. We will still provide 3 meals (lunch and dinner on Friday, and lunch on Saturday). There will still be prizes given away, and there will still be plenty of fun to be had with all of our car friends and we really hope to see you all there!
Where's the event going to be held? - The event will be held at the Lawrenceville-Vincennes International airport near Lawrenceville, Illinois, with 2 exciting days of autocross action. We have again partnered with the local SCCA club to provide you with fun and challenging courses that will change from one day to the next to keep you on top of your game.
When do we plan on doing this? – We currently have the airport reserved for Friday and Saturday, May 20-21, 2022. We know this may conflict with something you already have scheduled, and we would have preferred to have given you more advanced notice but it took us a while to get our plans in place.
The host hotel is the Hampton Inn, 2863 Ford Road, Vincennes, IN where there's a block of rooms reserved for us. Make sure to tell them the discount code of MMC when getting your room.
What is the cost this year? $325 per driver for the weekend.

All Times Central time
No on-site registration, online sign-up only.
Arrive between 7:00 am and 8:00 am, no later!
Friday schedule
The site opens to competitors at 7 am
Check-in, car inspections, course walking 7 – 9 am
Course walking until 9 am
First car off at 9 am
9 am to 10:15 am First heat
10:15 to 10:30 Worker break, results posting, general catching up
10:30 to 11:45 Second heat
11:45 to 12:30 Lunch, results posting, general catching up
12:30 to 1:45 Third heat
1:45 to 2:00 Worker break, results posting, general catching up
2:00 to 3:15 Fourth heat
3:15 to 3:30 Worker break, results posting, general catching up
3:30 Shoot Out
Bowler social events
Saturday schedule: Same as Friday more or less
Event requirements
Your helmet must be a "legal by SCCA standards" helmet.
Check below for SCCA helmet standards to make sure yours complies with the rules.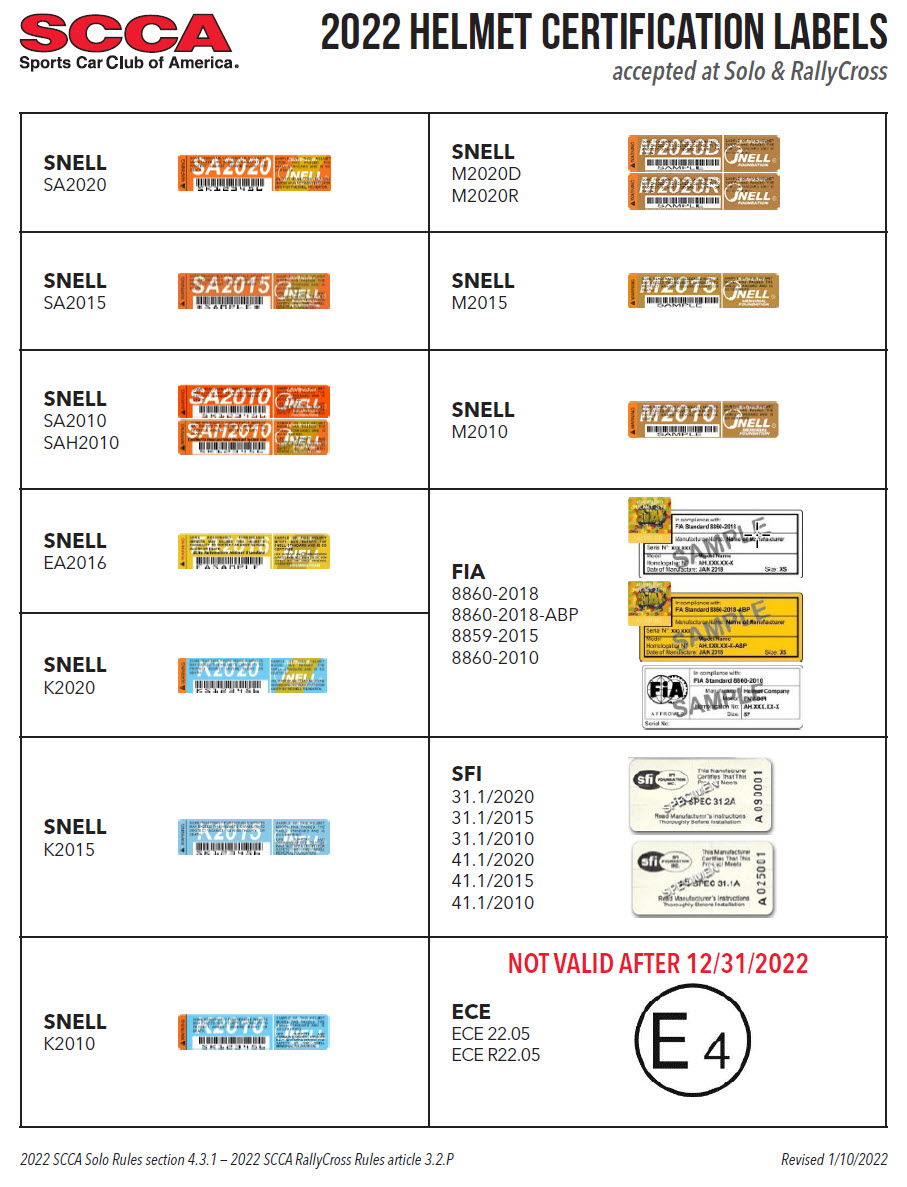 The grid and course are considered "Hot" zones and are limited to people 18 or older or Minors, 12-17, who must have a completed Minors Waiver.
Here is a link to the required Minor Waiver. It MUST be printed in color, signed by both parents and the minor, in the presence of a notary.
The notarized waiver must be brought to the event and presented to the SCCA registrar.
SCCA_Minor_Notary_1068_09_2020.pdf
Minors, age 16-17, may drive, with the notarized waiver, but must meet the state requirements for driving a motor vehicle.
The notarized waiver must be brought to the event and presented to the SCCA registrar.
We will have minor waivers at the event BUT both parents have to be present to sign the waiver.
Everyone who is going into the "Hot" zones must have signed a waiver or have a SpeedWaiver.
If you are an SCCA member please enter your member number in the Profile page.
Below the Venue map is a link to where the site is. Click on the "Download track map" to see exactly where it is. You can also put SIRSCCA in Google maps to get directions to the site.
Lawrenceville-Vincennes Airport
Lawrenceville, IL
SCCA - Southern Indiana Region