2020 Shasta Region Zone 7 Tour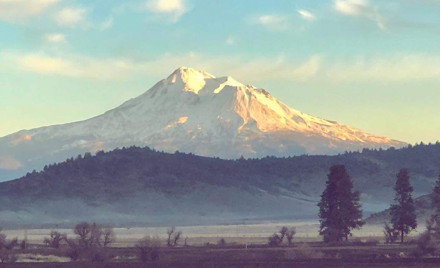 PCA - Shasta
Thursday, Jun 11 — Monday, Jun 15, 2020
Shasta/Trinity/Lassen Counties
,
Redding

,

Shasta
2020 Zone 7 Tour Overview--June 11-15, 2020
This is the well-known Shasta Four Day Tour through the mountains, valleys and scenic by-ways of Shasta, Trinity, Siskiyou, Tehama, and Lassen Counties.  It is similar to the Tour held in 2018 and 2019, which received high ratings. Many new features were added to address suggestions from previous year's participants.
 It is limited to PCA Zone 7 Members only, and you must drive only in your Porsche vehicle.  We require your vehicle to be in good condition, and recently serviced, since we travel at elevations as high as 6500 feet and we must be able to pass slow moving vehicles as a Group.  Touring is a special skill set, so we ask that you rank yourself as to your experience, so we can place you within your group for safety purposes.  This is a "spirited" drive!!!!.
Each day involves about six hours of "seat time", so you will get to enjoy what your car was made to do---perform at its best, both using its power and its handling ability.  You will be part of an 18 member team, with an experienced Lead Driver, a Sweep Driver and a Relay in the middle.  We also require the use of two-way radios so that we can maintain constant communications.  The end result is that we travel "as one", yet at speeds that are at the maximum of safety.
You will check in the Host facility and stay there for the duration.  We know you will be pleased with the location and the venue.  Note:  this is NOT mandatory.  You can stay anywhere you wish, but there is a preferred rate, and the evening banquets are at the Host venue.  We "stage" and leave each morning from there as well.
Redding is situated at the juncture of the Sierras, the Coastal Range and the Cascades.  So each of the first three mornings, you will Tour with your group an average of 260 miles into these mountain ranges.  The fourth morning you will check out and take a short, 80 mile "roller coaster" Tour that drops you off on Interstate 5 for your ride back home.
Your fee is based on either "One Person Per Car" ( $510) or "Two Persons Per Car"  ($865).   It includes all fees, Tour costs, and three banquet meals .  Lunch is "on the road" and is included.  We also provide a breakfast buffet for all four mornings, if you stay at the Host Hotel.  You will, of course, book and pay for your own room separately.  (We have secured a block of rooms and negotiated a discounted rate.)   
Tour Leg #A--South West  Loop  
This Tour heads South on I-5 for about 15 miles before turning west into the hills of southern Shasta and northern Trinity Counties.  There is some spirited driving here as we climb SR 36 before diving down into the canyons into the hidden valley at Hayfork, CA.  Nothing but twisting "Porsche roads" are found here as we make our way to Weaverville and SR 299.  Lunch is at a small, very quaint restaurant called the Straw House.  We will sit on the banks of the Trinity River in front of an authentic brick pizza oven and be served lunch, while watching the white water rapids.  From there, we will visit a variety of the Dams and Lakes of the area and see some of the devastation of the Carr Fire.  Dinner and evening events.
            Approximate   Drive (total) time and distance           6:00 (8:45)       257 mi
Tour Leg #B--North West  Loop  
This is one of Shasta Region's favorite Tours.  We start out due West on SR299 to historic Weaverville, then turn north on SR3.  This road winds through the Trinity Alps, and along Trinity Lake.  It is one of the most scenic roads in inland California and has virtually no traffic for about 100 miles!  We will climb Scott Mountain, which is 7 miles of "two lane racetrack" with one of the tightest turns in California!  Another "roller coaster" ride takes us into the Gazelle Valley for  a photo op of beautiful Mt. Shasta from the North side.  After this, we will stop for lunch at the Mt. Shasta Golf and Country Club.  The return is back through Siskiyou and Shasta Canyons, through Lake Shasta and back to Redding.   Dinner and evening events.
            Approximate   Drive (total) time and distance           6:00 (7:45)       245 mi
Tour Leg #C--North East Loop     
We start to the East on SR44 into eastern Shasta County and wind through narrow country roads bordered by a historic "Rock Wall"--6.5 miles of stone, hand set from the explosion of Mount Lassen.  From there, we will drop down into the Manton Wine Country, then back up the mountain to Shingletown.  Heading Northeast, we end up in the historic town of Fall River Mills for lunch.  After lunch, we travel through the Fall River Valley and on to MacArthur/Burney Falls State Park for an hour long visit, including a hike down to Falls, if you wish..  Our return will be on SR299 down the mountains back into Redding.  Dinner and evening events.
            Approximate   Drive (total) time and distance:          4:30 (6:30)       210 mi
Tour Leg #D                         
After checking out, we will all leave together (in manageable groups, of course) and head east for an 80 mile, 2 hour Roller Coaster ride into eastern Shasta County.  This is a Ride To Remember and will be a perfect way to end your Tour, after breakfast.  After a quick bathroom break, you will be on the freeway heading back home!
            Approximate   Drive time and distance          2:00     80 mi
TOTAL DRIVE TIME AND DISTANCE, Approximately     19:00   825 mi:                
We will Tour in three groups of 18 Porsches. 
The first day, your Group will take either Tour Leg A, B or C.  Each subsequent day, you will rotate to the next Leg.
On the final day, everyone drives Tour Leg D at the same time, but 15 minutes apart.