2020 HSCC Night Series #2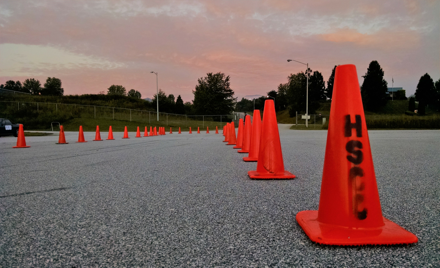 Highlands Sports Car Club
Tuesday, April 28, 2020
WNC Agricultural Center
,
Fletcher

,

NC
Highlands Sports Car Club's Night Series provides an opportunity for competitors to get a mid-week autox fix without taking up an entire day. All events are held on Tuesday evenings at the WNC Agricultural Center located across from Asheville Regional Airport. The same course will be used for all 7 events this season. You must compete in a minimum of 4 events to be eligible for a championship trophy, which will be decided based on points scored in your best 5 events.
The Night Series has been very popular in recent years with entries routinely approaching, and sometimes even breaking 100 drivers. Because of the large turnout combined with the compressed time schedule, we need everyone's help to pull off a smooth event. That means arriving early enough to get your car registered & tech'ed within the allotted time, having your car ready in the grid before your Run Group starts, and showing up promptly for work assignments. 
Event Schedule:
Registration / Check-In: 5:00 - 6:15 pm *
Tech Inspection: 5:00 - 6:15 pm **
Novice Walkthrough: 6:15 pm
Driver's Meeting: 6:30 pm
First Vehicle Off: 7:00 pm
* Everyone must check-in at the entrance, even if you registered online.
** HSCC now offers an Annual Tech program for our members with at least 2 years of autocross experience. Please contact a club officer for more information. We also honor Annual Tech from surrounding SCCA Regions and other well established independent clubs.
Entry Fees:
HSCC members: $25
Non-members: $30
On-site registration costs an additional $10, regardless of member status. Avoid the fee by registering and paying online right now!
PLEASE NOTE: All Junior Kart entries must pre-register on MotorsportsReg. No on-site registration is permitted.
Becoming a member of HSCC:
Click here to join Highlands Sports Car Club online through Motorsport Reg. Once you've registered and paid for this Membership Event, please allow up to 24 hours for your membership to be validated. Once validated you will be able to register for our events at the discounted member price. 
Additional info:
If you have any additional questions about our club or our events, please visit our website. For anyone new to the sport of autocross, we ask that you take a good look at our Novice Guide. And finally, if you still have questions after viewing the above online documentation, please don't hesitate to ask for help by using the Contact Registrar link on this site, or the contact form on our website.