2020 Formula SAE Michigan - SCCA volunteers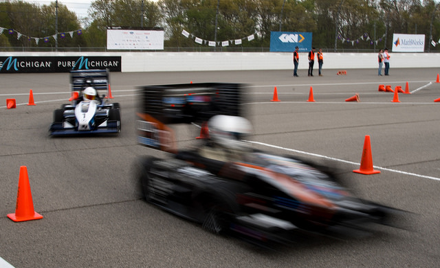 SCCA - Detroit Region
Thursday, May 7 — Saturday, May 9, 2020
Michigan International Speedway
,
Brooklyn

,

MI
Come join the Michigan Turn Marshals, the Detroit Region SCCA, and SAE International for this unique annual event at the Michigan International Speedway. Volunteers are needed:
Wednesday 
Transport and set-up all equipment to MIS: cones, fire extinguishers, brooms and flags, oil dry, scales, etc.
Review dynamic areas for safety and traffic flow.
Assist with setting-up scales, braking & sound test, and fuel station.
Set up the practice course.
Tech Inspection volunteers are also needed, starting at 10:00am.
Complimentary celebration  dinner at MIS.
Thursday 
Students start the competition, attending tech inspection, fuel, scales, brake area, noise, tilt and possibly the practice course.
Workers are needed to begin setting up the Endurance, Autocross, SkidPad and Acceleration courses and test the timing equipment.
Tech Inspection volunteers are also needed, starting at 9:00am.
Complementary dinner in the campground for SCCA Detroit Region members.
Friday  ... BUSY DAY! ...
First thing - Worker safety briefings will be held on-track, beginning at 9:30am.
Dynamic events open: Practice Track (8:00am), SkidPad (10:00am), Acceleration (10:00am) and  Autocross(10:30am)
Once again this year,

we will need 6+ experienced Solo corner captains as well as an experienced Solo Starter, Timing & course Radio Control.

All events will end at approximately 5:00pm.
Saturday
Endurance begins 9:00am and runs until approximately 5:00pm and Flagging & Communications (F&C) volunteers are needed to staff the track corner stations and assist with scribing.
Solo personnel will assist with track set-up and also with tow cart duties. 
After the event, a tear-down crew needs to pack up all equipment.
Perks:
- Continental Breakfast, Lunch, and afternoon Refreshments will be provided each day.
- Free event Program and Shirt  (note that our deadline to submit shirt counts is March 21st).
- Free on-site camping is available, however space is limited and reservations are required.
- Detroit Region members will receive 3 worker points per day and a complimentary gas card.
- Detroit Region members are invited to the free Thursday, Friday & Saturday evening dinners.
Hope to see you there on one or more of these days!