2018 Superfest/Shelby GT 350 Meet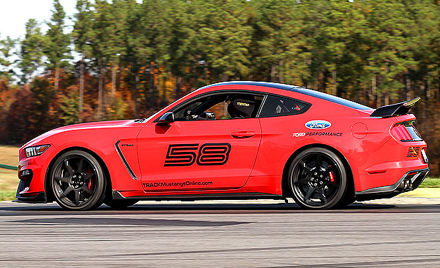 SVT Cobra Mustang Club
Saturday, Apr 21 — Sunday, Apr 22, 2018
Virginia International Raceway
,
Alton

,

VA
Registration closed April 23, 2018 12:00 AM on April 23, 2018 12:00 AM EDT Registration ends April 23, 2018 12:00 AM on April 23, 2018 12:00 AM EDT Registration opens January 20, 2018 6:00 PM on January 20, 2018 6:00 PM EST Registration runs from January 20, 2018 6:00 PM to April 23, 2018 12:00 AM
SVT Cobra Mustang Club presents the SVT Superfest 2018 - on Track at Virginia International Raceway
Join the SCMC, Shelby GT500 Club, Shelby GT350 Owners Asociation, and TCUSA  for a weekend of open-track fun. The "on track" portion of this event will be the newly repaved "Full Course" configuration for all two days which is a 3.27 mile track layout. Other venues include a Saturday "Meet and Eatt" at the Danville Auto Museum, Saturday "SVT, Mustang, and Ford Car Show", and a Saturday lunch time parade laps.

For car show aficionados, we have a car show over the weekend.  The first one will be on Saturday with the SVT Clubs putting on their annual "SVT, Shelby, Mustang, and Ford Show" to be held at the fully paved north paddock. This is a popular judged show so you will be competing among the finest Mustangs and Fords on the east coast. The north paddock has plenty of space available for over 300 cars. While all of this is going on, you'll be located in a prime area to watch the action on track. The north paddock area allows viewing of turns 1 and 14 where you'll hear the screeching of the tires and the roar of open exhaust as high performance cars round the turns in a full throttle blast.
Register here for the Car Show

All of this excitement will want to make you take a break and you'll get that opportunity on Saturday night at the Danville Auto Museum where you'll get to enjoy a home cooked southern meal..

Car Show, open track, dinner at the museum means it will truly be a Superfest!

For more details, list of attendees, etc. go to Here
This is a member only event. You must be a member of one of these two clubs in order to attend. You will need to know your member number in order to complete the online registration. Check with your club's registrar if you do not know it. If you you are not a member please check the websites for membership information
E-mail Tony at tony@svtcobraclub.com for questions or concerns
SVT Cobra Mustang Club - (For all SVT Cobra, SVT Shelby, Shelby GT, Shelby GT350, and Boss 302 owners) - www.svtcobraclub.com
Track Club USA - (Any make, model, or brand) - www.trackclubusa.com
Member Price:  $550.00*
*Member Price with discount:  $490.00  In order to take a $60.00 discount prior to the event, you must mail a paper check and paper registration form.  Click here to download a registration form and to pay by mail and save $60.00.  This discount is good till April 1, 2018
Member Price after April 1, 2018:  $550.00
Price list includes:
Two days on track- $550.00 (remember, check gives you $60.00 off)
One day on track - $275.00 (Remember check gives you $25.00 off)
Hyperdrive - $60.00  (One session in your car with an instructor)
Car Show - $20.00 (Includes anyone riding with you in the car.)
Event tee and parade laps - $30.00 (Tee shirts are limited to registrations by April 1, 2018)
Saturday Night banquet with guest speaker - Danville Auto Museum - downtown Danville, VA - Pay at the door
Event Participant/spectator - $20.00
Don't forget that you can purchase insurance to cover your car for this event from Lockton.
E-mail Tony at tony@svtcobraclub.com for questions or concerns