Tue, Sep 5 - Fri, Sep 8, 2017
2017 Tire Rack SCCA Solo National Championships
Lincoln Airpark
About this event
Entry Cap for this event is 1350 including Formula Juniors. 
The 45th annual Tire Rack Solo National Championships returns to Lincoln Air Park to host over 1300 competitors and crown the best of the best in Solo competition! Come be a part of history as we look to break the record of 1304 competitors set in 2016.
Event Page (please click here for all updates and detailed information)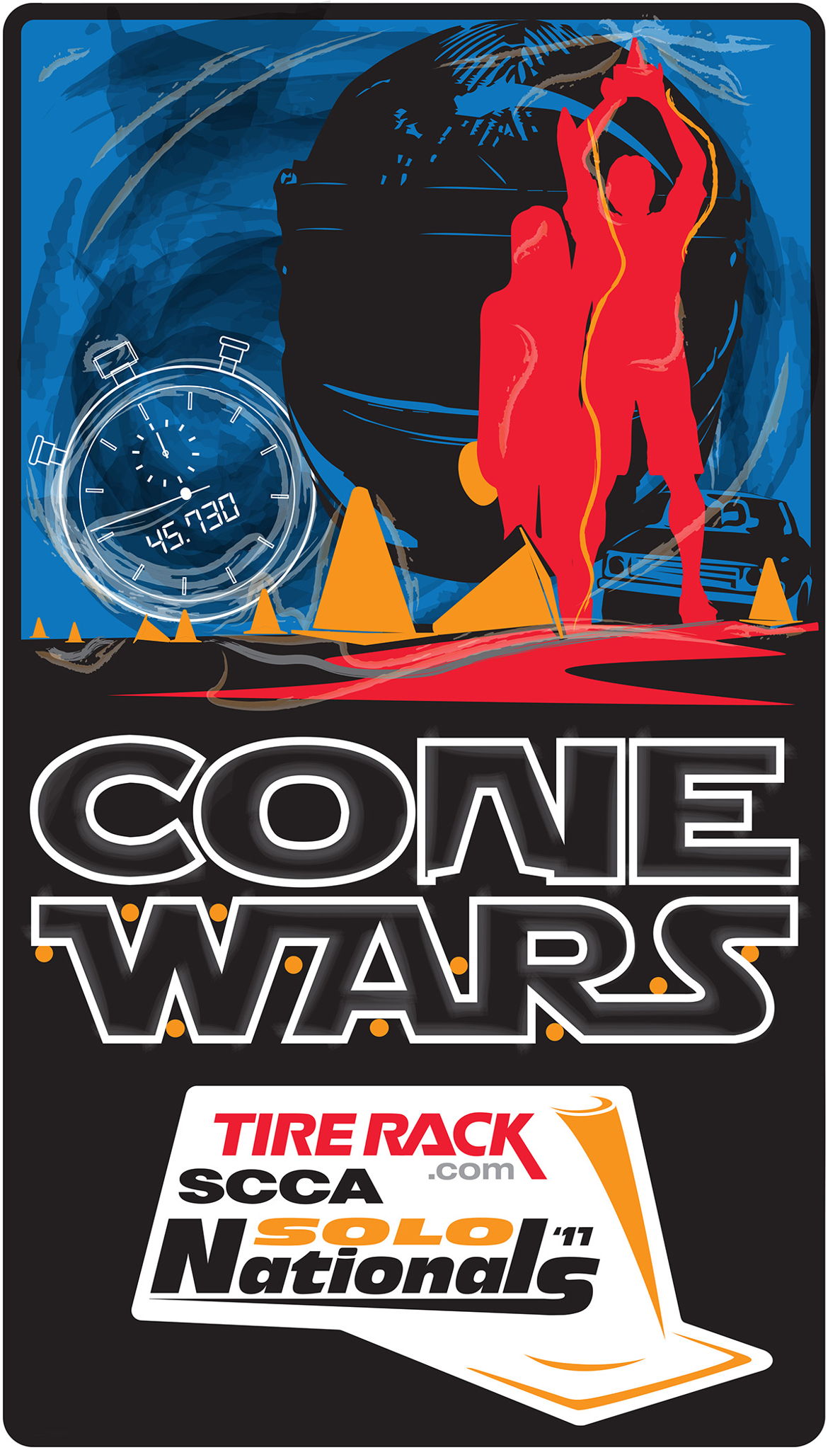 This year's theme is "Cone Wars."
  
Site Location
Use the intersection function on your GPS
Lincoln Air Park
W Mathis St & NW 36th St
Lincoln, NE 68524
Enter site at Gate 41
Registration Schedule

June 26 @ 2:00 pm central- Event registration opens to everyone
                                    All entrants must be an annual SCCA member
                                    Entry fee is $175 for regular classes & $85 for Junior Karts
July 10- Registration for groups paddock closes
                                   A group is defined as 5 or more together
                                   You can register a group here
July 24- Request to paddock with a group closes 
August 7 @ 11:59 am central- Late registration starts ($300 per entrant)
August 14- Paddock registration opens for individual spots
August 15- Run/Work Order for the event will be posted
August 23 @ 2:00 pm central- Last day to late register
August 23- Last day to cancel and receive a partial refund for entrants who registered prior to August 7 only
Event Schedule and Supps
The schedule of activities can be found here: https://dk1xgl0d43mu1.cloudfront.net/user_files/scca/downloads/000/022/570/2017_Solo_Nationals_SCHEDULE_OF_ACTIVITIES.pdf?1498059453
The supplemental regulations can be found here: https://dk1xgl0d43mu1.cloudfront.net/user_files/scca/downloads/000/022/568/2017_Solo_Nationals_Supps.pdf?1498059254 
Staff Hotel

Staybridge Suites I-80
2701 Fletcher Ave
Lincoln, NE 68504
402-438-7829
Hotel Deal
 
Extra Banquet Tickets 
If you have guests coming to one or both banquets please purchase extra tickets for them while registering. All competitors have access to both Wednesday and Friday banquets included in their registration fees.
 If you need to add a banquet ticket after registering please email bharmer@scca.com or jmullin@scca.com. 
Overnight Camping
If you are planning on camping on site overnight please purchase an overnight camping spot. The overnight camping fee is based on the RV/Tent and not the individual. If multiple people are in your RV or tent, only one needs to purchase. All overnight camping purchased will receive a flyer to hang in their RV or tent at check-in.
 If you need to add overnight camping after registering please email bharmer@scca.com or jmullin@scca.com. 
Paddock
Paddock selection will be a separate process from online entry registration.   The online system used a couple years ago will utilize again this year for selecting paddock. We have asked for any group (5 or more in a group) to register their group. All groups registered will be listed in a dropdown during registration. Select the group you with which you would like to paddock. On July 10, the option to request a paddock spot with a registered group closes. Paddock selection for individuals will open on August 14. Further details will be published as they become available. 
All entrants receive a 25'X25' paddock space. If additional space is needed, please specify how much space you need during registration when prompted. There will be a fee for each additional 25'X25' space and a maximum of three additional spaces can be purchased. Those who declare additional space is needed during registration will receive an email later in the week with instructions on how to purchase the extra space. Anyone with more than two spots will automatically be placed at the back end of paddock. One additional paddock space is $25, two additional is $75 and three additional is $150.  
Contingency
Contingency registration for SCCA's gold and silver level administered contingency programs are on the next page following the event registration. Please keep in mind that you must register each and every year to be eligible for awards and that National Tour registration does NOT include Championships. Competitors must be registered prior to competing, and it is the competitor's responsibility to follow all contingency requirements. Please check the programs on SCCA.com for detailed information, including decal placements. While event registration and editing close on August 23, changes may be made to your contingency registrations up to Monday, September 4 through your MSR registration. Please check back for additions to the program.
The following companies are posting bronze level programs for which you must register directly with the sponsoring companies:
Hoosier Racing Tire
Kumho Tires
Mazda North American Operations
MINI USA
Nexen Tire
Nissan Motorsports
Toyota Racing Development

Cancellation Policy
All cancellations must be made in writing.
Please contact Brian Harmer (bharmer@scca.com) or Jamie Mullin (jmullin@scca.com) with questions or to cancel.
Please review important information regarding refunds below. 
Partial refunds (SCCA keeps $20) for cancellations IF:
Entrant registered prior to Monday, August 7
AND
Entrant canceled prior to Wednesday, August 23 
NO REFUNDS for cancellations IF: 
Entrant registered on or after Monday, August 7
OR
Entrant cancelled on or after Wednesday, August 23
Event requirements
All entrants must be annual SCCA members to compete at the Tire Rack Solo National Championships.
Payment is due at the time of registration.
Lincoln Airpark
Lincoln, NE
SCCA - National - National Solo
More events from this organizer