2017 24 Hours of America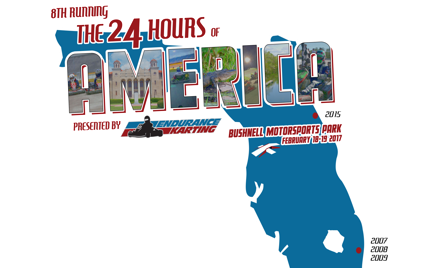 ProCup Karting
Friday, Feb 17 — Sunday, Feb 19, 2017
Bushnell Motorsports Park
,
Bushnell

,

FL
Registration closed February 15, 2017 11:59 PM on February 15, 2017 11:59 PM EST Registration ends February 15, 2017 11:59 PM on February 15, 2017 11:59 PM EST Registration opens December 26, 2016 12:00 AM on December 26, 2016 12:00 AM EST Registration runs from December 26, 2016 12:00 AM to February 15, 2017 11:59 PM
 

 

 

 

 

 

 

 

 

 

Click picture for flyover

Bushnell Motorsports Park hosts the 2017 24 Hours of America for the 8th rendition of this challenging event. Located just over 1 hour from both Tampa and Orlando, it is convenient to many attractions for the whole family. The track represents a pure road course with challenging high and low speed turns totaling 13 bends over 7 tenths of a mile. 

All teams will compete in equally prepared and ballasted Dino Karts provided by Endurance Karting. All karts are tuned for competition, reliability, and fun so that your race is an extraordinary event you will not soon forget.  Rain or shine, the race will be a blast.

Teams will feature drivers from Rookie to Pro ability from over 20 states and several countries and all will be competing for a place on the podium in one of 5 classes. Some of the drivers in the Pro category have competed in the Rolex 34 and the 24 hours of Lemans. 

Teams are provided:
Team Paddock Area with a 10x10 tent area and a 35x10 area for additional tents or RV. 
(No power or utility hookups are provided)
12 HP Dino Kart
 
Pit crew for all mechanical repairs and refueling

Bring your team and have the race of a lifetime!

Important Dates

December 31st

Complete Entry Fee Due

January 7th

3:00pm: Online Q&A Session 

Weekend Schedule

Thursday, February 16th

 

4:00pm-7:00pm

Early Check-in trackside & Gear Rental

Friday, February 17th

 

7:30am-8:00am

Clinic Check-in

8:00am-11:30pm

Advanced Clinic Limited to 30 Participants $300

8:00 AM      Intro and Track Tips

8:25 AM     Track Sessions - Alternating Groups (20 minutes each session)

9:45 AM     Track Walk

10:20 AM   Track Sessions Continued

11:00 AM    Review and 24hr Tips

9:00am-11:00am

Rookie School $150
Includes: On & Off Track Coaching 
(Required for first time 24 competitors. Available to all.) 

9:00am-4:00pm

Team Check-in & Gear Rental

12:30pm-4:00pm

Paid Practice Sessions (Online Purchase Coming 9/1)
Limited to 85 - 30 minute blocks for $85.00 & can be split among teammates

4:20pm

Full Driver's Meeting (Required unless other arrangements are made)

5:30pm- 7:30pm

Team Practice - This is included with team entry

7:30pm-8:00pm

Qualifying (30 min)

8:00pm-9:00pm

Dinner trackside. Food will be available from the on site concessions.

Saturday, February 18th

Click on links below for details & registration

7:30am

Trackside Check-in

8:00am-8:15am

Teams may prepare kart graphics/lights

8:20am

Mandatory Driver's Meeting

9:30am

Karts to the grid for Team Photos

10:00am

Race Start (10 kart swaps required for fueling)

Sunday, February 19th

 

10:00am

Checkered Flag

Save time at the track by renting safety gear & purchasing schools and practice sessions online.
(Online Purchase Coming 9/1)

Reserve your team with only a deposit! 
Teams must first register the team under this link to establish/reserve kart number. Please list all known drivers and their email addresses. If you also know your team name, please include with this initial registration.


SEE KART NUMBERS AND TENT LAYOUT BELOW BEFORE CLICKING SIGN UP NOW.

Payments
 Payments can be made by individual team members. During the payment process, the individual will be required to log-in to histeam account and make payments. Please make sure all team members know the team account information payments can be made. Team members can add different payment options on the account to their liking.You may also make payment with a check, mailing it or giving it to us at one of our regular events. Please notify chris if you plan to make payment this way. Email Chris
Cancellation Policy

Deposit/Kart # is a $1000.00 deposit: This is nonrefundable/non transferable.
A team may switch their kart number to another available kart number for the 24 Hour Race 2017 without penalty to their $1,000.00 deposit. Moneys paid beyond the initial $1,000.00 is refundable less processing fees up to October 1, 2016 (details listed below)

October 1st, 2016 - Half the team entry due ($1,000.00 deposit plus $1,950.00 for a total of $2,700). Teams who do not have their 50% of the the team entry paid by the October 1, 2016 date will lose their kart number request as well as their team deposit.

January 1st, 2017 - Teams must be paid in full.

Cancellations made up to October 1st, 2016 have the option to have monies refunded less 5% and less the original $1,000.00 deposit or to transfer those monies paid less 5% and the original $750.00. 
Cancellations made October 2nd, 2015 and after will be transferred (less processing fees) to another Endurance Karting event less a % based on weeks out from the event (16-13 weeks from event - 7% penalty; 12-9 weeks from event 10% penalty; 8-5 weeks from event 15% penalty; 4 and fewer weeks to event 20% penalty. 

Advanced race school and additional practice session blocks are non refundable. See website for full cancellation policy that includes if you are not able to make the event you had to transfer our registration to.

 

 

Registration Updates:
Each month, we will send a team statement. 
This will reflect items selected and an itemization of payments made (it will show payment & person who made it).
We are happy to only send this update to selected members as companies may prefer to have only one person handling the financials.

 

This list area will show registered teams. Please note that a kart that may show available on this list may not show available on the electronic registration. The electronic registration is the most updated.

 

 Parking: Parking is available in the lot behind the tents. RV Parking is available, there are no available hook-ups

Hotel

A block of rooms has been reserved for a preferred rate at the Microtel Hotel, which is located next door to the track.

 Microtel Inn & Suites by Wyndham Bushnell

2612 West County Road 48, Bushnell, FL 33513 US

Phone: 1-352-568-2111

The Track

The Karts
 


We use the a DINO Racing chassis, with safety rails, to avoid interlocking of the wheels. Many years of testing insures that these bars do not in any way impair the handling of the karts. The karts are mounted with a torquey 12 horsepower 270 cc Honda engine. The clutch is a one-speed oil-bath centrifugal clutch that engages the rear axle at 1800 RPMs. Top speed is 50 MPH.