About this event



PORSCHE CLUB OF AMERICA ZONE 8 AWARDS AND RECOGNITION BANQUET
SPONSORED BY PORSCHE ONTARIO AND PORSCHE RIVERSIDE
JANUARY 21, 2023
THE HISTORIC AND ABSOLUTELY BEAUTIFUL
MISSION INN & SPA
RIVERSIDE, CALIFORNIA
FUN awards DOOR PRIZES FUN awards FUN DOOR PRIZES FUN awards FUN
Zone 8 Series Competition Awards
Enthusiast of the Year!
Region of the Year!
Join us for a great evening of Porsche friends and fun!
Dress Code is Porsche Casual
Dinner - $75.00 per person
5:00 P.M. Social Hour 6:00 P.M. Dinner
A Terrific Emcee
A Very Special Guest Speaker
THE HOTEL IS OFFERING VERY SPECIAL PRICING for DELUXE ROOMS THAT ARE BEAUTIFUL
FOR RESERVATIONS - UNTIL JANUARY 12 only!! NEW DATE HOTEL RATE ONLY UNTIL JANUARY 10TH
Porsche Club of America ROOM BLOCK INFORMATION BELOW
Room Rate: $189 for king or queen Deluxe Room Rate increases after January 10 to $250 for regular rooms.
Call (800) 843-7755 to make your reservation!
ENJOY THE BANQUET AND STAY FOR THE NIGHT AND CONCOURS SEMINAR OR SPA - A GREAT OVERNIGHT GETAWAY AT THE HISTORIC AND MAGICAL MISSION INN
OUR GUEST SPEAK ON SATURDAY EVENING IS THE AMAZINGLY TALENTED AND ENTERTAINING
MATT STONE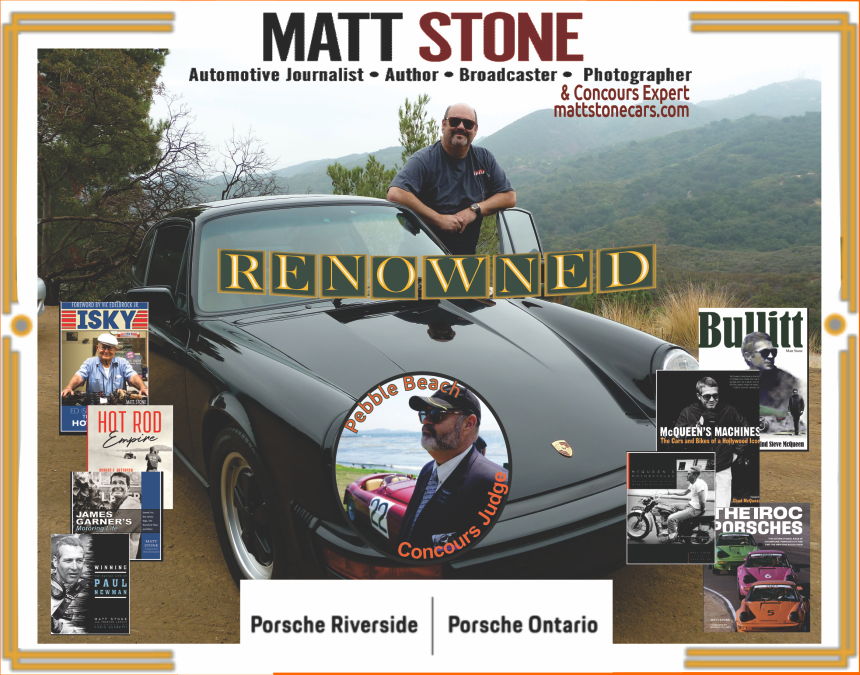 For help with Registration or questions contact: suesan@pobox.com or call 619.992.4287 and question about the covid mandates
Event requirements
The Mission Inn Hotel & Spa began as a quaint adobe boarding house in 1876, becoming a full-service hotel in the early 1900s. Opened by Frank Miller, it expanded in 1903 with over 200 guestrooms and the addition of the Mission Wing, built in Mission-Revival style while incorporating architectural features from more than 20 different California missions. Three more wings materialized as demand grew, including the Cloister, Spanish Wing and the Rotunda Wing, completed in 1931. Miller filled the hotel with valuable items from across the globe, including artwork, furniture and religious relics. Mission Inn still houses the oldest bell in Christendom, dating back to 1247.
The hotel has played host to U.S. Presidents and celebrities and was the setting for Hollywood productions including 1915's "The Vampire", 1938's "Idiot's Delight" and 1997's "Man in the Iron Mask". Presidents Roosevelt, Taft, Hoover, Nixon, Reagan and Bush Jr; social leaders such as Booker T. Washington, Susan B. Anthony, Amelia Earhart, Albert Einstein, Helen Keller and John Muir; and entertainers including Judy Garland, Bette Davis, Clark Gable, Tom Hanks, Barbra Streisand and James Brolin have all stayed, dined and relaxed at Mission Inn throughout its storied, nearly 150- year history.
Room Rate: $189 for king or queen or upgrade to a Deluxe Room for $209! Rate increases after January 10 to $250 for regular rooms. Call (800) 843-7755 to make your reservation!
Frank Miller successfully ran Mission Inn Hotel until his death in 1935. His family managed the hotel until the mid-1950s, when it changed hands multiple times and risked demolition until Duane and Kelly Roberts purchased the iconic property in the late '80s, establishing The Historic Mission Inn Corporation with headquarters in Newport Beach, CA. After a seven-year, $55 million renovation, the Roberts opened the hotel 1992. Kelly Roberts became Vice Chairman and COO to maintain Mission Inn's reputation as a premier luxury California destination, and she went on to develop the annual Festival of Lights, her Tuscan-inspired award-winning Kelly's Spa and more.
Mission Inn and Spa
Riverside, CA