About this event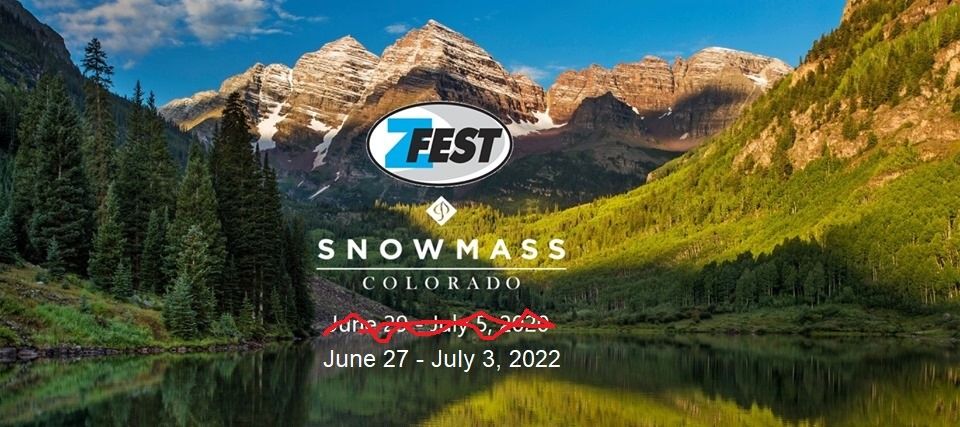 ZFEST is the Annual National Gathering of the (BMW) Z Series Car Club of America. ZSCCA is a national fraternal organization dedicated to the enjoyment of BMW's Z Series sports cars. The club was founded in 1996 as the Z3 Registry and has since adapted to include ALL BMW Z Series cars past, present and future.

NEW ZFEST 2022 HOTEL OPTIONS AVAILABLE!
IF YOU PLAN TO ATTEND ZFEST, WE SUGGEST YOU RESERVE NOW. ZSCCA will not take any new hotel contracts when these are full. We're pleased to offer two additional options near the host hotel:
WESTIN SNOWMASS RESORT – HOST HOTEL
100 Elbert Lane
Snowmass Village, Colorado
KING OR DOUBLE QUEEN ROOMS are $139/night plus $15/night resort fee and taxes.
– Rate is for 2 persons, additional persons may be added for $10 per person up to 4 per room.
– Suites are also available for $199/night
– Our rates are available starting the Sunday before and the Sunday after.
– Breakfast is NOT included in these rates. There are several breakfast options at the resort.
– Self Parking is included free. Valet available for daily charge.
– GUEST ROOMS HAVE REFRIGERATORS.
Call the Westin Snowmass at: 970-923-8200 (reference ZSCCA or ZFEST to receive our rates)
While it should be possible to reserve on-line, we suggest calling Snowmass Resort during normal business hours (Mountain Time) and asking for in-house reservations. Cancellation Policy: cancel up to 14 days out with no penalty. Within 14 days, you will be charged 2 nights. More hotel information at: marriott.com/hotels/travel/asemw-the-westin-snowmass-resort/
Event requirements
Membership in ZSCCA is not required to attend ZFEST, but members do enjoy a discount.
If you are a ZSCCA member, ensure your membership is current before beginning the registration process. Current ZSCCA members have received a discount code by email. Apply this code during registration to receive the discount.
Didn't get the email? Double-check that your membership is current via the My Subscription menu in your member profile, then email help@zscca.org to receive the discount code.
Regarding Registration fees: Our first priority for ZFEST is for our members and guests to have a quality experience. Through careful planning and Board approved budgeting, ZFEST also serves as the only revenue producing activity for ZSCCA outside of membership dues. A successful ZFEST supports ZSCCA operations and makes other events and programs possible.
Note: Registration for The Ultimate Parade World Record Attempt is separate from ZFEST.
Photography: This event will be photographed and videoed by attendees, spectators and official photographers. You should assume that these images will be posted on various social media platforms, and could be used in ZSCCA promotional materials. By registering for this event, you consent to being photographed.
Liability Waiver: As has been the practice for many years, you and your guest (passenger) will be asked to sign the standard ZSCCA liability waiver upon check-in at ZFEST. Attendees cannot participate in any driving or DIY event without signing the waiver.
COVID-19 Precautions and Policy: The State of South Carolina has lifted all official restrictions on gatherings. However, the venues that are part of ZFEST 2021 Homecoming may still have precautions in place, as do some local governments. We ask that you honor those policies to the best of your ability. ZFEST 2021 Homecoming activities not covered by venue policies are generally conducted outside or in otherwise unrestricted areas. In these situations, we ask that our attendees practice prudent social distancing and facemask use per the latest CDC recommendations. Please respect others' comfort levels and personal space during our time together.
Westin Snowmass Resort
Snowmass Village, CO