About this event
Accelerating Change and Beauty & Keys
present:
High-Performance Drivers' Education Day for Women
powered by Porsche Bellevue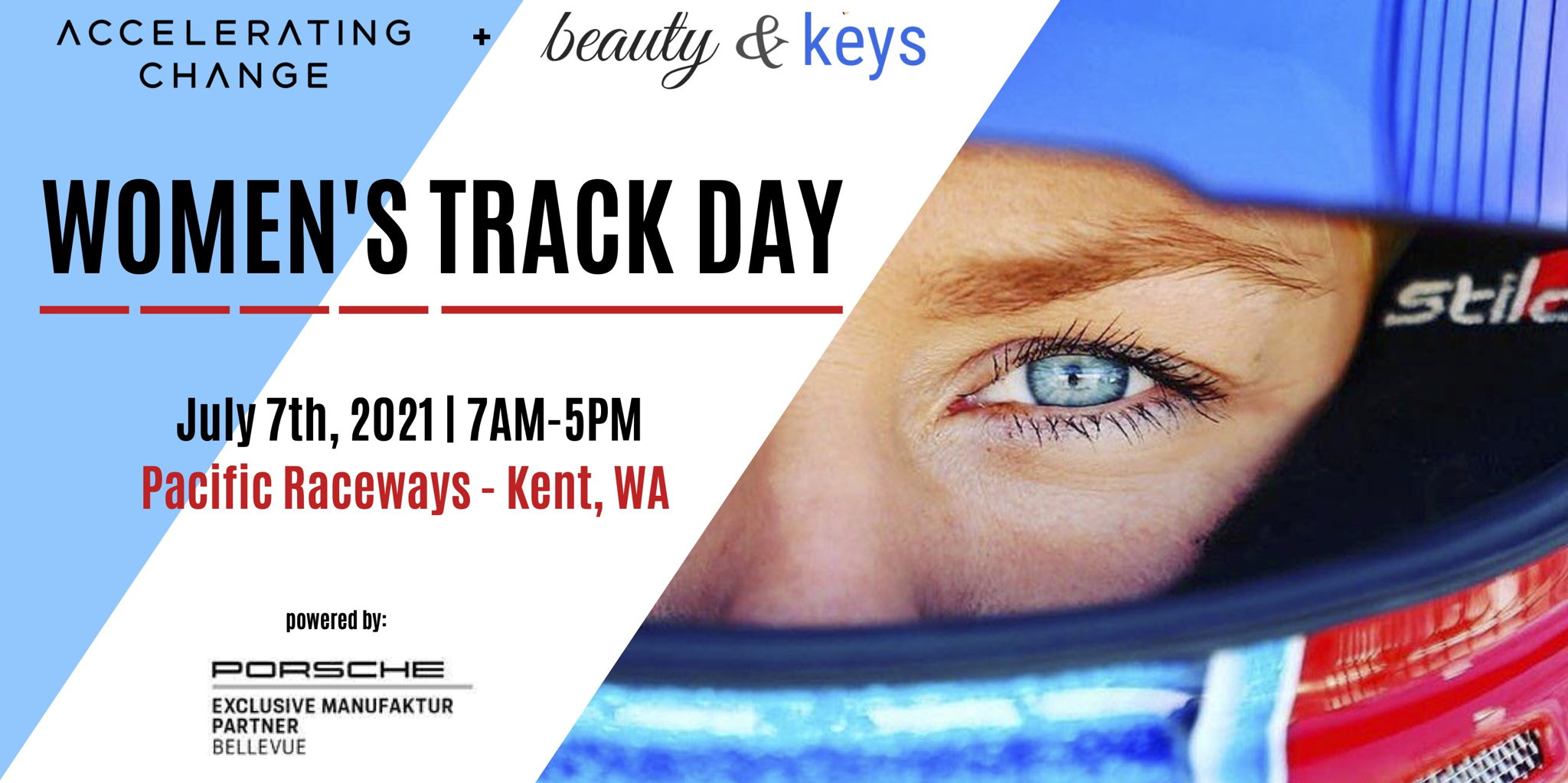 Join us for an exciting day of high-performance driving at the legendary Pacific Raceways. Bring your car and finally drive it the way it was meant to be driven, followed by well-deserved pampering sessions.
No prior experience is needed. You'll learn the basics of high-performance driving from world-class professional driving instructors, among a group of women participants. Throughout the day, you'll form unforgettable memories, while mingling with fellow car lovers and enjoying some pampering from local beauticians. Throughout the day you'll be guided by three-time professional racing champion Christina Nielsen who will share her experiences and best practices for the track, along with other professional instructors and staff.
Your day includes:
One-on-one instruction from active race car drivers riding right seat (for Novices), while you drive your own car
Classroom sessions

to establish the fundamentals of high-performance driving: vehicle dynamics, skid control, brake application, vision skills, and more.

A series of hands-on-wheel exercises that test and improve your skills in a variety of driving situations.
Continental breakfast and lunch in the ProFormance building
Track time in run groups sorted by experience level
Lunchtime pampering by local beauticians
Post-event social hour
Goody bags and drawing
Located in Kent, WA, Pacific Raceways features a 2.5-mile track with 9 challenging turns, 125 feet of elevation change, and a beautiful naturally wooded back section. The venerable road course has featured a who's who of international racing legends including Dan Gurney, Parnelli Jones, and Phil Hill; and regularly hosts a variety of car clubs. The team of instructors will be led by Don Kitch, Chief Instructor of ProFormance Racing School and one of the most sought-after instructors in the state.
The ProFormance Racing School building and classroom will be our home base for the day. Pacific Raceways offers fuel services ($12/gallon of racing fuel) and other track support as needed during the day. Gas stations are 5 minutes away.
Cost
Early Bird: $499 (until May 31)
Normal: $549
Eligibility
This event is open to women 18 years of age or older who have a valid driver's license. No prior on-track driving experience is required. All participants will be required to sign waivers to enter the Pacific Raceway facilities and before participating in the program.
Participants are welcome to bring non-driving guests to watch and support them from the ProFormance building during the day. Non-driving guests do not need to be female or possess a valid driver's license. All participants, including non-driving guests, must be registered in advance; there will be no same-day sign-ups.
About Accelerating Change
Founded by two-time IMSA racing Champion Christina Nielsen and Mariana Small, Accelerating Change is a Los-Angeles-based start-up creating automotive experiences for women. From track days to seminars, tech sessions, adult driver's education programs, and networking opportunities, Accelerating Change creates opportunities for women to experience something new, get more enjoyment out of their cars, and foster amazing friendships. Learn more and stay in touch by visiting accelerating-change.com.

About Beauty & Keys
Beauty & Keys' is a Washington local brand that is female-focused for automotive enthusiasts. Their mission and motto is 'bold & beautiful, on & off the asphalt', incorporating beauty products and companies in every track and drive event. Additionally, the brand shares inspiring stories of women in the industry. Founder Jamei June has organized over a dozen all-female drives in the Pacific NW which included Ferraris, Lamborghinis, Porsches, BMW, and more. Beauty & Keys organized the largest female-only Ferrari drive in the region and has hosted two Female-Only rally experiences with world-renowned rally school DirtFish. Beauty & Keys has been building the female car community in the Pacific Northwest, putting it on the map internationally. Find out more at www.BeautyandKeys.com
Event requirements
IMPORTANT
Registration is critical -- a priority for instructor allocation and acceptance into this limited event is decided by date of registration. In the unfortunate event that you register but we do not have an available instructor or place available, you will not be charged for registration or a cancellation fee. Your credit card is not charged at the time of registration. It will be charged on a space-available basis as we confirm you in to the event and prior to the event taking place. Registration does not guarantee track time. You must sign all waivers and comply with the rules of the event to qualify.
Advanced registration is mandatory; same-day sign-ups will not be available.
While instructors may be male or female, the invitation to attend as a driver is extended to women-only.
You will be assigned an instructor unless:
You update your MotorsportReg.com profile with your track driving experience (i.e. # of events driven, tracks driven, OK-to-Solo and include by whom and when), or
You have been signed-off "OK-to-Solo" by the on-site Chief Driving Instructor
Tech Inspections:
We highly recommend having your car inspected by an ASE-approved shop prior to the event. The condition of the vehicle you choose to drive is solely the responsibility of the driver. You must present a valid driver's license during the sign-in at the track and sign all appropriate waivers. ProFormance will assign instructors and run groups based on your level of experience. If the ProFormance Chief Instructor determines you are eligible for another run group, he will assign you accordingly.
Beginners
We are delighted to include beginners at this High-performance Driver's Education program. Your day will start with a classroom session to cover basic driving tips, track etiquette and safety information as well as braking, passing, the line, turn-in, apex and track-out points, and the flags.
Seasoned Drivers
After the morning Driver's Meeting you will get the green light to enjoy the track for an hour and a half. Instructors will be on-site to answer any questions and to make sure everyone is abiding by safety rules.
Final event details, schedules, and instructions will be emailed to you about 3 days before the event.
All registered participants will be provided breakfast, lunch and appetizers during the social. Additional meals are available for purchase for all guests.
Vehicles:
Participants can bring their own cars, or you can rent one from ProFormance for $500. If you are bringing your own car, we highly recommend you get it tech inspected by an ASE-approved facility. To rent one from ProFormance, you will need to sign additional documentation on-site. All car marques are welcome. No high centre-of-gravity SUVs, trucks, minivans or large sedans.
Clothing:
Come casually and comfortably dressed. Shoes must be full-foot closed-toe and socks. Hiking type deep lugged soles are not acceptable.
Helmets:
All car occupants must wear a Snell approved helmet (SA, SAH, K or M), which has the current (SA2015) available Snell rating or the one previous Snell rating. If you do not have a helmet, ProFormance has some available at no additional cost.
Pacific Raceways
Kent, WA
More events from this organizer