About this event
Accelerating Change and Girls With Drive
Present
High-Performance Drivers' Education Day for Women
Powered by BMW
Join us for an exciting day of high-performance driving at Monticello Motor Club (MMC), the world's premier automotive playground. Bring your car and finally drive it the way it was meant to be driven. This event is open to participants aged 16 and over, to all driving levels (from no track experience to advanced), and to all* vehicle models - bring your own or rent one from the track!
You'll learn the basics of high-performance driving and racing techniques from world-class professional driving instructors, among a group of women participants. Throughout the day, you'll form unforgettable memories, while enjoying access to the country club amenities of one of the country's most exclusive and exciting race tracks. You'll be guided and coached by three-time professional racing champion Christina Nielsen and professional race car driver Aurora Straus, along with other professional instructors and staff.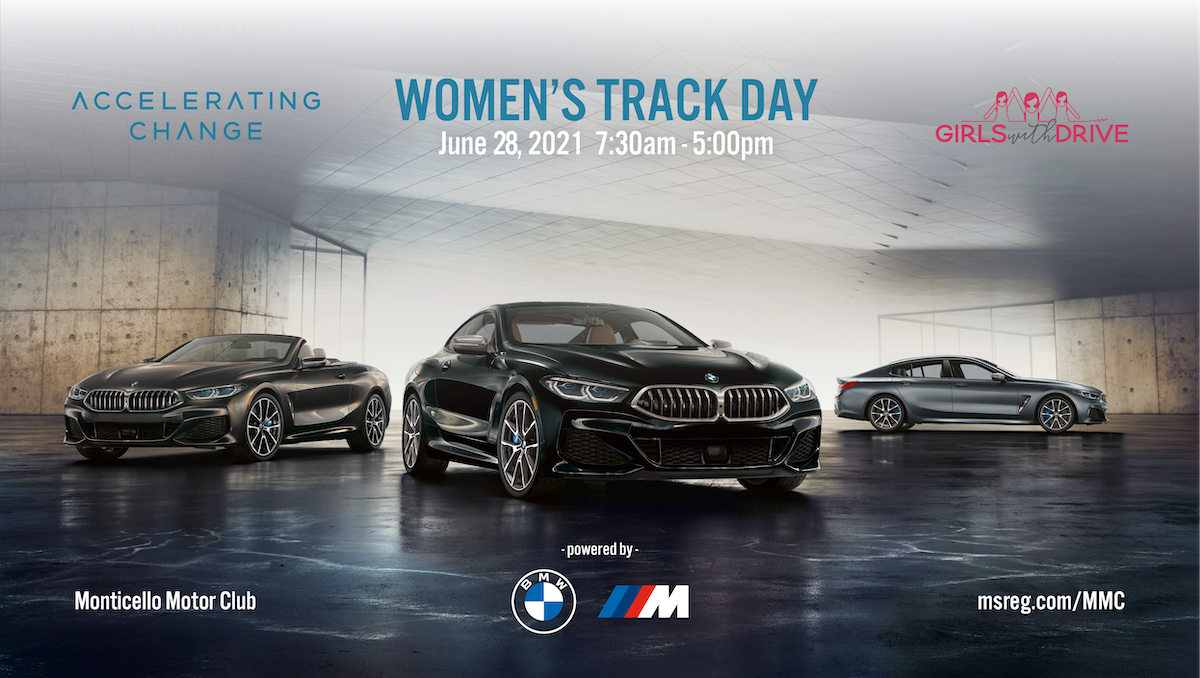 Your day includes:
Tech inspection to be sure your car Is safely prepared for track driving
Drivers' briefing (mandatory)
Light breakfast and lunch in the clubhouse
One-on-one instruction
Track time in run groups sorted by experience level
Post-event social hour
Tour of the Monticello Motor Club facility
Optional Driver Safety Orientation offered the evening prior to the program
Located in the heart of the Catskills, Monticello Motor Club features a 4.1-mile asphalt track with 22 unique turns and 1.5 miles of adrenaline-fueled straights. We will be using two configurations: the North Course (1.9 miles) and the South Course (1.6 miles). Participants will alternate exercises on the two courses throughout the day.
We will meet and eat in MMC's track-side member clubhouse that includes a full kitchen and catering services, dining area, lounge, locker room with private lockers and a shower, and classroom space. MMC is able to provide fuel services and other track support as needed during the day.
Cost:
Early Bird Rate of $999.00 per attendee available until June 10, 2021
Regular Rate $1,200.00 per attendee starting June 01, 2021
Eligibility:
This event is open to women 16 years of age or older who have a valid driver's license. No prior on-track driving experience is required. All participants will be required to sign waivers to enter the MMC gates and before participation in the program, and Accelerating Change and Girls With Drive reserve the right to approve participants.
Participants are welcome to bring non-driving guests to watch and support them from the clubhouse during the day. Non-driving guests do not need to be female or possess a valid driver's license. All participants, including non-driving guests, must be registered in advance; there will be no same-day sign-ups. If the guest-attendance policy changes due to COVID restrictions, we will issue a refund for guest-attendance-related fees.
Event requirements
IMPORTANT
Registration is critical -- a priority for instructor allocation and acceptance into this limited event is decided by date of registration. In the unfortunate event that you register but we do not have an available instructor or place available, you will not be charged for registration or a cancellation fee. Your credit card is not charged at the time of registration. It will be charged on a space-available basis as we confirm you in to the event and prior to the event taking place. Registration does not guarantee track time. You must sign all waivers and comply with the rules of the event to qualify.
Advanced registration is mandatory; same-day sign-ups will not be available.
While instructors may be male or female, the invitation to attend as a driver is extended to women-only.
You will be assigned an instructor unless:
You update your MotorsportReg.com profile with your track driving experience (i.e. # of events driven, tracks driven, OK-to-Solo and include by whom and when), or
You have been signed-off "OK-to-Solo" by the on-site Chief Driving Instructor
Tech Inspections:
You must present a completed Tech Inspection form and a valid driver's license during the sign-in at the track. Accelerating Change will assign and supply numbers for your car which attach to the glass of your windshield and rear window. Please find our Tech Inspection form Tech Inspection Form - MMC.pdf .
Driver Orientation
All drivers are required to attend the orientation session held before the track goes hot. During this session, we will discuss basic driving tips, track etiquette and safety information, with the intention to prepare novice racers for their first wheel-to-wheel race. We will cover the basics of road course racing including braking, passing, the line, turn-in, apex and track-out points, and the flags. Attendance is critical; we will be helping you understand what it takes to be safe and what to expect from other drivers.
Final event details, schedules, and instructions will be emailed to you about 3 days before the event.
All registered participants will be provided breakfast, lunch and appetizers during the social. You may purchase additional meals for guests through the registration form.
Vehicles:
Participants have the option of driving their own vehicles. If participants are using their own vehicle, they must pass tech inspections. Alternatively, there are a limited number of vehicles available for rent from the Monticello Motor Club. To rent one, please make your selection through the event registration form.
*All car marques are welcome. No high centre-of-gravity SUVs, trucks, minivans or large sedans.
If you are sharing a car with someone, you both need to register separately. The registration form has a section where you can provide your car-sharing details.
MMC self-enforces sound limits of 103dB. MMC will exclude any car from engaging in any activities at MMC if it exceeds 103dB (measured at approximately 50 feet.)
Clothing:
Drivers must wear full-length pants, long sleeve shirts made of natural fibres, no synthetics allowed except approved fire-resistant material. Shoes must be full-foot closed-toe and socks. Hiking type deep lugged soles are not acceptable.
Helmets:
All car occupants must wear a Snell-approved helmet (SA, SAH, K, or M), which has the current (SA2015) available Snell rating or the one previous Snell rating. If it is a Snell K or M rated helmet, and the occupant is required to wear a driving suit, then the occupant must also wear a Nomex balaclava (head sock). All head and neck devices used in conjunction with 5- or 6-point harnesses must use SA2015 or newer HANS anchored helmets. Foam neck collars or 'doughnuts' are strictly prohibited.
Anyone entering the Monticello Motor Club premises must abide by the Club's Code of Conduct which can be found here: https://www.monticellomotorclub.com/rules-regulations/
MMC IS A NON-SMOKING FACILITY. There is no smoking allowed on MMC property.
No Pets. Sorry, but leash or no leash, please leave your pets at home.
Monticello Motor Club
Monticello, NY