About this event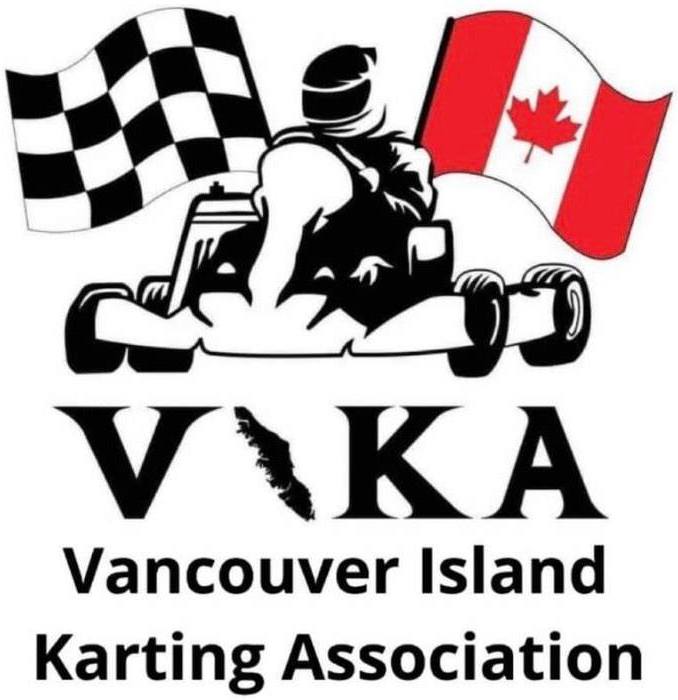 Vancouver Island Karting Association - GAIN Group Summer Series
Race 1 - Saturday April 15th, 2023 at VIMC
Race 2 - Saturday May 6th, 2023 at VIMC
Race 3 - Saturday May 7th, 2023 at VIMC
Race 4 - Saturday June 10th, 2023 at VIMC
Race 5 - Saturday July 29th, 2023 at VIMC
BC Regional Series Race 5 & 6 - VIKA Club Race 6 & 7 - Saturday September 9/10th, 2023 at VIMC
Race 8 - Saturday October 15th, 2023 at VIMC
**************************************************************************
Forward Kart layout, Clockwise
Gates open at 7:00am, drivers meeting at 9:00am, off track at 4:30pm.
We run rain or shine. VIKA reserves the right to cancel due to ice or snow.
We will be running the club races under the following supplemental regulations found on the VIKA site here.
We have been given the opportunity to run our karting program at the Vancouver Island Motorsport Circuit and we must be aware of noise issues in consideration of our neighbors. It is imperative that we keep a low profile as far as noise is concerned. All maintenance should be done before you arrive at the tack.
Please no pets (VIMC rules).
**************************************************************************
Maximum 40 karts per run group - VIKA officials will adjust as necessary.
Tag Sportsman, please register within your TAG run group (Senior or Masters).
If Tag Senior or Tag Masters become full, Sportsman karts will be moved to another run group.
If more than 40 karts register for Briggs Senior, then run group will be split into A & B groups.
DD2 karts can run behind shifters, but will not be scored as a separate class this weekend.
Practice will be one 5 lap session only each day, please attend practice on Friday if needed.
ANY KART NOT REGISTERED THOUGH MOTORSPORT REG PRIOR TO THE REGISTRATION DEADLINE WILL BE CHARGED AN EXTRA $75.
**************************************************************************
Friday
Full day practice provides practice time; registration ends at Friday's practice conclusion (5pm).
Expect a forthcoming parking map, unloading trailers and pit area setup should be done on this day if feasible.
Saturday & Sunday
​​​​​Cars/Trucks to be moved to upper area before Drivers Meeting to allow for increase pit space and spectator parking.
One practice session per class on both Saturday and Sunday, please practice Friday.
No race registration on Saturday or Sunday, only waiver check, transponders, and crew sign-up.
Submit tech forms to Pit Boss during qualifying lineup; missing forms lead to disqualification.
Verify transponders on practice list before qualifying.
Ensure push-down bumpers are unclipped at grid before Pre-Final and Final.

Saturday & Sunday Tentative Schedule
Practice - All Groups (5 Laps Each)
Qualifying - All Groups (4 Laps Each)
Lunch Break / Kid Kart - One Hour
Pre-Finals - All Groups
Finals - All Groups

Final schedule and race lengths will be announced once registration has been completed.
Run Groups:
Group - Shifters
Group - Briggs Junior 1 / Micro Max
Group - Briggs Junior 2 / 4 Cycle Open
Group - Briggs Senior B
Group - Tag Senior / Junior
Group - Tag Cadet
Group - Tag Masters
Group - Briggs Senior A
**************************************************************************
Transponder numbers are required for all karts. You must provide the number during registration. If you do not own a transponder, you may rent one for $25 a day or $40 for both days. Please preregister for a transponder by entering 'RENTAL' in the transponder number field during registration. We have a limited number of transponders available and they will be rented out in the order you register via motorsport reg. Failure to have your transponder number registered to your kart will result in no practice times being posted.
**************************************************************************
Total Fees in CAD$, + 5% GST:
VIKA members or members of an affiliate BC kart club:
Primary Entry: $125 (+ 5% GST) per day
Additional Class for Primary Entry per day $30 (+ 5% GST)
Additional Family Member Entry per day: $75 (+ 5% GST)
Friday Practice:
Drivers racing both Saturday and Sunday: $25
Drivers who are racing either Saturday or Sunday: $ 75 (+ 5% GST) per day
Nonmembers:
A day membership is available for: $25
Other (Please pay in person, Cash only):
Pit Pass: $20 per day or $40 for all 3 days
(Access to pit road/hot pit for pit crew, 1 crew per kart)
Spectator Pass: $10
**************************************************************************
Visit our series sponsor GAIN Group
**************************************************************************
Event requirements
- All Race Day Kart Entries MUST be completed in MotorsportReg.com. NO LATE PAPER entries will be accepted.
Thank you for using MotorsportReg.com online entry system for the VIKA Vancouver Island Kart Club. If you follow these steps to create your account the first time you enter, your future entries with us will be quick and painless! You can also use this same profile to register for other events on MotorsportReg.com.
If you do not already have one, create an account on MotorsportReg.com after reading these steps.
Once logged in, click "My Account" at the top right.
Please use proper capitalization for all of your information as it will appear on the race results. This includes vehicle information.
Review kart making sure to enter your preferred kart number and your transponder number.
Next return to this page and enter the event and pay online.
All entries on MotorSportReg require a credit card to complete the registration process, and payment will be processed once online registration closes. If you do not have a credit card, please contact the Registrar to make other arrangements.
If you have technical issues with online entry on MotorsportReg.com, you can contact their customer support during normal business hours at 415-462-5603 or by email here.
You will receive an email confirmation of your entry automatically from the MotorsportReg.com system.
Some classes will be combined due to time constraints. The race director reserves the right to move any driver from one class to another.
We run rain or shine. Rain tires are allowed.
Transponders can be purchased here: https://speedhiveshop.mylaps.com/karting.html
When you arrive at the track please check in at registration to sign waivers, please verify your tech form is complete.
Tech self-declaration form available below - fill out and print in advance, one less thing to do on Race Morning.
Vancouver Island Motorsport Circuit
Cowichan, BC
Vancouver Island Karting Assoc