Track Guys At Barber Motorsports Park
Continue
Registration closed February 15, 2013 11:59 PM on February 15, 2013 11:59 PM CST Registration ends February 15, 2013 11:59 PM on February 15, 2013 11:59 PM CST Registration opens December 21, 2012 12:00 AM on December 21, 2012 12:00 AM CST Registration runs from December 21, 2012 12:00 AM to February 15, 2013 11:59 PM
Track Guys Performance Driving Events at
Barber Motorsports  Park, Birmingham, AL
2013 Event Sponsors Include:


Blevins Enterprises
Come and enjoy your car on the world-famous 2.3-mile road course at Barber. The track provides plenty of challenges for driver's of all skill levels and is an extremely rewarding experience to spend a weekend on it's incredible elevation changes and wide variety of turns and straights.
Just check out this elevation map of the course: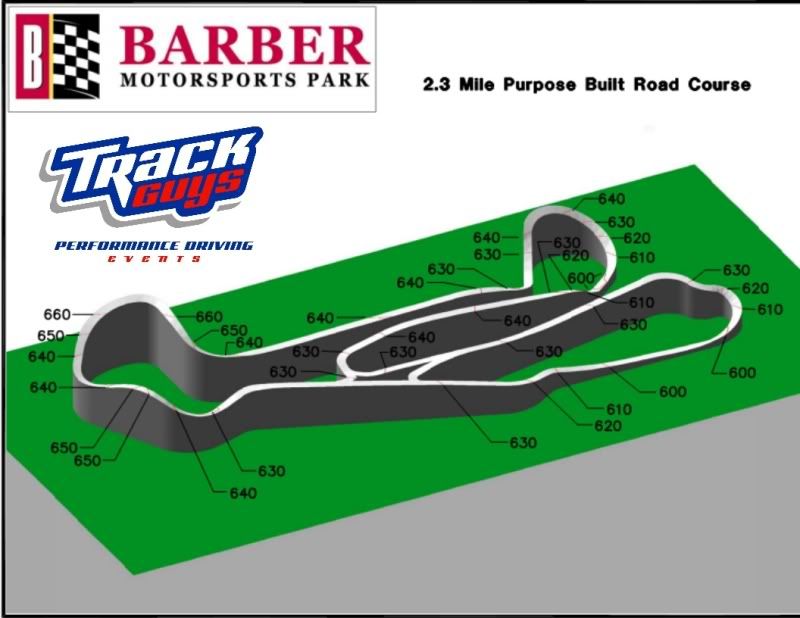 Jeff Lacina, Track Guy's lead driving instructor and his team of lap-happy instructors will be at the track to help everyone get up to speed.
So, you're saying, "But guys, I've NEVER done this before!" Fear not, we we all had to start somewhere and what better opportunity is there than learning with a professional instructor sitting next to you while you're out driving with your fellow enthusiasts. No previous experience is required - just a desire to come up and learn the basics of performance driving...and have a GREAT time doing so.
It is important to remember that our Track Guys events are NOT RACING events. Track Guys events are non-competitive, performance driving education events where YOU learn at your own pace, with plenty of class room sessions and seat time out on the track to help you "get it right."
We run a "four run group" format - this means that there is a run group for drivers of all skill levels.
Group 1 and 2 drivers will even have the chance to go for some at-speed rides with our instructors. The challenging 2.3 mile road course is safe, fast and is big fun for both the novice and the experienced driver.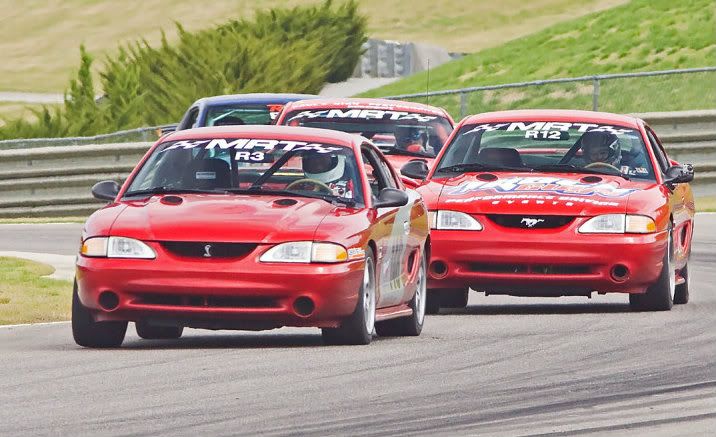 For 2013 event, we require that all participants (all drivers and instructors) wear helmets with SA05 or SA10 helmets. Sorry gang, but it's time to hang up the SA00 buckets... and don't even THINK about showing up with an M-rated helmet... OK?
So ask yourself, "Do I want to put a smile on my face and learn the basics of performance driving in MY car?" Well, we think the answer is YES! To accomplish this goal, all you need to do is register for this event. We'll guarantee that you leave with a big smile... and a bunch of new friends.
General Event Schedule

Saturday, February 16
7 AM: Registration/Tech Inspection
8 AM: Mandatory Driver's Meeting
9 - 5 PM: On Track Driving Activities

Sunday, February 17
7 AM: At-track Devotional Service - Everyone welcome to attend
7:45 AM: Registration/Tech Inspection
8 AM: Mandatory Driver's Meeting
9 AM - 5 PM: On Track Driving Activities
NOTE: This Event is Open to All Makes and Models of Cars
Cost: $500 for Saturday and Sunday
Get a "taste" of performance driving with the Track Guys Test Drive
Don't know if two full days of performance driving is for you? Then you might want to sign up for the Track Guys Test Drive. For $50.00 you can come and participate in the driver's meeting, morning classroom sessions, the noon parade lap and then have your very own "Test Drive" session at-speed, on the track with your own in-car instructor helping you get around the track at-speed. The Track Guys Test Drive is ONLY available on Saturday. If you go through the Test Drive program and decide, "hey, I can handle another day of this!", then we'll apply your $50 registration to the rest of the event - all you'll have to do is pay the balance and you're in for the rest of the weekend!
For Questions or additional information please contact Dell Hughes at dell@trackguys.com or Jeff Lacina at jeff@trackguys.com
Please note: Creating an account at MotorsportReg.com does not Register You for this event.