About this event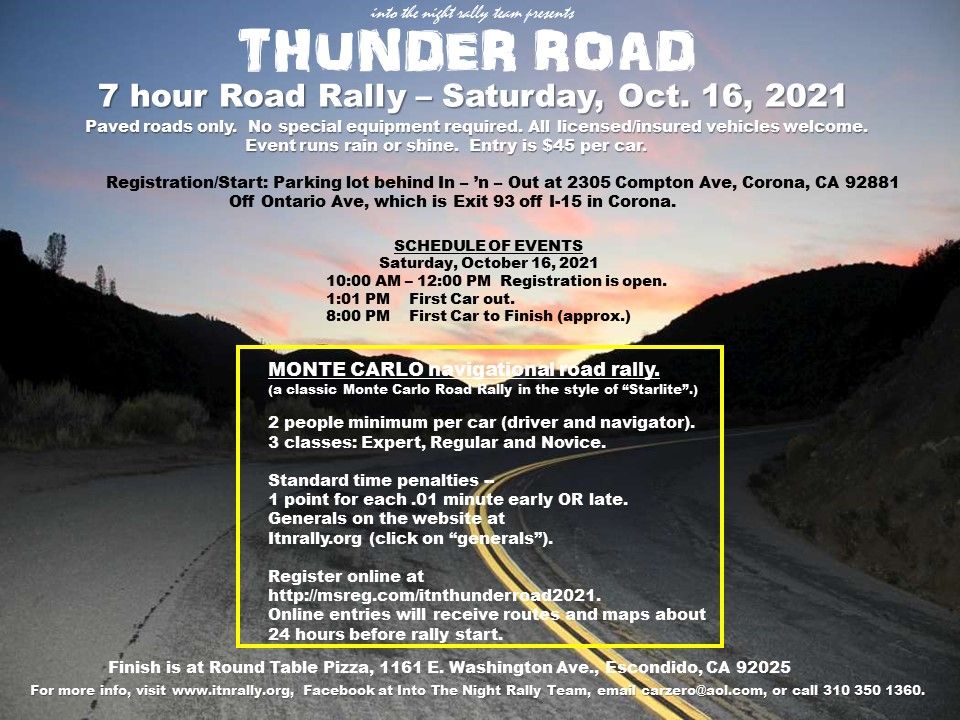 This event is a navigational road rally in the Monte Carlo format of the famous "Starlite" rallies. You will be given paper maps and Route Instructions which include a list of rally checkpoints. It is up to you to find the preferred route that will get you to each rally checkpoint in order and in the allotted time. The object of a navigational rally is to follow the rally course at legal speeds and to arrive at each checkpoint on time; not early, not late. Penalty points are exactly the same for being either early or late at each checkpoint. You will be given a target time ("True Time") for each checkpoint in the Route Instructions.
The overall length of the rally is about 280 miles. There is a gas break included during the rally,
Go to our website at www.itnrally.org for the General Rules and Regulations, samples of maps and instructions from previous rallies, as well as our "how-to" video.
Cars registering here via MSR will receive a link to the rally Route Instructions and Official Maps approximately 24 hours before the rally start.
(You may still register in person on the day at the Start location. Be sure to be there between 10 and 11am and definitely no later that 11am so you'll have time to look through the routes and maps.)
Event requirements
All street-licensed and insured vehicles are welcome. 2 people (driver and navigator) are requred per vehicle.
Driver must be prepared to show valid, current drivers license, proof of registration, and proof of insurance on the day of the rally. All occupants of the vehicle during the rally will be required to sign the waiver. If a minor will be attending the event please call 310 350 1360 for information about getting a minor waiver, which may require notarization.
Click on the map below to go to Google maps and create your own custom directions to the rally start.
In-N-Out Burger
Corona, CA
Into The Night Rally Team