About this event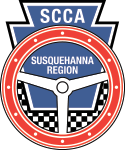 Registration fees
Pre-Registration for Members - $55
Pre-Registration for Non-Members - $70
Walk-Ups for Members - $65
Walk-Ups for Non-Members - $80
Note that starting in 2023, MotorSportReg will begin charging $2 per registration separately from our fees.
Event requirements
GENERAL INFORMATION
Learn the ins-and-outs of rallycross! Susquehanna region is happy to host a rallycross school on Saturday, April 23rd at the Farm Show Elmerton Lot. The school is an introduction to driving on a low-friction surface in a competition environment. Discussion of car prep, rules, and techniques will be followed with driving instruction and practice. A full course may be included if time allows.
The 2023 Susquehanna RallyCross will be run according to the SCCA RallyCross National Rules as shown on the SCCA website at SCCA.com.
We will accept a maximum of 20 entries.
All national SCCA RallyCross classes will be recognized.
Drivers wishing to compete in one of the Open classes must contact an administrator prior to registering to arrange a technical inspection.

In addition to vehicle eligibility as defined in the 2023 RallyCross rulebook, drivers wishing to compete in a truck, SUV, or crossover must reference the rollover rating found on the website for the National Highway Traffic Safety Administration ( https://www.nhtsa.gov/ratings ). If your specific vehicle is not listed, a vehicle from that same production run a.k.a. "generation", may be referenced. Vehicles with a rollover risk greater than 17% are barred from entry. Trucks, SUVS, and crossovers not rollover rated on the NHTSA website are also barred from entry. Any suspension modifications that raise the height of any given vehicle will be reviewed for entry eligibility by the Safety Steward. Final discretion of eligibility (special exemption or exclusion) will be ultimately decided by the Safety Steward or program chairs
Safety
A 10 MPH speed limit will be strictly enforced for all areas of the venue except when on the actual competition course. Any individual found to be driving unsafely or at excessive speeds may be disqualified at the discretion of the organizers without option to appeal.
Approximate Event Schedule
Suggested arrival time: 7:30-8AM

Registration & Tech opens at 8AM

Registration & Tech close at 9:10 AM

Driver's meeting: 9:15AM

First car off: 10AM

Finish and cleanup: 4:00PM
Technical Inspection and Helmets
The car will be inspected to verify that it is in proper working order, and has a legible registered entrant number on each side of the car. Items to be inspected may include but are not limited to: seat belts, seats, brakes, wheel bearings, ball joints, lug nuts, throttle return, battery tie-down, and steering. No major fluid leaks will be allowed. Helmets must be Snell 2010 (M2010 or SA2010) or newer. Loaner helmets will be available.
Anyone using a Susquehanna loaner helmet must have a balaclava or purchase one for $2.
Entries per car
There will be a maximum of two drivers per car per run group.
Age Requirements
A competitor must be a minimum of 16 years old and those under 18 must have a properly executed SCCA minor waiver.
License Requirements
A competitor must possess a valid driver's license or driving permit and be prepared to show it at registration. If a driving permit requires a parent/legal guardian, that person or an approved instructor must be present in the vehicle. Competitors and passengers must be SCCA Members. SCCA Weekend Memberships will be available at registration at a cost of $15.00.
Harrisburg Farm Show Elmerton Lot
Harrisburg, PA
SCCA - Susquehanna Region
More events from this organizer