About this event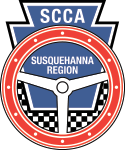 Registration fees
| | | |
| --- | --- | --- |
| Event: | Member Pricing | Non-Member Pricing |
| 2-Day Event: | | |
| Early | $475 | $490 |
| Normal | $550 | $565 |
| Late | $650 | $665 |
| Day Of | $660 | $675 |
| | | |
| 1-Day Event | | |
| Early | $325 | $340 |
| Normal | $375 | $390 |
| Late | $450 | $465 |
| Day Of | $460 | $475 |
Event requirements
GENERAL INFORMATION
The 2022 Susquehanna Region RallySprint Championship Series will operate in accordance with the 2022 SCCA RallySprint Rules (RSR) as shown on the SCCA website at: https://www.scca.com/pages/rallysprint-and-rallytrials
These supplementary regulations are designed to help the first-time participant as well as those who have run elsewhere before but are not familiar with our procedures. They explain the Region's rules and guidelines to help make RallySprint events run smoothly, and to help clarify any questions or misconceptions about the running of the region's RallySprint series events. These regulations apply only to Susquehanna Region's RallySprint series events. In cases where specific venues require additional rules and guidelines, additional regulation documentation may be developed by the Region's RallySprint committee at the discretion of the RallySprint Chair(s) and will be used in conjunction with these regulations unless otherwise specified.

REGISTRATION
ENTRY FEES
Entry fees may vary based upon venue and event type. Walk up entries, on the day of the event, will pay the event's late entry fee plus an additional $10. Entrants who are not SCCA members must purchase an SCCA Weekend Membership.
PRE-REGISTRATION / CHECK-IN
Online registration takes place through motorsportreg.com. Early/Normal/Late tiered entry will be established for all events. The early entry time will be from when online registration is opened until 3 Weeks before the event. Normal entry will be from when early entry closes until 1 week before the event. Late entry will be from 1 week before the event up until the day of the event until registration onsite closes. Online entry closes the Friday prior to the event at 11:59 PM.
EVENT CHECK-IN
Competitors must be prepared to present their valid driver's license, and may be required to provide a valid SCCA Membership Card or proof of Weekend Membership purchased for the weekend when checking in or registering at the event venue.
EVENT REGISTRATION CAPS
Susquehanna Region SCCA reserves the right to institute registration caps at any and all RallySprint events at any time, as necessitated by venue restrictions and size constraints, and as determined by the RallySprint Chair(s). Due to this, we encourage regular
competitors to make use of our online pre-registration well in advance of the event to ensure a competition spot.
CANCELLATION POLICY
We will not charge credit cards until the day after the online registration closes. Competitors may cancel their registration up until the time that online registration closes to ensure that they are not charged for the event. Once registration closes, no credits will be provided for competitors unable to attend the event. No refunds will be provided under any circumstance.

EVENT LOGISTICS
SATURDAY EVENT SCHEDULE – APPROXIMATE (Daylight/Evening events only, lights are required for these events)
9:30-10AM: Suggested arrival time
10:00AM: Registration & Tech opens
10:30AM: Recce open (Non-competition vehicles ONLY)
10:30AM: Worker/Volunteer meeting: (MANDATORY)
11:10AM: Registration & Tech close
11:15AM: Recce closes
11:30AM: Driver's meeting
12:00PM: First car offComplete event schedule will be provided prior to, or at the event.
SUNDAY EVENT SCHEDULE – APPROXIMATE (Daylight events only)
7:30-8AM: Suggested arrival time
8:00AM: Registration & Tech opens
8:30AM: Recce open (Non-competition vehicles ONLY)
9:00AM: Worker/Volunteer meeting: (MANDATORY)
9:10AM: Registration & Tech close
9:15AM: Recce closes
9:30AM: Driver's meeting
10:00AM: First car off
Complete event schedule will be provided prior to, or at the event

EVENT SAFETY
A 10 MPH speed limit will be strictly enforced for all areas of the venue except when on the actual competition course. Any individual found to be driving unsafely or at excessive speeds may be disqualified at the discretion of the organizers without option to appeal.
In general, we ask our participants to use common sense and consider the following:
● Paddock/ grid speed limit is 10 mph
● Spinning of tires anywhere on or near the site (except on course) is grounds for immediate ejection from the event
● No reckless driving at the event including out on course
● No minor under the age of sixteen (16) is allowed in grid unless accompanied by a parent or legal guardian
● Never turn your back on a moving vehicle, especially when working the course
● No horseplay involving a moving vehicle
● All pets must be on a leash at all times; and may not be in any "hot" areas (grid/course)
● Anyone at an event who must work under their vehicle MUST have that vehicle supported by jack stands or ramps suitable for soft surfaces.
● Participation while under the influence of drugs and/or alcohol will not be tolerated
● Use common sense, this list is not exhaustive as there are too many no-no's to list
WAIVERS
Competitors, workers, crew and guests must sign the SCCA Liability Release Waiver and display the wrist band issued to them to indicate that the waiver has been signed. Persons participating at any level of event activity who are under the age of 18 must have the appropriate Minor Release and Waiver of Liability and Indemnity Agreement Forms Completed by their parent or legal guardians. Forms are available at registration.
RUN PROCEDURE
We will run five (5) legs, or three (3) runs of the course each. Each leg will be separated by a service time of varying length depending on the event.
CAR/DRIVER LIMITS
There will be a maximum of two drivers per car per car.
METHOD OF TIMING
Our events will be electronically timed using synchronized clocks at start and finish. Times are reported and recorded to the second. Alternate timing methods, including but not limited to manual timing with stop watches, may be implemented in the event of a systemic timing failure, at the discretion of the RallySprint Chair(s).
PENALTIES
● In the case of a Did Not Finish (DNF) or a jump start, a bogey time will be awarded for that run. Bogey times will be calculated based on an individual competitor's slowest time plus 2 minutes, including penalties, per run group. In the event a competitor DNFs on the first run, the bogey time will be based on the slowest subsequent run. If no subsequent runs are completed, all runs will be scored as a Did Not Start (DNS) (999 seconds).
● 30 Second penalty for each strike of any element of a chicane.
● Any vehicles or competitors entering the service area outside of the designated schedule time, or being provided tools, parts, or assistance by anyone but competitors will receive a 5 minute penalty.
● Drivers are ultimately responsible for ensuring they receive the correct number of runs per session. Any runs not taken will be forfeited and scored as a DNF.
SCORING
Each driver will be scored on his/her total accumulated time for all official runs, including penalties. Times for a given run for an entire class or heat may be discarded at the discretion of the RallySprint Chair(s) and Timing Chief if it is determined that there was an unfair advantage/disadvantage for any competitor.
PROTESTS
All rules concerning protests are governed by Article 5.2 of the 2020 RXR.

VEHICLE AND COMPETITION REQUIREMENTS
VEHICLE CLASSIFICATION
We will be following the classing as listed for the American Rally Association (ARA) The classes can be found at https://www.americanrallyassociation.org/. Below are the classes listed:
· Open 4WD
· Naturally Aspirated (NA) 4WD
· Limited 4WD
· Open 2WD
· Limited 2WD
· RC2
· Constructors C2 (SCCA Class)
· Constructors C4 (SCCA Class)
NON-COMPETITION CLASSES
Vehicles may be allowed to compete in a non-competition "Exhibition" class at the discretion of the program chairs. Vehicles in this class will not be eligible for season points.
LOG BOOKS
All vehicles entering a level 1 event will be required to hold a logbook through RallyAmerica, ARA, NASA, or SCCA. These logbooks will be accepted whether current or not. If logbooked through a different organization, you must contact the event chairman for approval.
VEHICLE IDENTIFICATION / CAR NUMBERS
A driver will choose his/her one, two- or three-digit number at registration. Leading zeros will not be allowed. Drivers must supply their own physical numbers. Numbers are to be clearly displayed on each side of the car. Numbers are to be applied prior to going through tech inspection. It is highly recommended numbers be approximately 8" high and of a contrasting color. Class lettering is required to be approximately 8" high with a 1.25" brush stroke and also of contrasting color. Vehicle numbers which are illegible (e.g. shoe polish/chalk/grease pencil applied to windows or blue painters' tape on blue cars) are not acceptable and must be corrected before the vehicle will pass technical inspection. In the event that the competing vehicle already has painted or other permanent numbers that do not reflect the number and/or class of the competing vehicle, they must be covered or crossed out. The Tech Chief has final say in determining whether identification is appropriate.
TECHNICAL INSPECTION
Every competition vehicle shall be inspected to verify that it is in proper working order, and has a legible registered entrant number on each side of the car. Competitors should present the completed tech form at tech inspection. The required form can be found here https://www.scca.com/downloads/14802-2016-scca-rallysprint-tech-form/download . Items to be inspected may include but are not limited to: seat belts, seats, brakes, wheel bearings, ball joints, lug nuts, throttle return, battery tie-down, and steering. No major fluid leaks will be allowed. If a wheel is removed from the vehicle for any reason, the driver must notify a tech inspector prior to returning to competition.
HELMETS
Helmets must meet one of the following standards:
· Snell SA2020
· Snell EA2016
· Snell SA2015
· Snell SAH2010
· Snell SA2010
· SFI Spec 31.1/2010 or newer
· FIA 8860-2018
· FIA 8859-2015
· FIA 8860-2010
· British Standard 6658-85 Type A/FR, including all amendments will be valid for 10 years from the date of manufacture. If no manufacturing date sticker exists, the helmet will be considered expired.
HEAD AND NECK RESTRAINTS
Head and neck restraints are required for all competitors and passengers. These systems shall be mounted as per the manufacturer's recommendations. The head and neck restraint system must meet at least one of the following standards:
· Certified to FIA 8858-2002
· Certified to FIA 8858-2010
· SFI 38.1 licensed. *SFI licensing requires an SFI 38.1 conformance label that is less than five (5) years old.
DRIVING SUIT
All drivers and co-drivers competing must wear driving suits that conform to one of the following standards
· FIA 8856-2018
· FIA 8856-2000
· SFI 3-2A/5
· SFI 3-2A/1 driving suits are also permitted if worn with approved fire resistant underwear (FIA Standard 8856-2000 or SFI 3.3 Specification).
TIRES
All competition and winter tires are allowed provided they meet the minimum weight rating for the vehicle. Studded tires will only be allowed for events with snow or ice present. *Paddle tires and tires with homemade studs will not be permitted under any circumstance.

ROLL CAGE REQUIREMENTS
PADDING
Any portion of the roll cage which could come into contact with the driver or co-driver's helmet during competition, including all bars in the plane of the roof and forward of the main hoop, shall be covered with energy absorbing material compliant with either the SFI 45.1 specification or FIA Standard 8857-2001 Type A. (NOTE: this was an issue with a number of cars at the first event. If you're not sure how much to cover, covering more is better than not covering enough. There will not be padding available in the area. Don't be failed at tech for this!)
SERVICE
Service will be provided at the designated times listed in the schedule. No service will be allowed outside of these times.
· Any vehicle being serviced will be on a tarp at all times
· Jack stands will be used any time one or more wheels are off the ground and a crew member is under the vehicle
· Jack plates are to be used to prevent the jack from becoming unstable
FUELING
· Teams should bring enough fuel for the day as there is no fuel available at Rausch Creek and there will not be enough time to get fuel during the day
· All fueling will take place in a designated area (consistent with stage rally rules)
o While fueling, a team member must be at the vehicle being fueled with a fire extinguisher
o No smoking within 50 feet of the fueling area at any time
o Penalty for violation of the fueling rules will result in a 5-minute penalty for the first offense, disqualification upon the second offense
o Vehicle must be on a tarp during fueling to allow collection and cleanup of any spilt fuel.
LICENSE & MEMBERSHIP REQUIREMENTS
A competitor must possess a valid driver's license or driving permit and be prepared to show it at registration. Permit or restricted licenses shall be allowed as set forth by the SCCA RallySprint rules. If a driving permit requires a parent/legal guardian, that person or an approved instructor must be present in the vehicle during all parade and competition runs.
Competitors must be SCCA Members. SCCA Weekend Memberships will be available at registration at a cost of $15.00.
AGE REQUIREMENTS
A competitor must be a minimum of 16 years old and those under 18 must have a properly executed SCCA minor waiver.

CODE OF CONDUCT
WELCOMING ENVIRONMENT STATEMENT
The SCCA strives to ensure ALL participants at its events and activities enjoy a welcoming environment. The SCCA supports equality of opportunity and treatment for all participants, and will make every effort to maintain an environment that is free of harassment, discrimination and any behavior that interferes with a safe, fun and exciting experience. A commitment to a welcoming environment and the SCCA Values is expected of all members and attendees, including drivers, workers, crew, guests, staff, contractors and exhibitors, and other participants at SCCA activities, sessions and social events when representing the SCCA in print or electronic media.
VIOLATIONS
Any competitor found in violation of the Welcoming Environment Statement or any other rule, regulation or guideline outlined herein, in the Susquehanna Region SCCA bylaws, or during the required Driver's Meetings may face penalties up to and including disqualification from the event, at the discretion of the Event Chair(s). In the event of a disqualification due to code of conduct violation, competitors may be required to leave the venue, and no credit or refund will be provided.

RESULTS, AWARDS & TROPHIES
OFFICIAL RESULTS
Go to http://www.scca-susq.com for official results.
BREAKING TIES
Should class competitors' total times result in a tie, the competitor with the fewest cone penalties will be considered the winner. If the tie persists, the driver with the faster time for a single run including penalties will be considered the winner.
Should class competitors' series points result in a tie, the competitor with the most first-place finishes will be considered the champion. If the tie persists, the driver with the fewest cone penalties for the year will be considered the champion.
AWARDS / POINTS
All classes (except "Exhibition") will be eligible for championship points.
Drivers who are the only competitor in their class must complete all runs of the event to earn points.
Series points will be awarded as such:
1st in class will receive ten (10) points, 2nd place, eight (8) points, 3rd place, six (6) points, 4th place, four (4) points 5th place, two (2) points
To be eligible for a year-end series championship trophy, a driver must compete in the same class, in more than 50% of the total number of series events. Trophies will be awarded for 1st, 2nd, and 3rd place finishers who meet these eligibility requirements at the annual year-end awards banquet.
Rausch Creek Off Road Park
Pine Grove, PA
SCCA - Susquehanna Region