StarFest 2018 - Alabama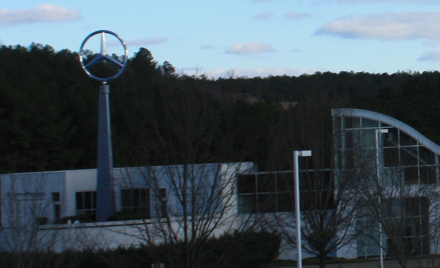 MBCA - Alabama
Tuesday, May 15 — Monday, May 21, 2018
Barber Motorsports Park
,
Birmingham

,

AL
Registration closed May 21, 2018 7:00 AM on May 21, 2018 7:00 AM EDT Registration ends May 21, 2018 7:00 AM on May 21, 2018 7:00 AM EDT Registration opens March 8, 2017 8:00 AM on March 8, 2017 8:00 AM EST Registration runs from March 8, 2017 8:00 AM to May 21, 2018 7:00 AM
CURRENTLY  SCHEDULING  THURSDAY  TOURS
STARFEST 2018   REGISTRATION
Welcome to the Mercedes-Benz Club of America (MBCA) national celebration at the North American production facility, Mercedes-Benz US International (MBUSI) near the host hotel, Birmingham Hilton Perimeter South.  These two venues will be joined by the Talladega Superspeedway and the beautiful Barber Vintage Motorsports Museum and its Road Course that annually hosts the Indy Car series.  
This is the 25th Anniversary (2018) of Alabama's selection as the site of Mercedes-Benz's first North American factory.  The first ML's were 1998 models.  Although production began in mid-February of 1997.  We will commemorate this with a "Homecoming" for ML, GL, GLE, GLS, R-class, and current C-class sedans  -  all were built in Alabama.
Please read through each option.  You will not be able to do everything.  This is not a mistake - we anticipate this being the most attended StarFest in the last several years. So, to have your first choice of events, days, and times be sure to register as soon as you know your schedule.
REMINDER  -  EVENT  PRICES  INCREASE  EACH  MONTH
Concours Judging School
Judging School will be held at Brand Immersion Center on Thursday.
Free box lunch provided to those who register and attend.
Register for Judging School in CONCOURS Section.
E-MAIL  ADDRESS
BE  SURE  E-MAIL  ADDRESS  PROVIDED  AT  REGISTRATION  IS  CORRECT.
E-MAIL  ADDRESS  WILL  BE  ONLY  MEANS  OF  COMMUNICATING  WITH  YOU,
ESPECIALLY  REGARDING  FACTORY  TOUR  DAY  AND  TIME !
MBUSI  FACTORY  TOUR
TUESDAY - FRIDAY  -  Experience tells us that MBCA members want to visit the MBUSI Factory and they want an exceptionally complete tour.  The MBUSI team has graciously accommodated us and has extensively trained some of our Alabama Section members to assist with tours.
During StarTech 2013, two full days were required for 300 participants to tour the factory.  We anticipate four days (Tuesday-Friday) will be needed for everyone to tour the factory during StarFest 2018.  
Tour times and days will be assigned by order of your registration.  The earliest registration will get Friday, the next Thursday, and so forth.  The Factory has set a Tour maximum of 600 people due to space and staffing limitations. Since the Factory is operating at full capacity of 3-shifts per day and 6 days a week, the limitation was needed.  
TECH SESSIONS  &  ROAD RALLYS
If your tour is Wednesday or even Tuesday do not despair, because there is plenty of things to do:
We will have morning and afternoon tech sessions by great speakers on different subjects.  Some are so good that you might want to come early to meet them individually.
There will be 3 "rallys".  Rallys are actually scenic drives with questions about what you see along the way and at world class attractions (e.g., U.S. Space & Rocket Center, International Motorsport Hall of Fame, Barber Vintage Motorsports Museum, and a 13th Century Tuscan Gothic church).
There are no trick directions and no time/speed calculations - so, no personal relationships should be damaged.   Each rally course takes you to an excellent restaurant.
You can do these drives at your leisure.  The roads are fun and the traffic is light.
BARBER  VINTAGE  MOTORSPORTS  MUSEUM
THURSDAY - Opening Reception
Held in the beautiful Barber Vintage Motorsports Museum. The motorcycle and Lotus race car collections (1700 & 65+ respectively) are both the largest of their kind in the world.  We have the museum to ourselves from 6-10 pm, so take time to visit the collections.  The museum has recently undergone a 70% expansion.  
We will have special guests from  MBUSI,  MBUSA,  and  Daimler, AG  address our participants.
CONCOURS  d'ELEGANCE
SATURDAY  -  MBUSI
MBCA judged Concours d'Elegance rewards "accuracy" over "bling".  Cars should be clean, but do not have to be trailer queens.  Mercedes-Benz wants people to drive their cars for a long time.  For this reason, bonus points are awarded for years and mileage up to 20 years and 200,000 miles.  There is also a Silver Star Preservation  Award opportunity for cars at least 25 years old and 2/3 original, regardless of condition. And remember, there were no factory wire wheels after 1945.  Best of all, the Concours will be staged at MBUSI Brand Immersion Center with its Star revolving over your car with a Star.
We will provide one box lunch for each car entered in the Concours.  If you want to observe but not enter the Concours, you will need to pre-order a box lunch.  Also, parking will be extremely limited for non-Concour entered cars. So, you are encouraged to enter the Concours to ensure your Saturday parking place. 
REMEMBER - MBUSI Factory does not allow outdoor washing or cleaning of cars.  Everything drains into the beautiful lakes around it for environmentally friendly handling of rain and irrigation water.  MBUSI and Barber Motorsports Park irrigate with water from their own natural holding ponds.
Wash and clean your car at the hotel's rear parking lot reserved for MBCA.  Hoses are provided.  MBCA does not deduct points for damage incurred on the way to the event nor for road grime on the way to the venue.
OFF-ROAD
SUNDAY  -  OFF-ROAD Event     Talladega National Forest    (7:00 - 4:30)
Starfest 2018 has a special treat for those who want to drive their Geländewagen, ML, GL, GLE, and GLS off-road. Professional instructors will help you learn the necessary skills to enjoy your Mercedes-Benz SUV's capabilities.
This event is only for ML, GL, GLE, GLS, and G-Class. Experience the highlight of maneuverability and handling of these vehicles with experienced off-road instructors over rough terrain on extreme tracks in the Talladega National Forest. Feel the exquisitely detailed and innovative luxury Mercedes-Benz SUVs that are built to conquer difficult off-road driving situations.
We will start at the Hilton Perimeter Hotel in Birmingham and drive to Talladega Superspeedway. Participants can drive 5 laps on the Superspeedway in their own vehicles. The event continues to the forest roads of Talladega National Forest where you will drive your own vehicle. Portions of the off-road activity are very extreme and challenging. For these portions we will provide 4 vehicles (1 GLE and 1 GLS with off-road package and 2 G-Class) driven by experienced instructors. The instructors will explain how to use the off-road package of the GLE and GLS.  They will also explain the low gear and 3 differential locks of the G-Class. The event will finish at the beautiful Cheaha State Park which is the highest elevation in Alabama.
At the evening reception, drivers completing the activity will earn an "Urkunde" (certificate) for the "Geländefahrer Verein" (Off-road Drivers' Association) grille badge similar to the MBCA Silver Star badges.
AUTOBAHN,  ACCELERATION,  AUTOCROSS
SUNDAY - Talladega Superspeedway
AUTOBAHN LAPS  -  The pace car driver goes at "highway speeds" similar to those on the German Autobahn which your Mercedes-Benz was built to perform all day long. You can drive a full lap at 110 mph without touching the steering wheel, even without lane assist.  The banking loads the car at 1G (gravity).  That keeps it right in its line, but it doubles the load on the tires. While driving on Talladega  Superspeedway, we require your tires be "Inflated to the maximum cold pressure printed on the sidewalls of the tires" - not the recommended pressure listed on the door panel.  Tires are rated for their load carrying capacity at this maximum cold pressure.  If you measure them after driving, allow for 3-5 PSI more.  If you are going to drive the Autocross or the Road Course leave the higher pressures in the tires.  This effectively improves the road holding and it will not hurt the tires.  The ride is firmer and you use less fuel while the tires last longer.
ACCELERATION RUNS  -  will take place on Pit Road which equals the same distance as the backstretch.  Event requires a helmet.  Cars will be divided into Performance classes for awards.
SAFE DRIVERS / SAFE FAMILIES - DEFENSIVE DRIVING
AUTOCROSS  -  Following SD/SF instruction, the Autocross will utilize the 4,000 foot backstretch apron of the Speedway.  Cars will be categorized by standard MBCA performance classes.  Awards will be presented at the Sunday night reception.  You will need to have a 2010 or later Snell (SA 2010 or 2015) auto racing helmet (see below) before the event.  When you arrive we will verify your helmet.  Also, remove loose items from your car.
PERFORMANCE  DRIVING
MONDAY  -  Barber Motorsports Road Course
You will be able to drive your Mercedes-Benz at your comfortable speed with an experienced instructor helping you learn the skills of Highway Performance Driving.  As a reminder, your Mercedes-Benz was designed and engineered for this spirited driving on a twisting course.  The fact that this course is not only challenging and wide, but it is also amazingly beautiful.  It has been called the "Augusta" of Motorsport Race Courses.
The attached technical forms explain what your qualified auto technician will need to check -- especially the brakes before this event.  You will also need a Snell (SA 2010 or 2015) auto racing helmet.  These can be rented through (www.racesuitrentals.com).
Event is Educational.   Is not a race.   No timing of laps.  So, there is no pressure to drive beyond your comfort zone.  Niki Lauda will not call you the next morning to try-out for the Mercedes-AMG Formula One team.  This is a safe way to improve your highway driving skills and enjoy your Mercedes-Benz.  You do not need an AMG to enjoy this.  Hagerty can even provide insurance for track driving, if you wish.
At completion of the Highway Performance Drive you will receive an Urkunde (certificate) for a grill badge, similar to the Silver Star, indicating that you are a MBCA Sportfahrer Verein (Sport Driver Association) member.
During registration you will be asked to provide a brief summary of any previous performance driving experience to assist with our on-track grouping.  Instructors should send information to jertoothsaver@bellsouth.net.   Approved instructors with assigned students may be eligible for refunds. 
PERFORMANCE  DRIVING  EXPERIENCE  (PDEX) - The PDEX is designed for individuals not ready for the full road course experience but interested in learning about their car's highway performance.  PDEX involves two classroom instruction sessions and two on-track sessions at highway speed.  Each participant will be assigned an on-track instructor.  No car pre-inspections and no helmets are required.  
SOUTHERN  ADVENTURE  TOUR
(Tour is FULL)
A special Southern Adventure Tour representing both past and present will be offered. Tour involves bus transportation from host hotel to various Magic City sites.  A Southern Cuisine Lunch will be provided in the Garden Room of the Arlington Antebellum Home and Gardens with serving staff wearing traditional era clothes. Following lunch, tour continues with a visit to Birmingham Museum of Art.  After museum visit, tour concludes with sightseeing through metropolitan area.  Tour finishes with ample time for participants to prepare for Opening Reception at Barber's Motorsport Museum.  
Tour is limited to 50 registered StarFest 2018 participants.  Tour is scheduled for Thursday (May 17, 2018) at a cost of $65.  This day trip will be the only History Tour offered.  Venues and Staffs have made a scheduling exception in order for StarFest 2018 participants to experience the unique sites and cuisine.  Be sure to sign-up early.
COMMEMORATIVE  SHIRT
Commemorative Event Shirts are available by Pre-Order ONLY during the registration process.  Shirts will be available for pick-up during on-site check-in at host hotel. COMMEMORATIVE SHIRTS WILL NOT BE OFFERED FOR SALE DURING THE EVENT - SHIRTS ARE PRE-ORDER ONLY !!!
HOTEL  REGISTRATION
Host hotel is Birmingham Hilton Perimeter Park South 
http://www.hilton.com/en/hi/groups/personalized/B/BHMPPHF-BENZ-20180516/index.jhtml