About this event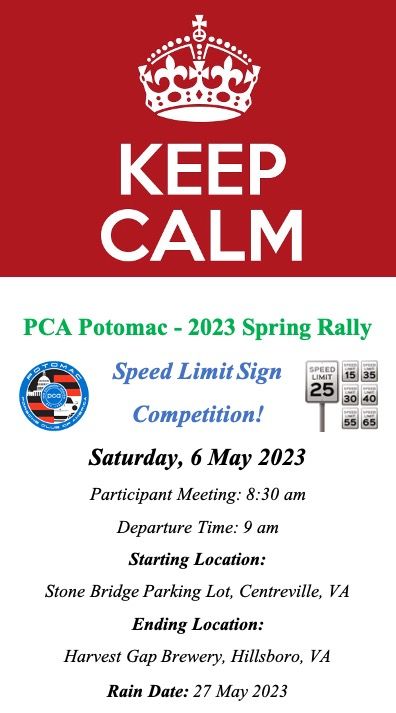 We are bringing back the "Speed Limit Sign" Rally on Saturday, May 6! We will meet at Stone Bridge Parking Lot, Centerville, VA (next to the entrance of Bull Run Winery) at 12521 Lee Highway.
The driver's meeting will be at 8:30 AM, with the first car heading out at 9:00. To win a coveted trophy, you will need to add/subtract speed limit sign values along a specified route that you will receive at the starting point. Teams will also be given a sheet to track the speed limit signs. The ending location is the Harvest Gap Brewery, Hillsboro, VA where we will meet in the outdoor picnic area. Lunch is pay-as-you-go. The cost for this event is $25/car. There will be an additional game for children passengers. There will be an optional guessing game for an additional cost at the event. PORSCHES ONLY PLEASE!
**Please ensure that all co-drivers and guests sign our SpeedWaiver at: https://pcapotomac.speedwaiver.com/fvevb. Minors will need to sign a paper waiver onsite.**
Event requirements
No experience necessary, but a well-organized navigator helps a lot! Bring something to write with and a couple clipboards.
Founders' Region, PCA Potomac
Woodbridge, VA
PCA - Potomac, The Founders' Region
More events from this organizer