About this event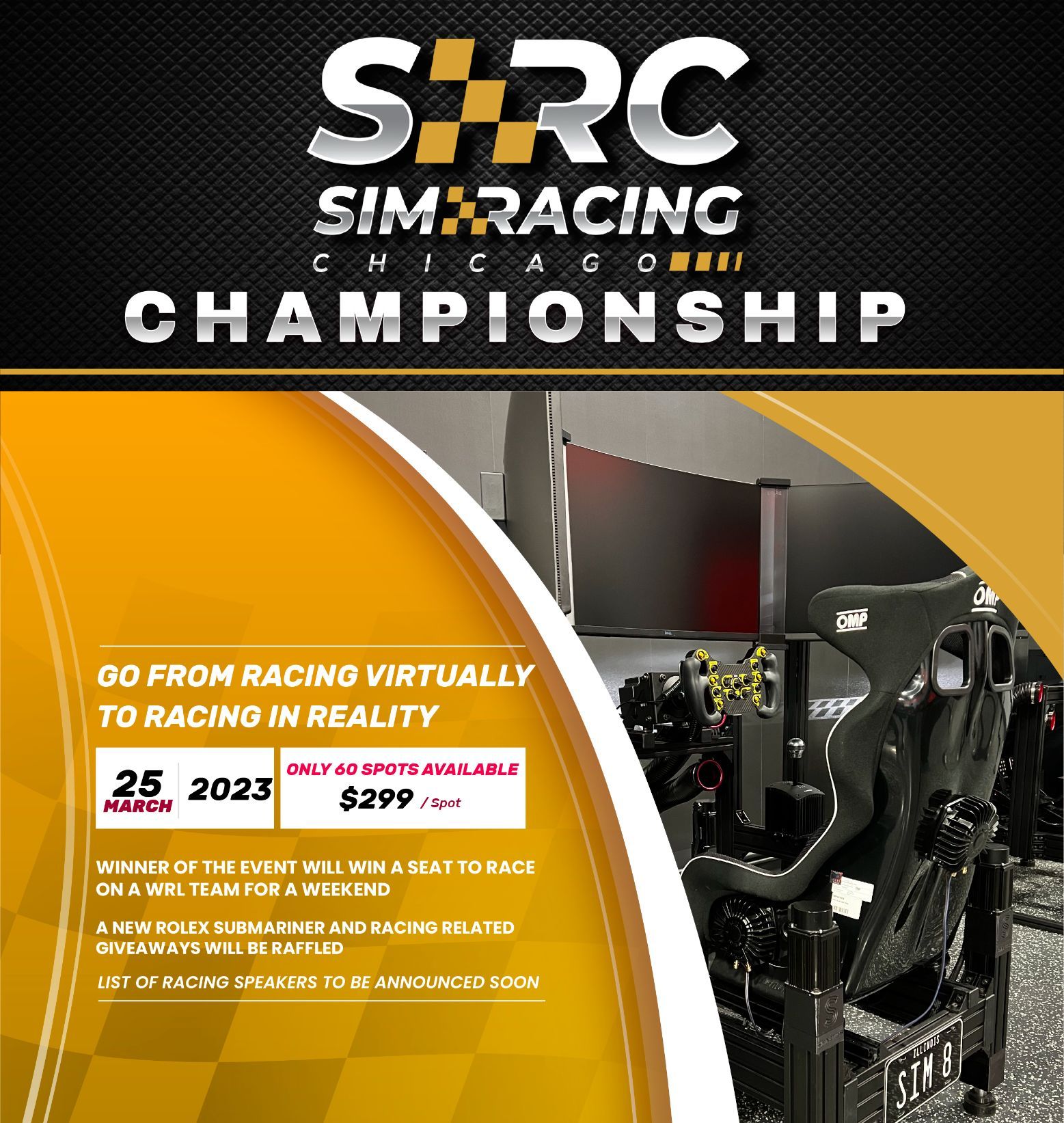 Join us on March 25th for an IN PERSON SIM RACING TOURNAMENT that can possibly take you the Sim Racer from a Virtual Racer to Racing In Reality. The winner of the Sim Racing Tournament will WIN A SEAT IN A RACE CAR FOR A WEEKEND. Additional prizes and trophies will be available to other participants. Throughout the event, Amateur and Professional Race Car Drivers will be present answering questions to help participants/guests understand the road ahead in Motorsports.
60 MAXIMUM RACERS. Car and Track will be announced on the day of the event and will be pulled at random from a list of GT4 racing cars and North American Road Courses. Races will be conducted on I-Racing. The Racing Line handicap will only be able to be used during the two practice sessions provided. The races will be conducted with no racing line handicap. Everyone will be using baseline setups that are the same for each driver.
Mandatory Driver's Meeting shall begin at 9:00am on March 25, 2023 and doors open at 8:00am. Schedule of practice, qualifying, and races shall be sent to participants two weeks prior to the event. Trophies and final awards will be presented around 7:00pm on the day of the event.
Each participant gets one free non driving guest pass. Racing related raffle prizes will be available. A Rolex Submariner Fundraising Giveaway can be found by clicking the following link: Click Here For A Chance To Win A New Rolex Submariner
Sim Racing Chicago is located at 2652 Corporate Pkwy, Algonquin, IL 60102.
Event requirements
Must be 16 years of age or older to participate. Any participants under the age of 18 must have a parent present to compete. Simulators do have motion so if you have any health conditions that are negatively impacted by motion please check with your health care provider before competing.
We reserve the right to evaluate the driver's experience and skill set to determine if a racing seat in WRL is unsafe, or if winning driver will not likely end up licensed by WRL. If the driver has too little experience, we will reserve the right to start the driver in a Champ Car racing seat instead of WRL. The winning driver must be able to drive stick shift proficiently. If the driver lacks the ability to proficiently drive stick shift, we reserve the right to credit the winner the value of the racing seat.
Sim Racing Chicago
Algonquin, IL
Sim Racing Chicago Championships