About this event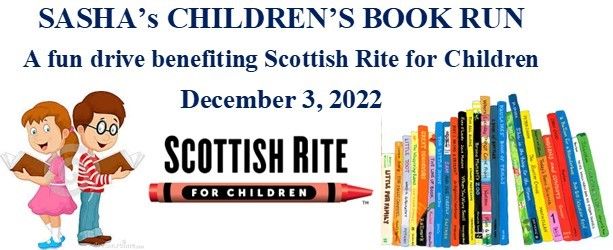 Let's close out the Rally season supporting a good cause while honoring Sasha Lanz! The Texas Region of the Sports Car Club of America (SCCA) would like to cordially invite all fellow car enthusiasts to this Trek rally benefiting the Scottish Rite for Children, one of the nation's leading pediatric orthopedic centers. All are welcome and no prior rally experience is necessary.
A bit of history: Sasha Lanz was instrumental in building a successful RoadRally program in the SCCA Texas Region and leading it for many years. One of his favorite events was the Children's Book Run. Entrants were asked to donate 2 children's books, which were gathered at check-in on Rally Day. Over the course of the six years that we held the rally, hundreds of books were donate to Sottish Rite! We would like to keep this tradition alive and conduct a Children's Book Run in his name every year.
This year we plan to conduct the event again as a Trek, a non-competitive driving event on scenic country roads. No questions, puzzles, tricks or traps, or timed controls, just a fun drive following a pre-determined route in Collin, Grayson and Denton counties using a "convoy style" format - and a bit of trivia: we'll pass through 5 towns named after women. We'll provide basic route instructions as a back-up only. Weather permitting, we'll stop at one or two places of interest for a group picture.
Each person in the car is asked to contribute two NEW books for the patients at Scottish Rite. They need books for all ages – 5 through 16 – including Look-and-Find books, board books, chapter books, Spanish-language books, etc. We will collect the books at registration/check-in.
Check-in and starting place: Crow's Country Cafe, 113 W 4th Street, Anna, TX 75409
Registration/check-in: 10:15 am to 10:45 am on Rally Day
Safety Briefing: 10:50 am
Cars leave the start: 11:00 am
Length: 110 miles (~3 hours)
Finish: Crow's Country Cafe, 113 W 4th Street, Anna, TX 75409, where we will gather for announcements, a beverage or meal and to receive a rally memento
Rally type: Trek. Non-scored organized scenic drive.
Route: paved roads in Collin, Grayson and Denton counties, Texas
Vehicles: Sports Cars, Family Cars, Classic Cars, Antiques, anything with 4 wheels that's street legal is OK in this Rally. Note: speed is not a factor.
No requirement for at least two people in each car, unless you separate from the group and rely on (back-up) route instructions
Contact

rally@texasscca.org

if you have a minor child (<18) in the car, as a form will need to be signed
Rally entry fee: $10.00 per vehicle (covers insurance and preparation and administration expenses)
Rally Master: John Poulos
While same-day registration will be allowed, we encourage you to pre-register. To pre-register, page down and click on "Continue".
Texas Region SCCA (www.texasscca.org) is affiliated with the Sports Car Club of America (www.scca.org). With nearly 65,000 members, and with Regions all over the US, the club offers car related activities in a broad range of automotive events.
This event is sanctioned as a Trek by SCCA, under Sanction Number 22-RRTK-59370; it does not qualify for Regional or National Championship points.
For more information on the RoadRally Series, visit www.texasscca.org/rally
About Scottish Rite for Children
Scottish Rite for Children is one of the nation's leading pediatric orthopedic centers. A wide range of orthopedic conditions are treated, including sports injuries and fractures, as well as certain arthritic, neurological and learning disorders, such as dyslexia. Patients receive treatment regardless of the family's ability to pay. For more information about services available at the Dallas or Frisco campuses, volunteering or donating, visit scottishriteforchildren.org
Event requirements
The driver must have a valid driver's license and proof of insurance. The car must be in good mechanical condition. If any one of the rally car occupants is a minor (under 18 years old), that person must have an SCCA "Minor Release" signed by both parents in the presence of either the rally registrar or a Notary Public. The form is available from rally@texasscca.org, or at registration. A digital waiver option is available as well.
For purposes of liability insurance protection, SCCA has (re)instituted membership requirements for RoadRally participants. There must be at least one SCCA Member in every rally car, either a regular/annual Member or a Trial Member. If not currently a Member, you will be registered as a Trial Member during online pre-registration. If only one of the team is a regular Member, then that Member should complete this registration. The other person(s) will be designated as Trial Members (no action required on their part).
Note for Members completing the Registration: MSReg verifies your membership against the SCCA database. Your Member number, first name and last name must all match exactly with the SCCA data. The verification uses the name in your MSReg account profile, so please make sure that your name matches the one in your SCCA profile exactly to avoid verification failures (e.g., Steve vs Stephen will cause a mismatch error). If different, we recommend that you update your MSReg account name to match the SCCA data.
Rally roads of North Texas
Plano, TX
SCCA - Texas Region - RoadRally
More events from this organizer