About this event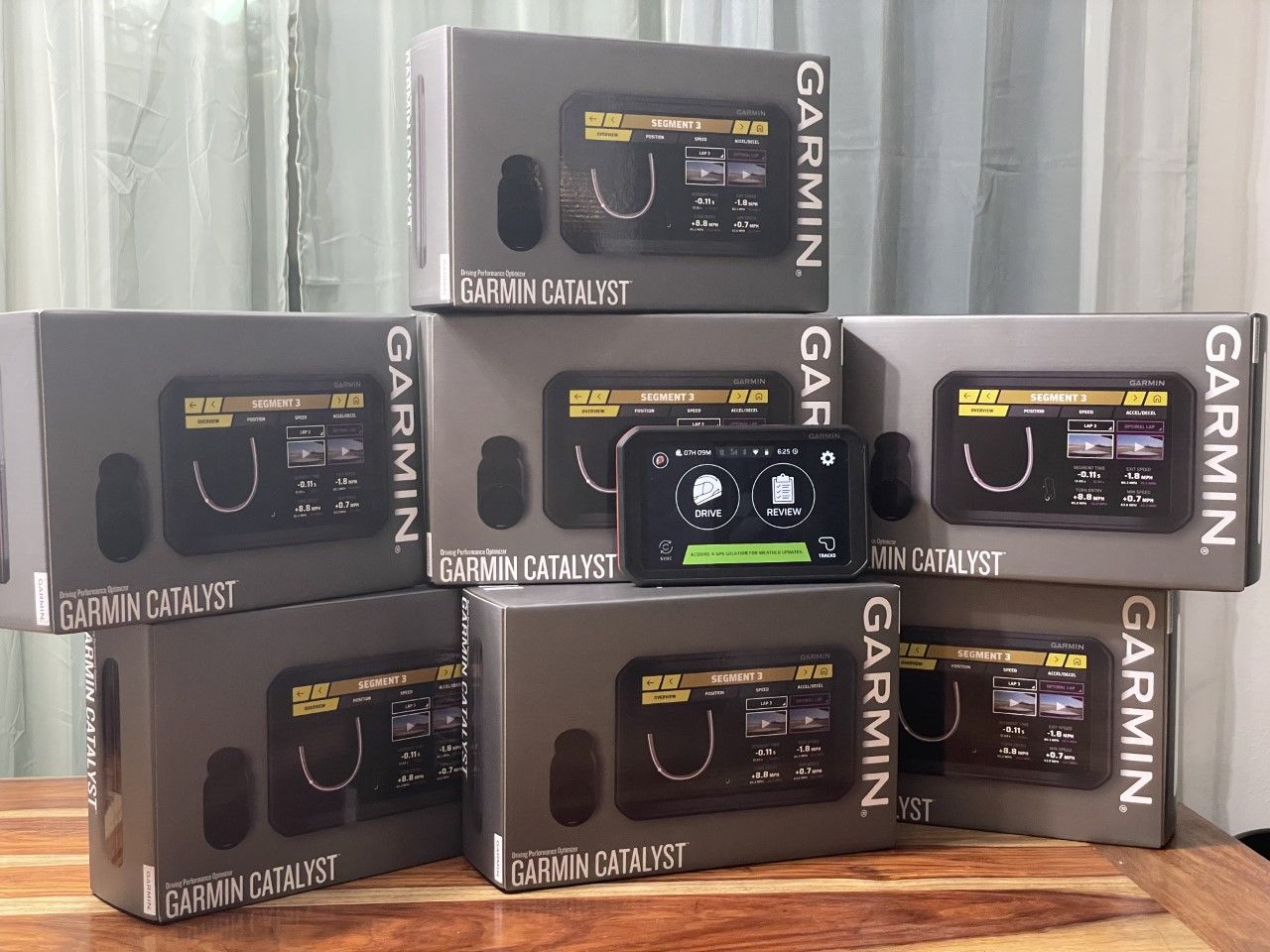 $100 REBATE ON GARMIN CATALYST THROUGH MARCH 2021.
Welcome to the SARIAN MOTORSPORTS Car Control Clinic/HPDE – Open Track Road Coarse event! The Colorado State Patrol Academy driving track is an excellent training facility used by many law enforcement agencies.
Per Driver: Cars (Novice): $125 Cars (Experienced): $125 Mike Ward Exotics Group: $250
Participation will be limited to fifteen (15) Novice, twenty (20) Experienced and twenty (20) Mike Ward Exotics running their own Group.
The entry deadline is Wednesday, Friday, April 30, 2021 at 5:00pm. Safety will always be our number one priority for all participants.
FOR THOSE WITH CREDIT FROM OCTOBER 2020 EVENT, please email info@sarianmotorsports for your request to register. Thank You
COVID-19 SAFETY EVENT RULES
1) ALL ATTENDEES MUST PRACTICE SOCIAL DISTANCING AND MASKS ARE REQUIRED PER COLORADO MANDATE
2) PASSENGERS ARE ONLY ALLOWED ON TRACK IF THEY ARRIVE IN THE SAME VEHICLE
3) PLEASE DISTANCE YOURSELVES IN THE PADDOCK PARKING AREA
4) DO NOT CONGREGATE UNDER THE COVERED AREA, PLEASE BRING YOUR OWN TENT FOR SHADE
5) CLASSROOM WILL NOT BE USED
6) REGISTRATION AND LUNCH LINES - PLEASE PRACTICE SOCIAL DISTANCING
7) MORNING DRIVERS MEETING WILL BE HELD IN PADDOCK, NOT UNDER COVERED AREA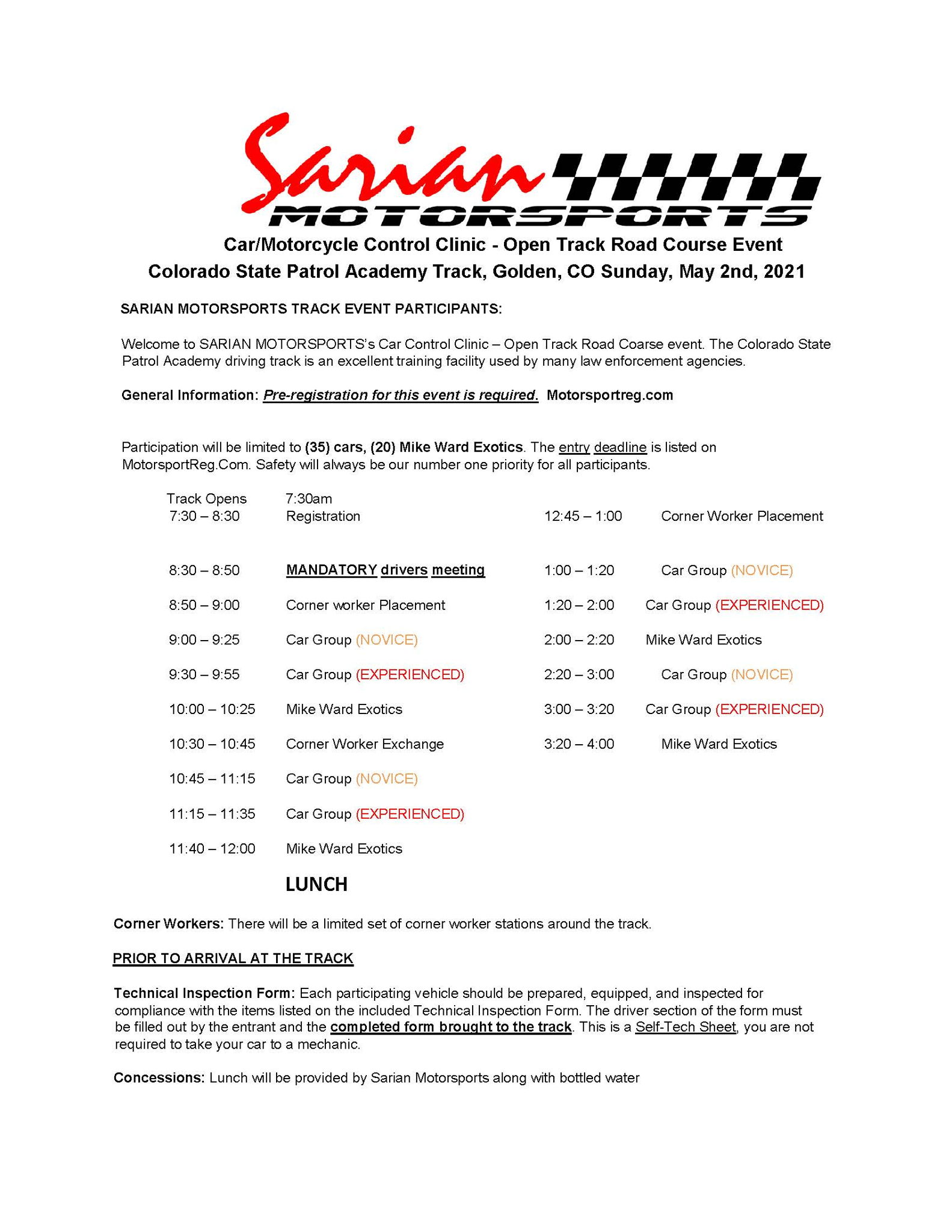 Event requirements
Sarian Motorsports Track Days -Sunday, May 2, 2021 - Registration Info Packet.pdf
General Information: Pre-registration for this event is required. PLEASE DOWNLOAD THE ATTACHED FULL SET OF EVENT DOCUMENTS INCLUDING WAIVERS, EVENT INFO, SCHEDULE, CAR TECH SHEET, TRACK MAP.
Participation will be limited to thirty (35) cars, (Novice and Experienced Only) and Twenty (20) Mike Ward Exotics running their own Group. The entry deadline is Friday, April 30th, 2021 at 5:00pm. Safety will always be our number one priority for all participants.
The schedule may change as conditions warrant.
Corner Workers: There will be a limited set of corner workers with flags around the track.
Ambulance will be on site with two EMTs
Want to insure your vehicle for this track day? Go to https://opentrack.com/
PRIOR TO ARRIVAL AT THE TRACK
Technical Inspection Form: Each participating vehicle should be prepared, equipped, and inspected for compliance with the items listed on the included Technical Inspection Form. The driver section of the form must be filled out by the entrant and the completed form brought to the track.
Concessions: Lunch from Panera Bread Co will be provided by Sarian Motorsports along with bottled water
Fuel: Fuel is available a short distance from the track in Golden, CO.
Alcoholic beverages are not allowed at the track. If you bring alcoholic beverages or have been drinking you will be expelled from the event.
Questions or Additional Information: Call Chris Sarian at (303) 324-8762
Sarian Motorsports Event Policies
COVID-19 SAFETY PROTOCOLS ARE IN EFFECT - PLEASE FOLLOW SOCIAL DISTANCING RECOMMENDATIONS AND WEAR A MASK
1. SAFETY FIRST: An "Open Track" event is not a race. Wheel to wheel competition will not be condoned. Courtesy and common sense must prevail at all times while driving on the track. All drivers will be required to operate their vehicles in a safe and controlled manner, as defined by the Event Steward. Erratic or reckless driving is strictly prohibited, and may result in expulsion from the event. All vehicles permitted access to the track must be in good and safe condition. NO ALCOHOLIC BEVERAGES ARE ALLOWED. Glass beverage containers are prohibited.
2. REGISTRATION: Pre-registration is required, to permit the event committee sufficient time to plan the event schedule and resources.
3. VEHICLE INSPECTION: The owner or driver of a vehicle/motorcycle registered for an event will be responsible for a technical inspection in conformance with the Technical Inspection Form. This technical inspection is to be performed by the owner, the driver, or a qualified mechanic prior to arrival at the track. It is the responsibility of the owner of the vehicle to verify that all operating, safety and equipment requirements indicated on the inspection form have been satisfied. All loose items: in trunk, glove compartment, map pockets, radar detectors, removable floor mats, garage door openers, etc. must be removed. Trucks, Vans, SUV's and similar high-profile vehicles are not acceptable for participation in SARIAN MOTORSPORTS events.
4. DRIVER QUALIFICATION: Each driver must have a current valid driver's license in order to participate in the event.
5. SAFETY EQUIPMENT: Each driver must have, and use while operating a vehicle on the track, a helmet of sufficient quality and condition to meet approval of the Event Steward. Current automotive, Snell-rated helmets are strongly recommended. Long sleeved shirt and long pants of cotton or wool or a fire retardant driver's suit, and leather closed toe fire resistant driver's shoes are recommended. If you have a nomex or other approved driving suit, please use it. The vehicle must be equipped with factory installed seat belts at a minimum
Roll Bars: Convertibles and cars with soft tops must be equipped with roll bars: factory installed is acceptable.
6. DRIVER ORIENTATION: Attendance at the driver's meeting at the beginning of the event prior to any activity on the track is mandatory. Caution flags, pit entry and exit, passing areas, hand signals and corner working instructions will be explained. IF YOU MISS THE DRIVER'S MEETING, YOU WILL NOT BE ALLOWED TO RUN ON THE TRACK!
7. EVENT CONTROL: The Event Steward is in full and total control of the event and, most particularly, all activities on the track. Corner workers will be performing duties at the direction of the Event Steward. All communications and directions issued by the Event Steward, the corner workers, and other designated event officials, whether verbally or by hand or flag signals, will be followed and obeyed without question. Should drivers have questions regarding any such communications, directions, or track procedures in general, they may direct their questions to the Event Steward in the paddock area following full compliance therewith.
8. PASSING: Passing will be permitted only in specified areas on the track, to be determined by the Event Steward and announced at the drivers meeting. Passing will not be permitted in the corners. Drivers will be expected to check their mirrors frequently for cars approaching from behind, and to wave faster cars past when appropriate, indicating the side for passing by pointing. Drivers failing to exercise passing courtesy or blocking other cars from passing will be removed from the track. Primary responsibility for a safe pass rests with the pass- ing driver. The vehicle being overtaken is to remain on the driving line.
9. PURPOSE: Our Open Track events are conducted as educational events to provide the opportunity to learn and gain experience in performance driving under safe, controlled conditions, and to have a good time while improving ability. It is the responsibility and obligation of every participant to assure that we do this safely and with full respect for the rights and well-being of each other.
COMMUNICATIONS & PROCEDURES:
FLAGS: You must know what they mean. All flag signals must be OBEYED WITHOUT QUESTION.
YELLOW (STATIONARY): Dangerous situation, no passing.
YELLOW (WAVING): Great danger, slow down and be prepared to stop. No passing as there is an obstruction or person on or near the track.
RED: All drivers must STOP! Workers will direct the clearing of the track as well as circumstances allow. All track activities have been stopped.
BLACK: Complete the lap you are on, then proceed to the pit area and meet with the Event Steward. Permission by the Event Steward will be required for re-entry to the track.
CHECKERED: The session has ended. Complete one more (cool down) lap with caution before entering the pits.
RE-ENTRY: In the event that the driver leaves the course, re- entry may occur with the permission of the flag man and must be done in a safe manner. Anytime a car leaves the paved course completely, the car must return to the pits for a re-tech.
STOPPING: If you must stop on the course, do so in a manner which will not cause danger or obstruction. A driver stopped on or near the track should not leave his car without the assistance of a worker unless the car is on fire or is in danger of a collision. If you have been involved in an accident, driving will be suspended and a worker will assist.
DRIVER HAND SIGNALS: A driver should signal his entry into the pits by raising one arm. The driver of a stalled car should raise both arms to indicate he will not move until the course is clear.
WORKER HAND SIGNALS: Both arms above head forming a "W" indicates the need for a tow truck (wrecker). Both hands above head with palms touching to form an "A" indicates the need for an ambulance. The safe signal (as used in baseball) indicates the driver is all right. These communications are from worker to worker within visual, but not audible range. Radios will be used for all other communication.
ATTITUDE LIMITATION: Drivers who appear to be racing or engaging in a speed contest with each other will be reported by corner workers to the Event Steward and will be subject to expulsion from the event.
TRACK SESSIONS:
Familiarization/School Laps: A group of 4 to 5 student drivers will follow a pace car, driven by an instructor. At the end of each lap, the vehicle directly behind the pace car will pull to the right allowing the trailing cars to pass, and will assume the last position in line. A hand signal is used to wave the cars by. Each car moves up a position after each lap is completed. These are intended as familiarization laps, and passengers may be carried.
Run Group Sessions and Passengers: As described in the event schedule, at the discretion of the Event Steward, Red groups may run with passengers*. Green Group is limited to instructors only during the morning sessions. During open track and at the discretion of the Event Steward passengers will be allowed*.
*Passengers only allowed if they arrive in same car as driver and cleared by Safety Steward
Colorado State Patrol Track- Golden
Golden, CO