About this event
NEW RACER SPECIAL
The AFM will be hosting it's $99.00 Special for new racers on SATURDAY at Round 5!

New riders will not run Clubman this race weekend.
ALL new riders will proceed straight to Novice races for Round 5 on Saturday.

$99 TDP SPECIAL
Our $99 TDP Special is a package offered to new racers that have successfully completed their NRS requirement through an AFM-Approved Track Day Provider (TDP).
The Special includes Saturday morning warmup, two Saturday races, a transponder rental, and a weekend AFM License (Round 5 on Saturday and Round 6 on Sunday).

COME RACE WITH US!


RACE DAY SCHEDULE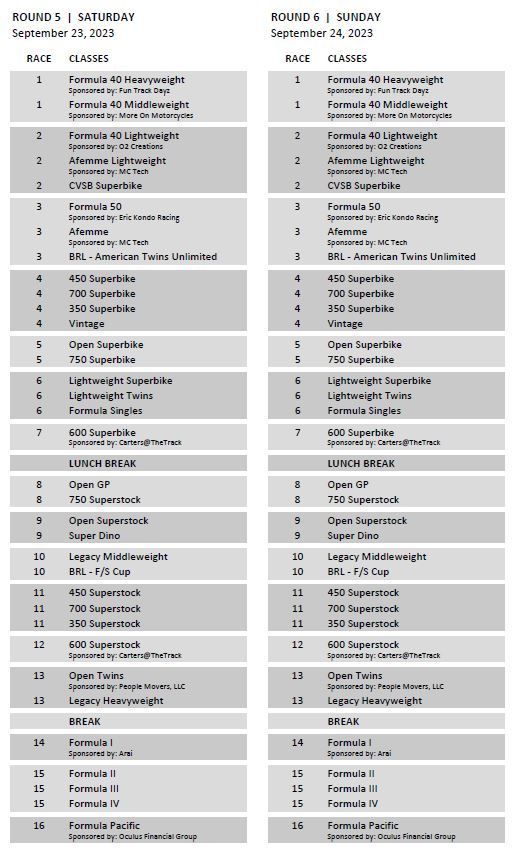 Event requirements
PRE/POST ENTRY REGISTRATION DATES

Pre-Entry Registration | Deadline September 20, 2023 @ 11:59 PM
You must pre-enter by the deadline to be gridded by points

Post-Entry Registration ($40 Fee) | September 21, 2023 - September 22, 2023 @ 5:00 PM
ALL post-entries will be placed at the back of the grid


Riders are required to have a current AFM Road Racing License in order to participate at a race meet.
If you do not have a 2023 race license with the AFM, please complete our online application:
AFM 2023 Licensing


CONTACT US

If you have any questions about where your motorcycle fits in the class structure, please email afmchieftech@gmail.com, and direct any queries about the schedule to president@afmracing.org. As always, if you are unsure of who to contact you can email the Board of Directors at bod@afmracing.org.
PRICING

Thunderhill Raceway Park
Willows, CA
Download track map
Buy virtual track walk
AFM - American Fed of Motorcyclist