About this event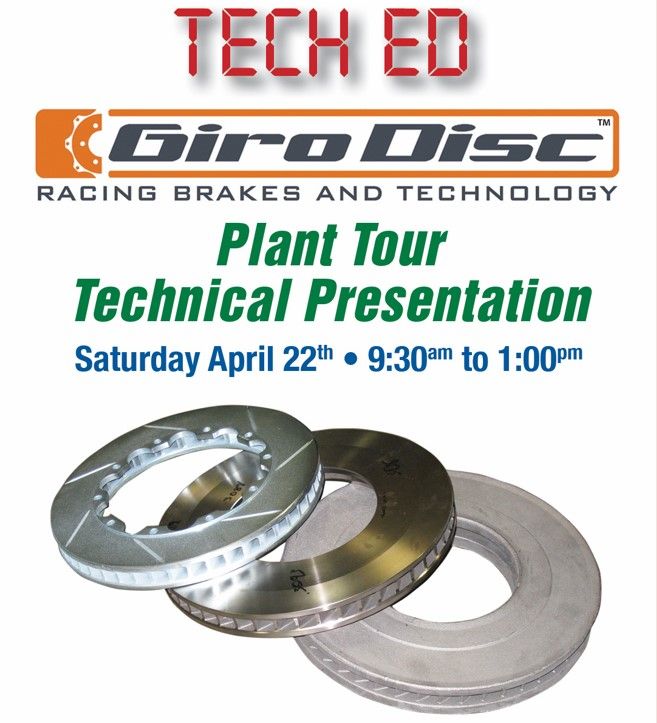 Registration is OPEN… 2 TechEd's in 1 day… GiroDisc & WWU
If you plan to attend BOTH TechEd's… Register for BOTH
If you plan to attend ONE TechEd… Register for ONE
FREE TechEd's
If you had an opportunity to visit the "Brembo" brake factory in Italy, would you go? If you had an opportunity to visit with a "Porsche" engineer who helped design the Carrera GT, would you do it? If you said YES keep reading. This TechEd will be like visiting Brembo and Porsche. You will see "World Class" high performance braking technology being designed, engineered, manufactured and tested! GiroDisc will show you how to economically unlock the surprising potential of your existing Porsche brakes and the math that supports their design. GiroDisc is world renown for their brake rotor design, engineering and manufacturing. GiroDisc rotors are highly regarded by Porsche, Ferrari and all high performance car manufacturers.
This TechEd will cover:
A plant tour
A technical presentation on braking
Seeing rotors being manufactured
Who should attend this TechEd?
People who "Track" their Porsche
Auto crossers
Anyone interested in technology
Event Details
FREE TechEd
Saturday April 22nd
9:30 am Program "begins"
FREE Lunch
1:00 pm Program "ends"
Location:
GiroDisc
3886 Hammer Drive
Bellingham, WA 98226
To Pre-Register
Scroll… DOWN this page
Click on… 'Register now' Black Button
Follow…

"Prompts"

in RED boxes

Pre-Register
Questions:
Sincerely,
John P. Mueller
Technical Education Chair
Porsche Club of America - Pacific Northwest Region
Event requirements

All attendees are welcome. You do not need to be a member of the Porsche Club ...but you really should consider it. It's about the people.
PNWR TechEd - Giro Disc
Bellingham, WA
PCA - Pacific Northwest Region - Tours & Social Events
More events from this organizer