About this event

PETROL AND THE ROAD - RALLY 3 - FALL DRIVE
THE GREAT SMOKY MOUNTAINS
JOIN US FOR OUR FALL DRIVE - RALLY 3 - THE GREAT SMOKY MOUNTAINS -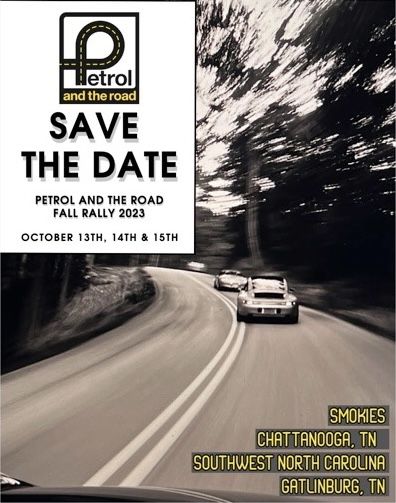 Come drive THE GREAT SMOKY MOUNTAINS with Petrol and the Road. The absolute best driving roads in the country! You will not be disappointed.

Kristy and I just got back from Pre-driving the routes and It's going to be out of this WORLD! Such a beautiful area and the roads are the best, we can't wait to head back.
We only have a limited number of spots so if you'd like to join us, get your application in asap. 

We're looking forward to an amazing event full of great roads, even better people and a lot of good fun and camaraderie! Click the button below to apply.
GREAT ROADS, GREAT CARS, GREAT PEOPLE!
_________________
EVENT DETAILS
_________________
HOTEL INFO & PRICING
WILL BE ANNOUNCED ONCE YOU'RE APPLICATION IS APPROVED. THE LAUNCH POINT, HOTEL LOCATION AND SPECIFIC DETAILS WILL THEN BE AVAILABLE. THE EVENT WILL BE HELD (STARTING POINT & HOTEL) WITHIN 1:00 - 1:15 FROM CHATTANOOGA, TN.
EVENT DATES -
FRIDAY, OCTOBER 13TH (OPTIONAL)

ARRIVAL TIME - ANYTIME
WE WILL BE ARRIVING FRIDAY MORNING/MID DAY TO THE CHATTANOOGA MOTORCAR FESTIVAL WHICH IS FULL OF AMAZING CAR CULTURE AND AUTOMOTIVE RELATED EVENTS.
FRIDAY EVENTS -
Targa Sixty Six high-speed track action for historic and modern sports and race cars at the Pace Grand Prix at The Bend
Mecum Auctions at the Chattanooga Convention Center
Luftgekühlt's celebration of Brian Redman
Car Club gatherings
Car Clubs and daytime activities in West Village
Evening Car Club related events in West Village
Laser light show and concert with the B-52's in West Village.
Family-friendly activities for all and more....
WE HAVE BEEN INVITED TO DISPLAY 20 OF OUR AIR COOLED PORSCHES (THAT ARE PARTICIPATING IN OUR RALLY ) IN LUFTGEKUHLT'S CELEBRATION OF BRIAN REDMAN ON FRIDAY NIGHT! PLEASE CONTACT US ASAP IF YOU'D LIKE TO HAVE YOUR AIR COOLED PORSCHE ON DISPLAY. THIS IS FIRST COME FIRST SERVED AND WE ONLY GET 20 SPOTS. MORE DETAILS BELOW.
LUFTGEKÜHLT
CURATED DISPLAY
"In the Porsche vernacular, Luftgekühlt represents all of the air-cooled cars from the manufacturer's history.
Luftgekühlt heritage vehicles will be on display in the West Village at the Westin, from Friday, October 13th through Sunday, October 15th.
Do you own an air-cooled Porsche? Join us on Friday, October 13, 2023, for an air-cooled gathering in the heart of the Chattanooga Motorcar Festival. It's time to mark your calendars and get those final tweaks done on your air-cooled Porsche.
Friday, October 13th there will be a 'Luft-style' feature lot and a proper reception as we raise a glass to one of our true racing heroes, Brian Redman."
__________________________________
THE B-52S HEADLINE FRIDAY NIGHT
The popular American new-wave band, The B-52s, will headline the family-friendly events on Friday night, October 13, in West Village at the 2023 Chattanooga Motorcar Festival, sponsored by Millennium Bank.
__________________________________
FRIDAY NIGHT, OCTOBER 13TH (OPTIONAL)
ARRIVAL TIME - ANYTIME
RALLY CHECK IN - 4:00PM - TBA
THURSDAY NIGHT - MEET AND GREET - 7:00PM - 9:00PM - TBA
________________________
SATURDAY, OCTOBER 14TH

DRIVERS MEETING - 8:30AM
RALLY LAUNCH TIME - 8:45AM
APPROXIMATE MORNING DRIVE TIME - 3 HOURS
LUNCH STOP - 12:00PM - 1:30PM
APPROXIMATE AFTERNOON DRIVE TIME - 3 HOURS
RETURN HOTEL/HOME BASE - 4:30PM - 5:00PM
SATURDAY NIGHT LIVE GTG - 7:00PM - 9:00PM
___________________________________
SUNDAY, OCTOBER 15TH

DRIVERS MEETING - 8:30AM
RALLY LAUNCH TIME - 8:45AM
APPROXIMATE DRIVE TIME - 3 - 3.5 HOURS
LUNCH STOP - 1:00PM - 2:00PM
APPROXIMATE DRIVE TIME - 3 - 3.5 HOURS
RETURN HOTEL/HOME BASE - 5:00PM - 5:30PM
SUNDAY NIGHT LIVE GTG - 7:00PM - 9:00PM TBA

RALLY CONCLUSION -
THANK YOU FOR ATTENDING & SAFE TRAVELS HOME. HOPE TO SEE YOU AT OUR NEXT RALLY/DRIVE!
________________________________________
REGISTRATION FEE -
CAR & DRIVER - $400.00
CAR, DRIVER, & CO-PILOT - $500.00
CLICK HERE FOR APPLICATION TO REGISTER (OR COPY AND PASTE) -
msreg.com/PATRFALLDRIVE23
________________________________________

CALL, TEXT (630-205-0055) OR EMAIL SHAWN@LAPSTRACKDAYS.COM WITH ANY QUESTIONS OR CONCERNS.

HAPPY MOTORING,

PETROL AND THE ROAD CREW
SHAWN, KRISTY, & DAN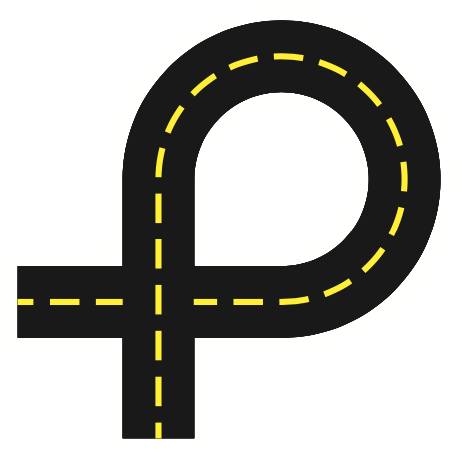 FALL DRIVING TOUR 2023
CHATTANOOGA, TN
More events from this organizer