About this event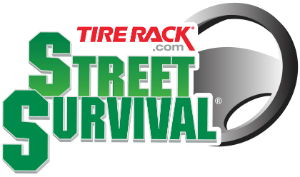 Saturday, November 4th, 8:00AM- 5:00PM
The primary emphasis of the Tire Rack Street Survival® is a "hands-on" driving experience in real-world situations! We use your own car to teach you about its handling limits and how you can control them. The teen students (this class is only being offered to students aged 15-19) will become more observant of the traffic situation they find themselves in. They will learn to look far enough ahead to anticipate unwise actions of other drivers. As the students master the application of physics to drive their cars, they will make fewer unwise driving actions themselves. They will understand why they should always wear their own seatbelts, and why they should insist that their passengers wear seatbelts, too.
The day is split into multiple 1-1.5 hour slots rotating two groups of students between the classroom and hands on driving. The student never drives alone, an experience driving coach is present in the passenger seat guiding the student at all times. The student will experience what it feels likes to brake, steer and control the car in a safe and controlled simulated emergency situation.
It's about more than driving - it's about LIVING!
All Schools $95.
More Information
FAQ: streetsurvival.org/schools/frequently-asked-questions/
For students: streetsurvival.org/schools/students/
For Parents: streetsurvival.org/schools/parents/
About: streetsurvival.org/about/
All: streetsurvival.org/
Please register with the students name. Any questions after reviewing the FAQ page call Tim Beechuk, National Program Managerr, @ 513-604-2398 (8 am - 8 pm EST). For all other questions, contact the local region host, Mick Posner @ mposner@synopsys.com
Event requirements
Review: streetsurvival.org/schools/rules-reqs/
TIP for Parents: You can create a motorsportsreg account under your name and add your teen driver to your profile. Ensure that you register the teen driver for the event, not under your name.
We use YOUR car, please ensure your vehicle is in good operating condition. Please ensure your vehicle is in good operating condition. Please ensure your vehicle is in good operating condition. I know we said that 3 times, it's important. This includes, but not limited to, seatbelts, wheels, tires, brakes, electrical.
High Center of Gravity vehicles (HCGs), such as SUV, Trucks MiniVans and Jeeps etc, will need to be verified before being allowed to participate. Older HCGs without electronic stability control (not just the electronic traction control) will not be accepted. HCG vehicles with electronic stability control may still be limited with respect to the exercises in which they are allowed to participate, based on local venue conditions. Please look up the HCG vehicle safety score. You can research the safety ratings that a vehicle has received at www.safercar.gov or edmunds.com/ratings.. This is for HCG vehicles only. Passenger cars do not need to be reviewed. Any vehicle with a listing of 3 stars or more out of 5 will be allowed to participate in our class. Any vehicle listed as "not tested" will not be allowed to participate. Portland International Raceway is owned and operated by the City of Portland through its bureau of Parks and Recreation. http://www.friendsofpir.com. We will be operating out of the North Paddock for this event.
Portland International Raceway
Portland, OR
Tire Rack Street Survival - Oregon Region SCCA