About this event
Please join PCA Potomac in welcoming guest speaker Chris Lennon, PCA Member and author of The Peak of Racing, for our Open Board Meeting. Pre-purchase your copies of his book when you register for the FREE EVENT. New members are especially welcome!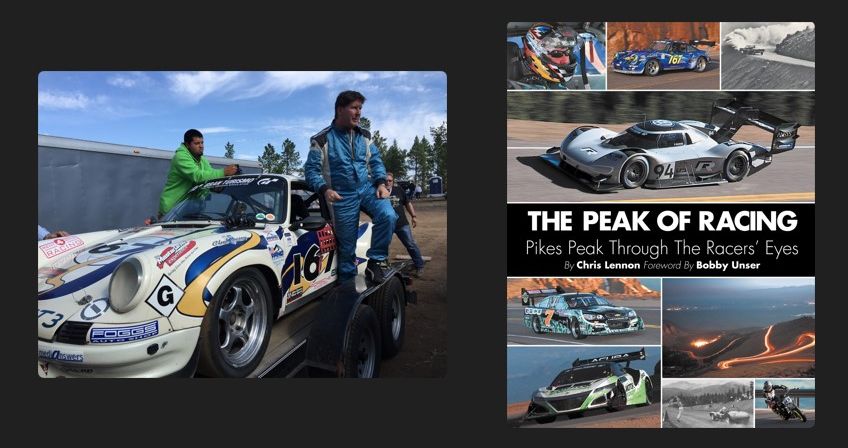 Bio:
Chris is a two-time class winner in the Pikes Peak International Hill Climb, piloting a 1973 Porsche 911 RSR Tribute, first in internal combustion configuration, before conversion to an 8-motor electric beast. He is a longtime Porsche nut, Past President of Alpine Mountain Region, Chief Driving Instructor, and currently serves on PCA's National DE Committee. He has raced in a wide array of series, currently doing his road racing in a 1982 Reynard Formula Ford.
The Talk:
The Pikes Peak International Hill Climb ranks as one of the most famous (and dangerous) races in the world. It's also the second oldest race in North America. Its list of winners reads like a who's who of motorsports. Chris worked with a long list of these legends in writing the most exciting book on the race to be published in years, The Peak of Racing. He'll share many never-before-seen photos, stories from folks with names like Unser and Andretti, and provide insight into the race's illustrious history, and what it's really like to race on America's Mountain. He will be happy to personalize and sign copies of the book, which takes the reader up the mountain through all 156 hair-raising turns, recounting many humorous stories along the way.
The Agenda:
09:15 Breakfast Service
10:00 Open Board Meeting, followed by, The Peak of Racing by CJ Lennon
NEW MEMBERS - The Open Board Meeting will share key information and insights into the PCA Potomac program of events in 2023.
The Venue:
Porsche Chantilly
4055 Stonecroft Blvd,
Chantilly, VA 20151
Event requirements
You must be a member of PCA or a guest of a PCA member to attend.
Porsche Chantilly
Chantilly, VA
PCA - Potomac, The Founders' Region