Sat, Oct 7 - Sun, Oct 8, 2023
Oct 7, 2023 MX Practice & Oct 8, 2023 MX Race
Aztalan Cycle Club
About this event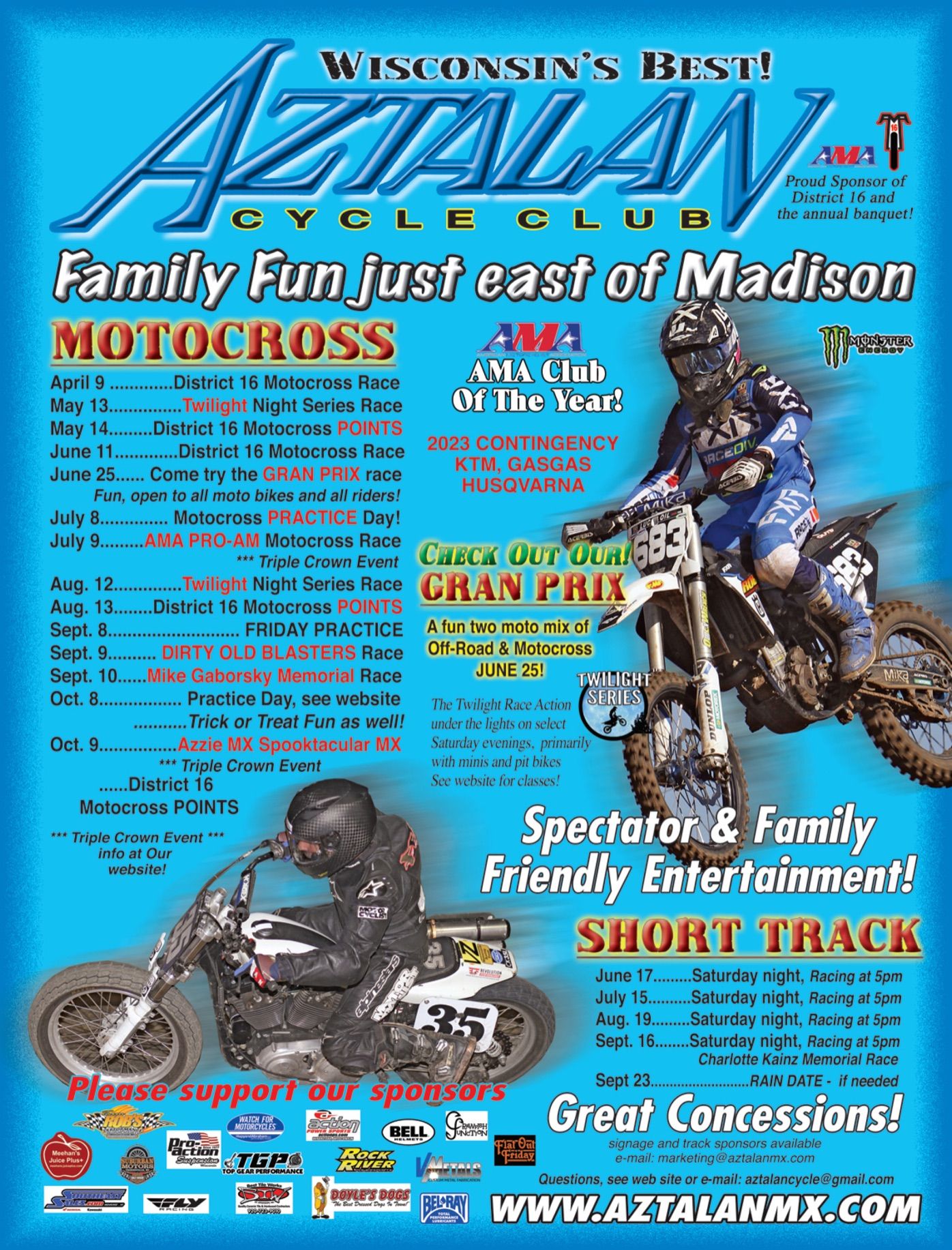 Youth Classes
| | |
| --- | --- |
| 51cc (4-6) | 65cc (7-11) |
| 51cc (7-8) | 85cc (9-11) |
| 51cc Open (4-8) | 85cc (12-15) |
| 59-85cc OPEN (9-13) | SCHOOLBOY (12-17) |
Amateur Classes
| | |
| --- | --- |
| 125cc (12+) | MASTERS 25+ A |
| 2-STROKE B/C | MASTERS 25+ B/C |
| 250 A | VET 30+ A |
| 250 B | VET 30+ B/C |
| 250 C | SENIOR 40+ A |
| 14-24 B/C | SENIOR 40+ B/C |
| OPEN A | SENIOR 45+ |
| OPEN B | SENIOR 50+ |
| OPEN C | SENIOR 60+ |
| NONCURRENT | WOMEN |
Race Order
51cc 7-8
51cc 4-6
NONCURRENT
SCHOOLBOY 1 12-17
MASTERS 25+ A
MASTERS 25+ B/C
51cc Open 4-8
SENIOR 40+ A
SENIOR 40+ B/C
2-STROKE B/C
85cc 12-15
85cc 9-11
OPEN A
OPEN B
OPEN C
SENIOR 50+
65cc 7-11
125cc 12+
SENIOR 60+
WOMEN
VET 30+ A
VET 30+ B/C
14-24 B/C
59-85cc OPEN 9-13
SENIOR 45+
250 A
250 B
250 C
Event requirements
All participants must hold a current AMA Membership and an AMA District 16 Membership
If you have a AMA District Membership from another District you can sign-up at the event.
Also, each participant must complete:
Aztalan Annual Release (or Aztalan Cycle Club membership card if a member)

One per year, district card will be stamped for future events.
If not all parents are attending the event, this form will need to be notarized.
AMA Minor Release (for participants under 18 years of age)

AMA Annual Minor Release - This can be done electronically and is valid until December 31st of the current year. Both parents/guardians must complete this process and then only one parent/guardian will be required at the event.
A paper form can also be completed at the track Both parents/guardians will be required at sign-up to complete this and then at least one parent/guardian will need to stay for the duration of the event.


Sign Event Release (at Check-in window)
Aztalan Cycle Club
Lake Mills, WI