Non-Native's Tour of Dayton 2!
SCCA - Western Ohio Region
Saturday, July 15, 2017
Germantown MetroPark
,
Montgomery County

,

Ohio
Registration closed July 14, 2017 8:00 PM on July 14, 2017 8:00 PM EDT Registration ends July 14, 2017 8:00 PM on July 14, 2017 8:00 PM EDT Registration opens June 14, 2017 8:00 PM on June 14, 2017 8:00 PM EDT Registration runs from June 14, 2017 8:00 PM to July 14, 2017 8:00 PM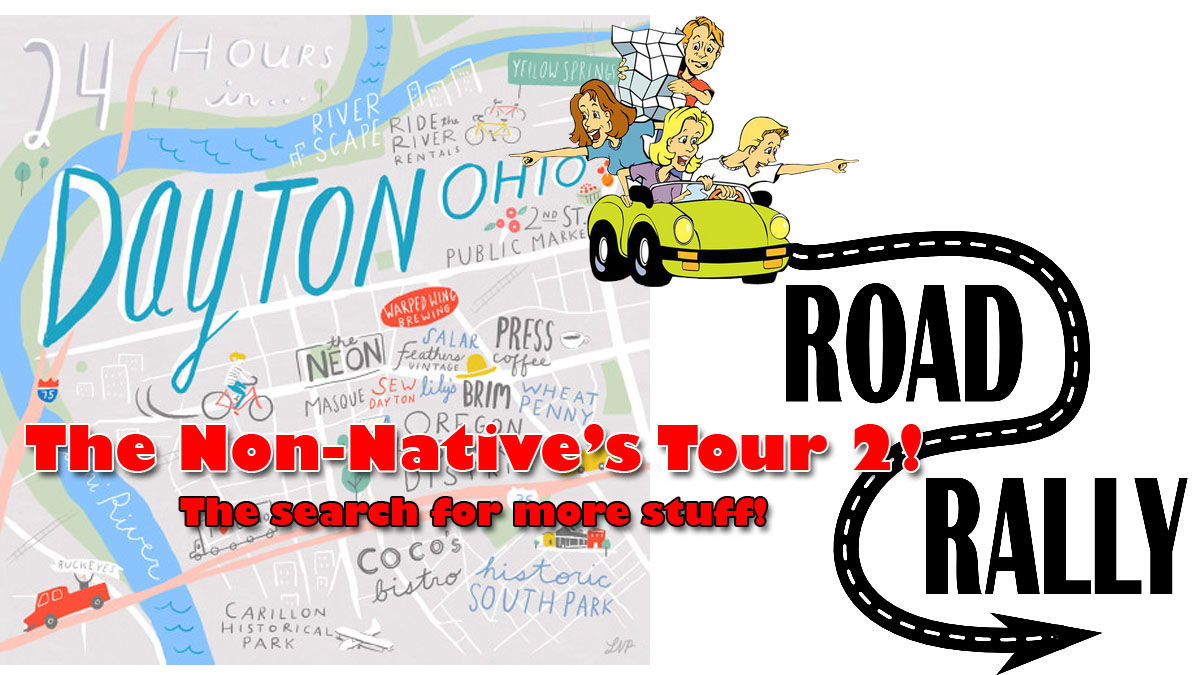 WOR SCCA
Saturday July 15th
Event Information
This is an easy-to-follow GTA (Game/Touring/Adventure) Rally that begins in a park on the southeast side and works it's way north and around a loop.  I put a quick one together back in December, and it seemed to go well.  So I decided, let's do another one and make it bigger/better/more fuel efficient(?).   If I did not pick your choice(s), feel free to let me know for another time (or even better, put on your own event next year!).
Tour Rally
You'll start out at the designated spot at the reservoir at Germantown MetroPark, on Creek Rd (off Rt 725). Look for signs to the start. I'll have a packet for each car that will have a description of where you are to start being a tourist and stop for photos.  Because that's what tourists do, right?  Follow the descriptions to your destinations, you'll stop at each one and take a photo to prove you were being tourist-y, no more drive-by at 60mph!  Follow the descriptions and it will lead you to the finish not too far from the beginning, and a spot most of you are familiar with...  There might be some trivia questions as well for bonus points. Then we'll hand out a few prizes and maybe go to a Ma and Pa restaurant nearby for food.
Quiz Rally Participants (2+ person teams / only one pays)
$20.00 for all entrants, per car.
 9:00 Meet at the parking lot in the park, watch for signs to my xB with the SCCA banner
 9:00-945 Registration and instruction packet pick-up
 9:45 Safety and route instruction meeting
10:00 Tour Rally Start
10:05 + Car # Start the rally (until all game participants have left)
~1:00 Meet at finish for results, meal and criticism of the rallymaster's abilities
The rally will start at Germantown MetroPark:
Germantown Reservoir parking off Creek Rd  (7481 Creek Rd Germantown OH  45327)
The rally ends at Colletti Motorsports
2835 Main St, Moraine, OH 45439
Additional Information / Social Media Links
See the facebook event page for up to date information and a copy of the general instructions which include navigation and game play information.
Additional questions can be answered by contacting the RallyMaster at jerrystem@gmail.com