About this event
LIMITED TO NEW ENGLAND RESIDENTS DUE TO COVID RESTRICTIONS IN PLACE AT THIS TIME.
This year's Winter Driving School (WDS) will be a bit different than previous year's due to COVID 19.  Our 2021 events will be a one day event (or two back to back one day events if there is enough interest) limited to experienced drivers ... as there will be no in car instruction as directed by Audi Club North America.  We will have out of the car instruction using radios and after the "run" feedback.   Each driver's experience will be assessed to make certain they meet this qualification as determined through attendance in other driving schools.   Sorry there are no teen driving slots available this year.
Check out this VIDEO
We are limiting the number of cars to 15 which should give plenty of seat time for all.  Our fee this year will be on a per car basis.  So two individuals driving the same car would only pay for one.  And, because you are all experienced drivers, we will be focusing on some finer points of winter driving such as:
Left foot braking

Handbrake turns (for those who still have a handbrake)

Pendulum turns.

Connecting turns

Higher speed slalom
Along with basic attention to:
Smoothness

Looking ahead

Hand and seat position

Situational awareness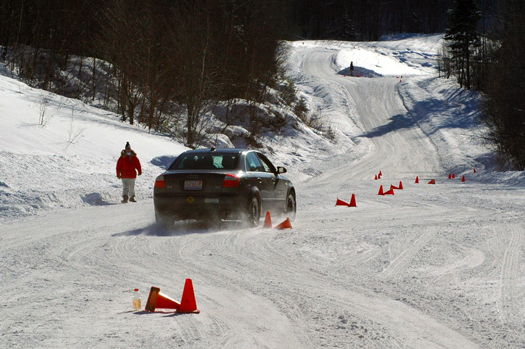 This is an excellent opportunity to practice car control skills that can make you a safer driver under all conditions and reduce lap times on the track or autocross course.
The skid pad teaches the difference between understeer and oversteer (and is a lot of fun!), while 
The slalom teaches the importance of looking ahead, weight transfer, and the proper amount of steering input.
Combining the two into a challenging road course puts everything together and includes a variety of turns and a "lane toss" where a devious instructor directs the student to switch into one of two lanes and stop the car, all in distances that look difficult if not impossible (but believe us, with practice it is possible).
Front- and rear-wheel drive vehicles are required to have snow tires on the drive wheels as a minimum.  Snow tires will have this icon on the tire sidewall: 
.Our school is a great opportunity for licensed drivers of all ages to learn how to confidently drive in a New England winter. Held at a safe and isolated facility, this is the perfect place to practice car control skills. Unlike events held on a race track, there are no restrictions on the type of vehicle allowed – convertibles, trucks, and front-, rear-, and all-wheel-drive vehicles of all kinds are welcome (they don't even have to be Audis!).
The school wraps up with a fun 'time trial' that connects the skidpad and exercise areas where the goal is consistency through several runs.
Schedule
There will be no in classroom instruction.  We meet at Team O'Neil's (north or south course depending on the conditions) at 9 AM for registration and a short drivers meeting.  The school will end at 4 PM.  There will be water supplied but no lunch.  We recommend that each individual bring their own bag lunch.

Fees:  
ACNA/PCA/BMW Members . . . . . . . . . . . $150
All others . . . . . . . . . . . . . . . . . . . . . . . . .  $165
Team O'Neil Rally School
Dalton, NH
Audi Club NA - North Atlantic Chapter
More events from this organizer