About this event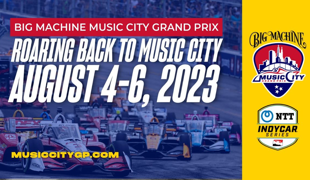 Welcome to the Music City Grand Prix Marshal Registration site. The 2023 event looks to be bigger and better, there will be plenty of action on and off track, and maybe in the Cumberland River. Supporting race events include SRO World Challenge GT America and the new GR Supra Challenge, Trans-Am TA-2, and more to be added later. This will be an exciting weekend of racing in downtown Nashville. The IndyCar race is scheduled to start in the early afternoon, unlike previous years with a mid-afternoon start.
We are currently looking for the following volunteer marshals:
Flagging and Communication Marshals
Marshal Support
The event dates are Friday, August 4-Sunday, August 6, 2023
In addition to on-track activity, there will be concerts nightly and will be a festival-like atmosphere surrounding Nissan Stadium.
Marshal perks will include swag, Thursday night party, Free Parking in a designated parking lot with shuttle service to and from the circuit (8 minute ride), lunch and dinner on station and a few other items.
Event requirements
USAC Flag Marshals has been selected to support the marshals for this event. For this event you must be an USAC Flag Marshal member. There is a $26.00 membership fee that covers your supplemental insurance while on-site during the event. The annual membership is also valid for marshalling events at USAC Flag Marshal supported events at Indianapolis Motor Speedway.
USAC and the Grand Prix have many plans prepared to give first-class support all weekend during the event such as a nice swag bag, depending on the event schedul, dinner available on station on Friday and Saturday evening, a worker party Thursday evening, access to the nightly concerts along with other perks.
If you need to obtain a 2023 USAC Flag Marshal membership, go to https://usacracing.redpodium.com/2023-usac-flag-marshal-membership
Event Schedule
On-track activity will be Friday, Saturday and Sunday only. There will be no on-track activity on Thursday. Support series will be SRO World Challenge GT America, GR Supra Challenge. Trans-Am TA2, and more to be added later.
Hotel Block
We are working on a hotel block for the event. Hotels in the area are hard to come by because of the popularity of this event. We suggest to look for your own accomodations. If we are able to secure a resonably priced block, we will let everyone know.
Camping
No Camping Tent or RV camping is available for workers on-site.
Event Parking
We will have free parking nearby the circuit for marshals. There will be continuous shuttle buses to and from the parking lot and the circuit. It is about an 8 minute shuttle bus ride.
Guest Passes
Each worker will have one guest pass available to them for a guest. These passes will be a three-day General Admission ticket to the grounds. The Grand Prix has been gracious enough to provide these tickets for you, if you are caught selling your Guest Pass, your credential will be revoked.
Thursday Night Worker Party
We are planning a worker party Thursday, August 3rd at a location to be determined. This will be free to all marshals participating with the event. You will be permitted to bring one guest; however your guest will have to pay an admission fee to join us. The cost is $20.00.
Streets of Nashville
Nashville, TN