Mount Wilson 100-inch Telescope Viewing Session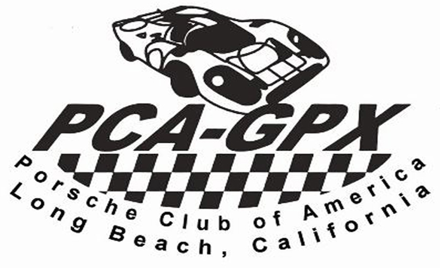 PCA - Grand Prix Region
Saturday, Jul 29 — Sunday, Jul 30, 2017
Mt. Wilson Observatory
,
Mount Wilson

,

CA
Registration closed July 14, 2017 11:59 PM on July 14, 2017 11:59 PM PDT Registration ends July 14, 2017 11:59 PM on July 14, 2017 11:59 PM PDT Registration opens June 6, 2017 7:00 AM on June 6, 2017 7:00 AM PDT Registration runs from June 6, 2017 7:00 AM to July 14, 2017 11:59 PM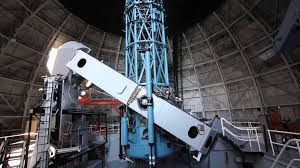 View the Universe Through Mount Wilson Observatory's Historic 100-inch Telescope
For the first half of the 20th Century, Mount Wilson was the most famous observatory in the world. The biggest telescopes were here, and their new designs were changing the way astronomy was done. Among the many discoveries made on the mountain, a few revolutionized our understanding of our place in the Universe. Here, for the first time, Harlow Shapley measured the size of the Milky Way Galaxy and located our position in it, far from the center. Then Edwin Hubble proved that the mysterious spiral nebulae, which astronomers had speculated about for decades, were in fact distant galaxies similar to our own. Then Hubble teamed up with Milton Humason and discovered that this immense Universe was expanding. Space itself was getting bigger. This finding, when run backwards in time, leads straight to the Big Bang Theory. So this is where modern cosmology began, and thus, in our long search for our origins, Mount Wilson holds a unique place in human history.
VIEWING THROUGH 100-INCH HOOKER TELESCOPE - AN EXPERIENCE OF A LIFETIME
This year Mt. Wilson celebrates the centennial of the world's largest telescope from 1917 to 1949. The 100-inch forever altered our understanding of the size and nature of the Universe and launched a revolution in astronomy that continues through today. This world-heritage class instrument, used by many of the greatest astronomers of the Twentieth Century, has only recently been made available for regular public viewing. Imagine looking through the telescope used by Edwin Hubble in the 1920s to measure the expansion of the Universe.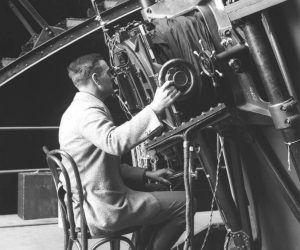 Hubble guiding Mount Wilson's 100-inch Telescope in 1924, shortly after he proved the existence of distant galaxies.
The Porsche Club – Grand Prix Region is pleased to announce that we have reserved a very special evening of viewing at the historic Mt. Wilson Observatory 100-inch telescope.  July 29, 2017

Here are some photos from our 2014 viewing session at the 60-inch telescope.