Mental Prep for Drivers Webinar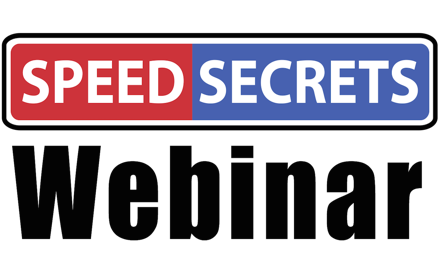 Speed Secrets
Tuesday, March 26, 2019
Registration closed March 24, 2019 11:59 PM on March 24, 2019 11:59 PM PDT Registration ends March 24, 2019 11:59 PM on March 24, 2019 11:59 PM PDT Registration opens February 22, 2019 12:00 AM on February 22, 2019 12:00 AM PST Registration runs from February 22, 2019 12:00 AM to March 24, 2019 11:59 PM
Track time is limited and expensive! What you do before you get on track (and shortly after), makes a difference - so make the most of every second on track.
We all know that driving is more mental than it is physical, and yet most drivers don't know what to do about that. In the Mental Prep for Drivers webinar, I'll address that situation, giving you the tools and approaches to improve your driving performance. You'll drive more consistently fast, sense the limits of your car better, learn tracks and techniques faster, and even enjoy driving more. Miracle cure?! No, just sports psychology and hands-on coaching experience applied to driving.
As a driver coach and trainer, I often hear from drivers about their struggles to take full advantage of mental imagery, or as it's usually referred to, visualization. Here's a fact: Mental imagery is a learned skill, just like braking, steering, and accelerating. It's definitely not a matter of only some people having more natural ability to use visualization to improve their driving. I'll give you the "how to" so you can use visualization to compliment your on-track practice and experience.
While you may drive in HPDE/track day events, autocross, or club/vintage racing, you should know that the content of this webinar is what I taught Indy 500 winner Alexander Rossi, sports car ace Colin Braun, and NASCAR drivers William Byron, Eric Jones and Bubba Wallace early in their careers. But to be clear, the Mental Prep for Drivers webinar is for any driver, of any level and type, who uses their mind to drive. If that's you, I look forward to sharing what I believe is the "real secret stuff!"
Join me in the Mental Prep for Drivers webinar on March 26th, 2019, either live or by registering to get the recording and content the next day. 
More info at SpeedSecrets.com/Mental-Prep.