Thu, Jul 30 - Sun, Aug 2, 2020
MCSCC Race to Save the Children Race and Test day
Road America
About this event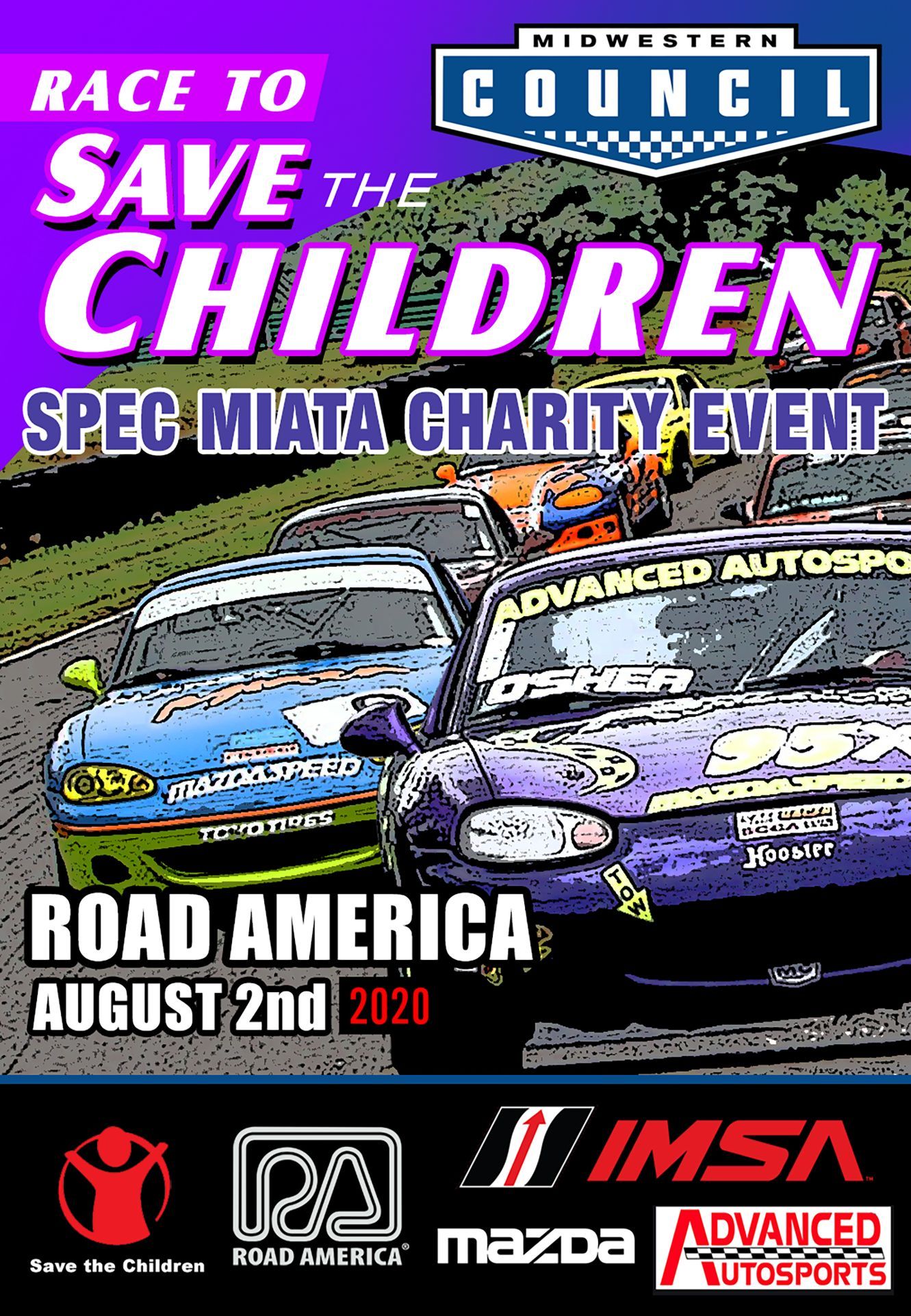 This registration page covers both the Spec Miata Charity race, and the Thursday Test Session for our joint weekend with IMSA!
The Race to Save the Children Spec Miata Charity event is a collaboration between the sanctioning body Midwestern Council, IMSA, and Road America.
While Spec Miata racers will compete in front of a large crowd on Sunday, the event schedule for the weekend is busy, resulting in limited track time. Spec Miata racers are able to enter the test day on Thursday, July 30 as well as participate in 30-minute qualifying and a 60-minute race on Sunday, August 2.
Race to Save the Children Event Flyer (Updated 7-27)
Supplemental Event Regulations (updated 7-22)
The Details:
Thursday Test Day:

Open to all wheel to wheel competition license holders (See next point for full list)
Open to all wheel to wheel prepared cars
Day will consist of four (4) 30 minute test sessions throughout the day.
Separate sessions for closed wheel, open wheel, and Spec Miatas

Race License Required:

 The test day is open to anyone that has a racing license and race car
Sunday qualifying and race day – most competition licenses are accepted (e.g., MCSCC, SCCA, NASA, any pro license, etc.)

Registration: All entrants will be required to preregister and pay at the time of registration. Walk up registration will not be available.
The Entry Deadline: Tuesday, July 28 at 8PM CT
Entry Fees:

Thursday only: $295 (Does not include weekend pass)
Sunday only: $295 (Saturday and Sunday passes Only)
Combined weekend: $550 (Includes weekend pass)

Event Schedule:

Thursday, we will be on track 8:45 to about 4:30. There will be three groups that will get four 30-minute sessions (2 morning, 2 afternoon)
Sunday will have a 30-minute qualifying in the morning starting at 8:05am, then a 60-minute race starting at approximately 2:30pm

COVID-related Details:

All trailers will be spaced out as much as possible
Spec Miata will be using the north side of pit lane, separate from the IMSA teams
Our paddock will likely be open, but all entries will receive face masks to wear, and highly encourage social distancing and face coverings
Face masks will be required to go through registration and tech

Save the Children Charity Donation

Midwestern Council of Sports Car Clubs is hosting a charity drive this year with Save the Children to raise money for COVID-19 relief. It will have special face masks available and will be accepting donations with registration and throughout the weekend
$10 from every entry will be going to Save the Children

Team Passes: 

All entries will receive one (1) driver and three (3) free crew member passes. The eligibility of those passes are below
Participants running Thursday only will only have access on Thursday
Participants running Sunday only will only have access after 12:00pm on Saturday and all day Sunday
Participants running both Thursday and Sunday will have full access all weekend
Daily or weekend passes will be available at a discounted rate via the Road America Website. Please see the entry packet for the discount code.

Contingency Awards:

Mazda Motorsports is offering contingency awards for the Sunday race: $1,000 to 1st; $550 to 2nd – 5th.
RaceQuip will be offering up one FIA Harness, one pair of gloves, and one pair of 305 shoes!
Black Armor Helmets will be offering up a $200 cash prize to the 20th place driver!

Louisburg Junction Supper Club will be providing two $100 gift certificates to the 1st place winner and one random Sunday entry!

RockAuto.com will be providing $25 gift certificates to pole position, fastest race lap, and one random draw Sunday entry!

Load-in Times (All CT):

Wednesday July 29th: Noon to 8PM

Thursday July 30th: 7am to 8:30am

Friday July 31st: None

Saturday August 1st: 7PM to 9PM, or whenever we get the last car in

Sunday August 2nd: None

Please note that this does not reflect all registration times. There will be additional time most days for registration, but the track has limited the load in times due to spectators and IMSA load-in times.

Paddock Locations

All competitors running Sunday will be in the North Paddock, and can stay there for the weekend.

If you run on Thursday as well, you can paddock here as well and keep your spot for the weekend.

All competitors running ONLY Thursday will be paddocked between the turn 5 and 13 cross, and the Road America Building.

Competitors wishing to stay the weekend will need to move their rigs to the grass area on the south side of the Briggs and Stratton Bridge (Turn 2).

Load Out Times

All entrants running on Thursday are not able to leave until 6PM. This is due to the IMSA Teams loading in during the day.

If you need to move your trailer to the holding area for the weekend, this will be done so at 6PM. All trailers will be moved at once and need to follow the directions provided at that time.

Other Event Details

Commemorative T-shirts will be given to all those who race on Sunday
Trophies will be handed out for 1st, 2nd, and 3rd
Midwestern Council of Sports Car Clubs will be very strict on load in times. No trailers are able to come in Sunday morning
Advanced Autosports is a sponsor of the event, and will be supporting many Spec Miata customers
Camping will need to be purchased through Road America.
Event requirements
This event is sanctioned by the Midwestern Council of Sports Car Clubs and is governed by the MC GCR, available at this link: MCSCC - General Competition Rules
More information is available on our website. 
Please find the entry Packet Here: Race to Save the Children Event Flyer
Please find the event supplemental regulations here: Supplemental Event Regulations
Road America
Plymouth, WI
Midwestern Council Sports Car Clubs