Sat, Sep 28 - Sun, Sep 29, 2019
Midwestern Council Double Sprint Race 6 & 7
Road America
About this event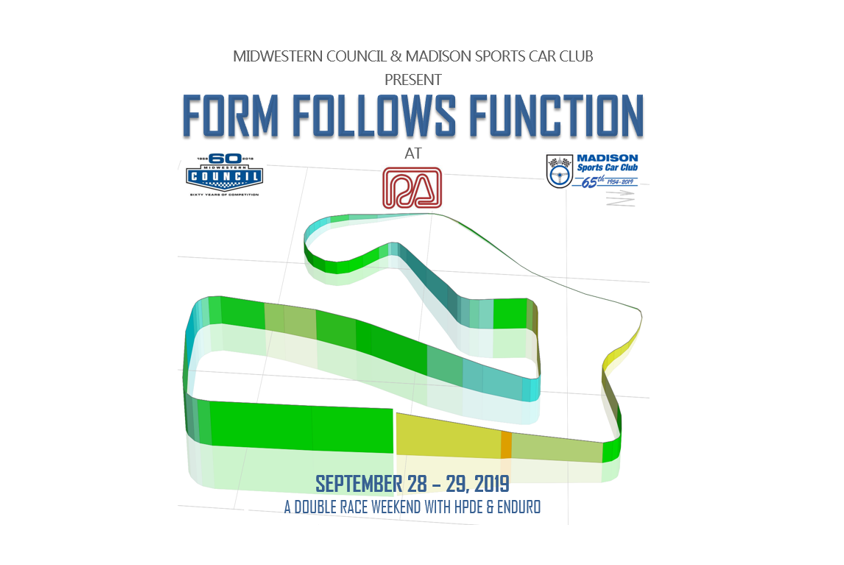 Madison Sports Car Club (MSCC) and Midwestern Council of Sports Car Clubs (MC, MCSCC) are proud to present a double race and enduro at RoadAmerica September 28 and 29, 2019!
Registration is now open and will close Wednesday, September 25 at 9:00pm CST.  Any entries submitted after this date (by mail or at the track) are subject to a $50 late fee.  
See the attached registration packet for more detailed information - RA 2019 Entry Form v003.pdf. 
Deferred billing!  Credit card payments will not be processed until the weekend of the event.
DOUBLE CLUB RACES!
Once again this year we have Double Wheel to Wheel Races on Saturday and Sunday. And stay late for the 2-1/2-hour Enduro Saturday afternoon. You can get over four hours of track time this weekend!
MC ENDURO!
Don't miss the only MC Enduro at RoadAmerica! Your car can easily handle the 2.5-hour race on one set of tires and brakes without breaking your bank account. The 2.5 hour length means you can drive it alone if you're a glutton for punishment, or you and a buddy can handle the drive and still have enough energy left to drink a victory beer.
RACE STAFF DESPERATELY NEEDED!
We have all the usual worker goodies, free camping, free meals and $400 in gas card giveaways.
PLUS THE USUAL PARTY!
Following the race schedule on Saturday night, we'll be cooking up another great dinner. All drivers, staff and guests are welcome. FREE to all!
Event requirements
This event is governed by the Midwestern Council GCR, available at this link: www.mcscc.org/gcr.pdf
All MC races are open to drivers holding a valid current MCSCC, SCCA (Pro, National/Full Comp/Major or Regional/Novice with one race signoff minimum), WHRRI, BMWCCA (full), EMRA, CASC, PCA (full), NASA (full), ACC Levels 1 and 2, SVRA, or VMC racing license.
Midwestern Council requires Snell 2010 or newer helmets.
Drivers must be 18 or over, or 14-17 years old with completed MC Minor Participation License paperwork in place.
MC.2014.Minor Participation Procedures.pdf
More information is available on our website. 
Road America
Plymouth, Wi