MAX BMW Off-Road Riding School - L2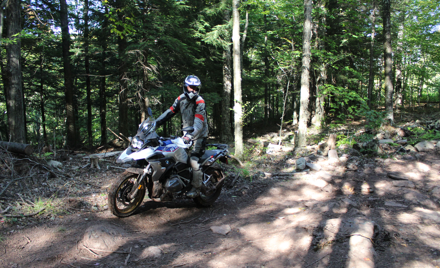 MAX BMW Motorsports
Thursday, Jun 25 — Friday, Jun 26, 2020
Hunter Mountain
,
Hunter

,

NY
MAX BMW Motorcycles is proud to bring our Off-Road Performance Level 2 School to Hunter Mountain Resort  June 25th to 26th. Located in the heart of the Catskills, Hunter is the perfect venue for this program. It features great terrain, a first-class hotel, and spa and is easily accessible from everywhere in the northeast.

Riding your own dual sport BMW our two-day Level 2 program is designed to maximize every rider's ability on dirt, gravel or other non-paved surfaces. Bill Conger, Ben Stratton and Max Stratton all graduates of the BMW off-road academy Germany.
Each day of the school will consist of a full day of riding instruction.  Riding includes drills on dirt, gravel, water and grass and excursions up and around Hunter Mountain and the surrounding area.
Level 2 school will explore new parts of the mountain not see during the level 1 class.  Your level 1 skills are required so you must have taken our level 1 or equivalent school to qualify.
We will cover the following:
Improved throttle control & balance
Tight steering
Quick side to side transitions for obstacle avoidance
Steering with brakes
Steering with throttle
Hills review plus traction tips
Trail side tricks for getting turned around in tight spaces
Recovering from being hung up on roots, rocks etc.
Loft/lighten front tire
Side slopes
Off camber terrain

 

In order to provide a personalized level of attention, class size is limited to 10 participants. Take advantage of this unique opportunity and reserve your spot early as our previous events have sold out.
Details:
What: MAX BMW Off-Road Performance School, featuring professional instruction from Bill Conger. Two-day program.
Where: Hunter Mountain Resort, Hunter, NY (map)
When: June 25th to 26th
Time: Class is from 8-4:30 both days
Cost: $595
(includes two days of instruction, lunch both days)
Accommodations: Riders are responsible for their own lodging. We recommend the Kaatskill Mountain Club at Hunter Mountain. Check them out at Kaatskillmtnclub.com. For reservations call: 800-486-8376 and mention you are with the MAX BMW Group to receive a special rate. Hunter Mountain Resort offers an array of activities for other family members.