LVR-PCA HPDE @ Spring Mountain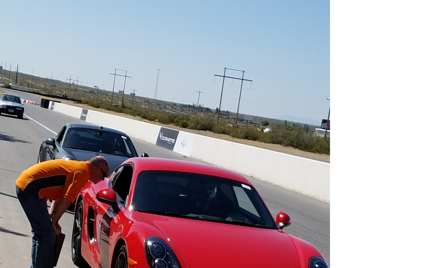 PCA - Las Vegas
Saturday, Nov 23 — Sunday, Nov 24, 2019
Spring Mountain
,
Pahrump

,

NV
Registration closed November 18, 2019 11:59 PM on November 18, 2019 11:59 PM PST Registration ends November 18, 2019 11:59 PM on November 18, 2019 11:59 PM PST Registration opens October 8, 2019 12:00 AM on October 8, 2019 12:00 AM PDT Registration runs from October 8, 2019 12:00 AM to November 18, 2019 11:59 PM
The Las Vegas Region of the Porsche Club of America presents 
Driver Education and Open Track Driving at
Spring Mountain Motorsports Ranch, Pahrump, NV
November 23 and 24, 2019
We are running the 2.6 mile Lauda C configuration with the bus stop and
features a banked bowl that is generally only available to SM Club members.
It is a somewhat shorter track that will be challenging and technical.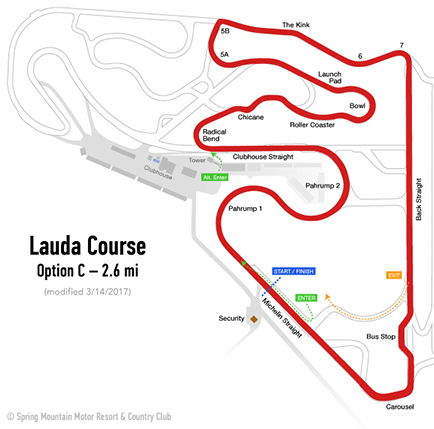 PLEASE NOTE: THIS IS A SHORTER TRACK CONFIGURATION THAN WE USUALLY RUN, THIS MEANS FEWER CARS WILL BE ALLOWED ON TRACK IN THE RUN GROUPS, SO REGISTER SOON!!!!

ATTENTION: As of Tuesday 11/12 @ 2pm, the Green/Intermediate group has sold out
As of Friday 11/15 @ 10am, the Yellow/Student group has sold out
All car makes are welcome!
Please read this information carefully, as some of our registration and at-track requirements have changed for 2019.
Our events focus on Safety, Education and Fun. We have a great group of PCA Nationally Trained Instructors available to you in all Run Groups.        
Our events feature 30-minute driving sessions.
We are offering our HPDE Ground/Track School at no additional charge!  The Ground School is open to ALL first time track drivers.
See the Las Vegas Region Porsche Club of America Web Site for full details of the event at http://lasvegaspca.com/drivered.htm
Very Important: Please fill out your MotorsportReg.com profile with past experience and emergency contact information.
We run rain or shine.
Registration Fees for this event are:
Saturday Only:  $300
Sunday Only:    $300
Both Days:        $450
REMINDER: Registration closes one week before the event, 11/19/2019. There will be no registration or fee payment at the track.
You MUST register as a STUDENT if you have never had formal racetrack oriented driving instruction, such as a two or three day paid performance driving school at Ron Fellows, Skip Barber, Bob Bondurant, or equivalent academy, or a formal two day HPDE ground/track school with the  Porsche Club of America, Audi Club, BMW Club, or equivalent.  If you are not sure you have met this criteria, our safe, informative, and exciting performance ground/track school is waiting for you at no additional charge!  Please proceed through the registration process as a "Student".  Students must register for at least Saturday, no Sunday only.  Two Students cannot share a single car for the ground school. A Student cannot share a car with a driver registered in a regular run group.

Registering as a student is easy:
This season, in order to make sure we have an instructor to work with each registered student, we are changing the way we register and confirm students for our events. Please read the following carefully:
When registering as a student, you will automatically be placed on a wait list, Your status in your MotorsportReg dashboard will be labeled as "on hold." As qualified instructors register for the event, we will change your status to "confirmed" and send you an email saying you have been confirmed for the event's Ground/Track school. Please make sure to monitor your email and MotorsportReg dashboard in the last three weeks before the event, to keep tabs on your status. We will charge your credit card when you register, but you will receive a prompt refund in the unlikely event you are not confirmed.
These spots will be available on a first-come-first-served basis according to day and time we receive your registration, and dependent on the number of instructors available. Be sure to register early to be assured of getting a spot.
INSTRUCTORS:
If you are a PCA Nationally Trained Instructor and want to teach, please contact Brian Schmidt (bschmidt47@cox.net) before registering. We will be confirming students for the ground school only when we have a registered instructor for that student. Please, if you know you're coming to the event and will instruct, sign up early so we can inform students early they are accepted into the Ground School.
Sell Outs:
These events have become very popular the last few seasons and many have sold out. We also limit the number of cars in each run group for a better driver experience.  Your spot in a run group will be determined by your registration date and time.
Guest Driver/Student Waiver Policy:
If you have not previously attended one of our track events, you are considered a Student unless you have completed our Saturday Ground School or have run two clean events with us. For experienced intermediate and advanced drivers, this requirement may be waived. In order to obtain the Student Waiver, experienced drivers must have significant, appropriate experience, and be endorsed by other track organizations or PCA regions.
By "significant" we mean more than a few events,
By "appropriate" we mean that such experienced drivers must be able to function in a Driver's Education (as opposed to racing) environment where drivers are given lots of room, passing is via "point-bys," courteous driving is expected and risky behavior is not tolerated.
By "endorsed" we mean that an official from the other driving organization(s) must be able to provide their opinion of your safe behavior on the track and ability to follow event protocol.
If you feel you are a good candidate for a Student Waiver, please do the following:
A) Update your driving experience resume in your Motorsportsreg profile. Be as detailed as possible to give us a good initial review of your track driving experience.
B) If requested, have an official from the other driving organization (as similar to PCA as possible) provide information about your driving experience and their endorsement of your safe behavior on the track and ability to follow event protocol.
Your request and supporting information will be reviewed by us and we will inform you whether your Student requirement has been waived.  LVR reserves the right to send an instructor with a driver for a check-out ride in order to validate the information.