About this event
The Las Vegas Region of PCA presents: Driver Education at Spring Mountain Motorsports Ranch, Pahrump, NV September 11 & 12, 2021
Join the Las Vegas Region of the Porsche Club of America for two great days of Driver Education at Spring Mountain Motorsports Ranch.
Because of the surge of infections of the Covid-19 Delta variant in Southern Nevada,
This will be a Solo-Qualified Driver only event
We wil not have a Ground/Track school, or Yellow student run group for this event. In order to run in the White group at this event, you must have been "signed off" by your instructor to run solo in the novice White group on this Spring Mountain configuration, or be a regular White/Novice group driver with experience on this configuration. Otherwise, you must have enough prior experience with us, and/or running this specific configuration of Spring Mountain to run in either the Green/Intermediate group or the Red/Advanced group.
There will be no instruction available to learn the track or for checkout rides. More on this down below.

Covid-19 restrictions: The governor of Nevada has put a mandate in place for all people, vaccinated and unvaccinated, to wear masks in indoor public settings, in certain high spread counties - including Clark and Nye. If there are more restrictions in the weeks ahead, check back, and we'll be posting any changes here.
Meanwhile...
Please stop and read this section, carefully and completely... it affects everyone who registers:
Las Vegas Region PCA (like most other PCA regions) is a 501(c)(7) non-profit, which means the LVR club can only make a certain percentage ratio of its yearly revenue from non-members. Because of this, we have had to make some changes to how we run our HPDE events and and how we register drivers for the events. An analysis of prior events shows that we can attain this ratio if we add together drivers that usually drive with us from other PCA regions, and owners/drivers of Porsches that are not current PCA members, to the usual number of PCA Las Vegas members who attend. But, it involves some changes, and a little bit of extra work on the part of some drivers who usually run with us. We apologize for the complexity, and thank you for your patience. But, if we are unable implement these changes and make them work, it's very likely we will not be able to host future HPDE events.
There are five basic categories of attendees. Find the category you fit below for more information:
1. Members of PCA Las Vegas Region: You are good to go. Please make sure you have filled out the PCA "member number" and "region of record" information in your MotorsportReg profile. We cannot register you for the event without this information being accurately filled out.
2. Members of other PCA regions: We LOVE that you come and run with us, and hope you still will. But, to make this work, we need you to become "dual members" in Las Vegas Region. Your primary region of record will remain the same. We will provide you with this application (LVR_dual_member_app.pdf ) for dual membership in LVR to download when you register. You will need to fill it out, and mail it back to us with a check for $15. Why $15? Because it is the amount that PCA national sends back to regions from the yearly dues each member pays to PCA national. The $15 you pay and your dual membership will be good for the rest of this year (2021), and all of 2022. In January of 2023, we'll revert to a January-December calendar year for dual memberships. Please make sure you have filled out the PCA "member number" and "region of record" information in your MotorsportReg profile. We cannot register you for the event without this information being filled out, or having a dual membership. We'll need to receive your dual membership application and payment at least 10 days before the event (which is September 1), preferably sooner. In certain rare cases and with special arrangement, we may be able to have you bring the application and payment with you to the track. If you usually don't run your Porsche with us, no problem... run the car you usually drive with us at DEs. You only have to be a PCA member and dual member of LVR. When you register, your staus will be listed as "on hold" until we receive your dual membership application and payment. When that's received, we'll confirm you for the event. If you don't want to become a dual member with Las Vegas Region PCA (and we understand if you don't), then you will be considered a non-member, and will vie with other non-members for the limited number of spots available to them.
3. Porsche owners who don't belong to PCA or expired PCA members: You will need to join PCA (https://www.pca.org/pca-membership-join-club-join-fun). It costs $46/year. If you are local to Las Vegas, please join the Las Vegas Region. If not, and you join another PCA region, you'll then need to also become a dual member with LVR (see above). After you join, please make sure you have filled out the PCA "member number" and "region of record" information in your MotorsportReg profile. We cannot register you for the event without this information accurately being filled out. You don't have to run your Porsche, you only have to become a PCA member using your Porsche VIN. If you don't want to become a PCA member (and we understand if you don't), then you will be considered a non-member, and will vie with other non-members for the limited number of spots available to them.
We'll be confirming the PCA member numbers in your profiles through the PCA national database to make sure you are a current member in good standing.
4. Non-PCA members: If you don't own a Porsche, you can't be a member of PCA. No worries… we will be setting aside somewhere between 25-30 spots for you to run in the events as usual. The number of slots needs be flexible, and depends on the number of LVR members and dual members who have registered. These spots will be first-come-first-served, and generally speaking, can't exceed about 35% of the total registrations. It is likely we'll need to put some non-PCA member registrations on a wait-list, until we figure out the final ratio that will work.
5. Instructors: This is moot for this event, because we're not having instruction, but is an FYI for future events when we will have schools and instruction.
Because we waive your entry fee for doing the hard and somewhat dangerous work of instructing, you're good to go. If you're from another PCA region, there's no need for you to become a dual member. That said, please make sure you have filled out the PCA "member number" and "region of record" information in your MotorsportReg profile. We cannot register you for the event without this information accurately being filled out. If you're a non-PCA member instructor, you are not limited by the "quota" we have to use for other non-PCA member drivers.
Questions? If you have some, please read back though all of this information one more time. If you still have question(s), send an email to the registrar
Please read the information below carefully, as some of our registration and at-track requirements have changed.
Our events focus on Safety, Education and Fun, and feature 30-minute driving sessions with four sessions each day.
Very Important: Please fill out your MotorsportReg.com profile with past experience and emergency contact information. If your profile does not have an emergency contact listed, it will delay the confirmation of your registration.
All car makes are welcome!
All run groups will run with passing only by point-by, and only in designated passing zones

We run rain or shine.
Registration Fees for this event are:
Both Days: $450
Saturday Only: $300
Sunday Only: $300
REMINDER: Registration closes at midnight on September 6, 2021. There will be no registration or fee payment at the track.
Sell Outs:
These events have become very popular the last few seasons and many have sold out. We also limit the number of cars in each run group for a better driver experience. Your spot in a run group will be determined by your registration date and time.
This, just in!
We've changed things up a bit, and are now running
the 4.0 mile Andretti Course, Option "C"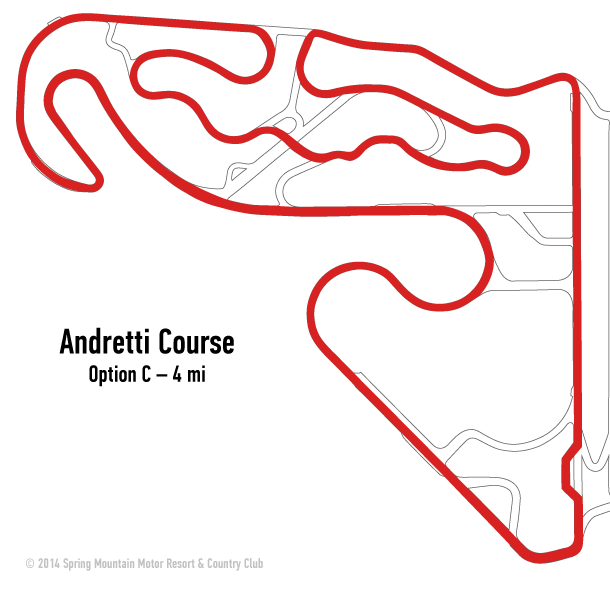 INSTRUCTORS:
We appreciate all the work that our PCA Trained Instructors have done in the past, and will do in the future. For this Driver's Education weekend, we will not be having Instructors. The entrance fee for the weekend is the same for all participants.
Lunch will be available for purchase both days for $10... a buffet as usually provided by Spring Mountain in the past, with hamburgers, hot dogs etc. It will be served to you by someone from the track's catering. It will be located in the the paddock or outside the classroom. Payment for lunch each day is $10 in cash, no credit cards are accepted for lunch.
Note: Lunch is not part of your entry fee, we ask you during registration if you're going to buy lunch, only to give the track's kitchen an approximate head count for each day.
See the Las Vegas Region Porsche Club of America Web Site for more details of the event and requirements at https://lvs.pca.org/driver-education/
Drivers who have not run with us before, and/or have not run on Spring Mountain:
You will be considered on a case-by-case basis for this event, based on review by our DE team. To be considered, you will need to have
a large amount of recent, trouble-free, and verifiable experience of HPDE on-track driving, with well-known event organizers.
Because we will not have instructors available for learning the track or checkout rides,
we'll be prioritizing drivers who have EXTENSIVE experience on this configuration.
The track we are running is a 22-turn 3.4-mile configuration, that is very complicated, technical, many of the turns look the same, and many have very late apexes, and there's few landmarks. Even recognizing that people learn new tracks at different rates, it's a hard track to learn.
If you feel you have the experience to run in a solo DE on this track, please see and EXACTLY follow the directions in the "Guest Driver/Student Waiver Policy" below.
Guest Driver/Student Waiver Policy:
If you have not previously attended one of our track events, you are considered a Student unless you have previously completed our Yellow group Ground/Track School, and run two clean events with us, or had formal racetrack oriented driving instruction, such as a two or three day paid performance driving school at Ron Fellows, Skip Barber, Bob Bondurant, Porsche Track Experience, or equivalent academy, or a formal two day HPDE ground/track school with the Porsche Club of America, Audi Club, BMW Club, or equivalent.
For experienced intermediate and advanced drivers, this requirement may be waived. In order to obtain the Student Waiver, experienced drivers must have significant, appropriate experience, and be endorsed by other track organizations or PCA regions.
By "significant" we mean more than just a few events,
By "appropriate" we mean that such experienced drivers must be able to function in a Driver's Education environment (as opposed to racing) where drivers are given lots of room, passing is via "point-bys," courteous driving is expected and risky behavior is not tolerated.
By "endorsed" we mean that an official from the other driving organization(s) must be able to provide their opinion of your safe behavior on the track and ability to follow event protocol.
If you feel you are a good candidate for a Student Waiver, please follow these directions EXACTLY:
A. Update your driving experience resume in your Motorsportsreg profile. Be as detailed as possible to give us a good initial review of your track driving experience.

B. Register for the event, so we can take a look at your MotorsportReg registration history, and your profile with your previous experience. Then, within 12 hours of your registration, YOU MUST send an email to Xxxxx Xxxxxx at: xxxx@xxxxxx.com to alert us of your request. In your email, please introduce yourself, tell us about your previous track driving experience and approximate dates, the tracks you've run on, and clubs you've run with. If you are a PCA member, include your PCA member number and primary region of record. If you are also a PCA nationally trained instructor please tell us, and include your PCA Instructor number.
If you don't send us this REQUIRED email, you will not be considered to attend the event.
If there's nothing about previous track experience in your MotorsportReg profile, your request will be not considered.
C. If requested, have an official from the other driving organization (as similar to PCA as possible) provide information about your driving experience and their endorsement of your safe behavior on the track and ability to follow event protocol.
Your request and supporting information will be reviewed by us and we will inform you whether your Student requirement has been waived.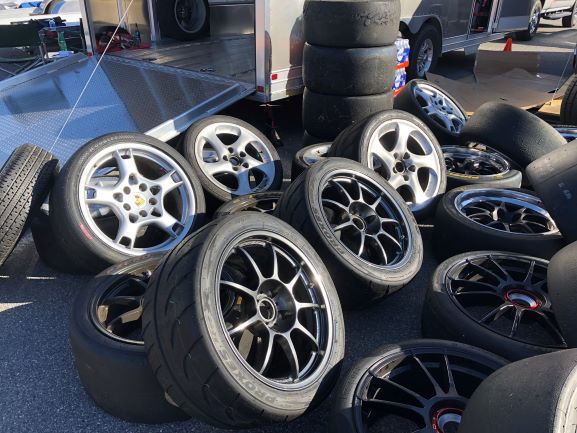 Event requirements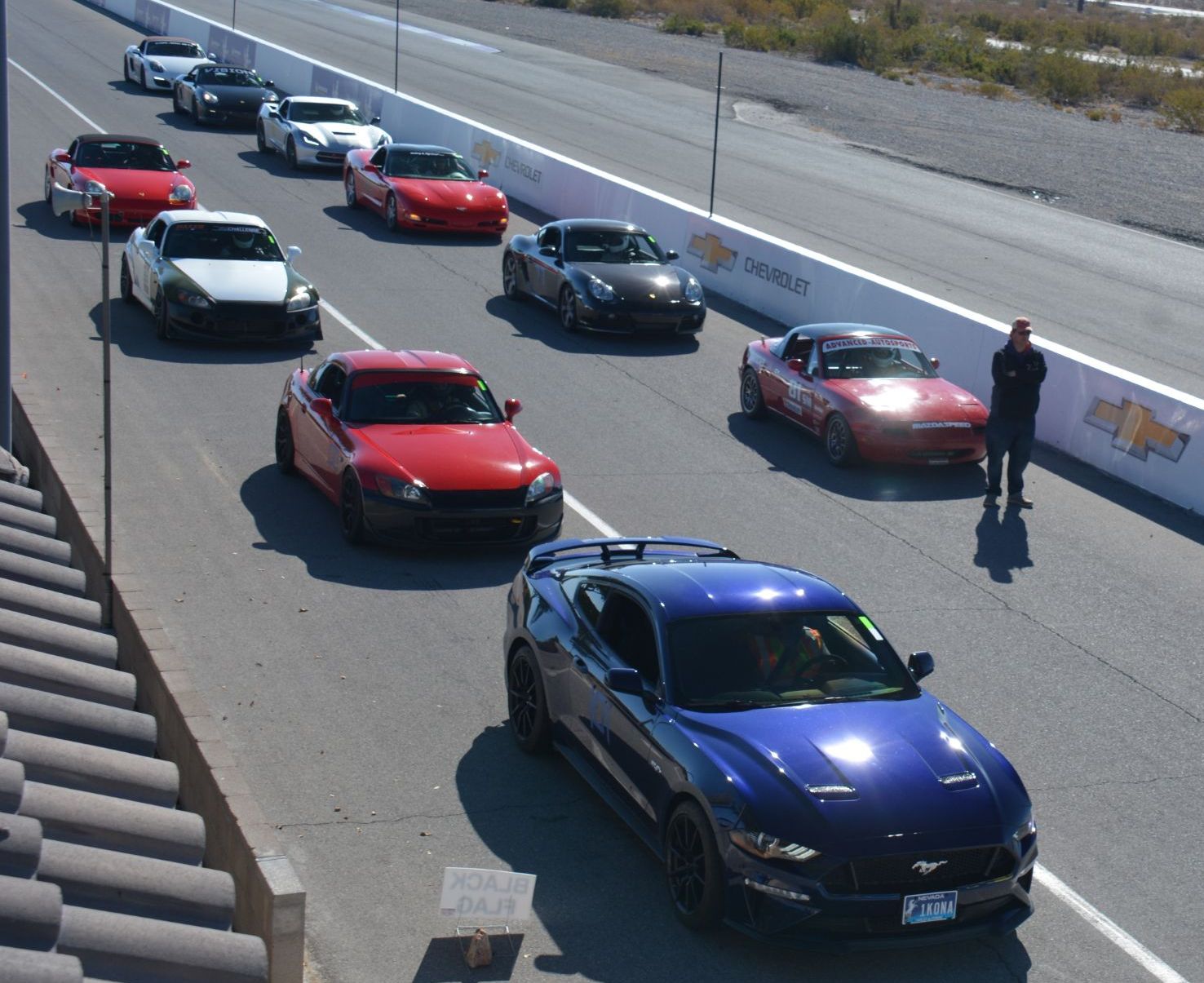 IMPORTANT STUFF
1. Head and neck restraints are required for all occupants in harness-equipped vehicles. Tech review staff will be checking head and neck restraints expiration dates.
Head and neck restraints are required for all five or six point harnesses. The same type of restraint system is required for both driver and passenger. Harnesses are required to be SFI or FIA approved for competition and mounted in the manufacturer's approved configuration. Any harness approved for PCA Club Racing is acceptable when installed according to the manufacturer's instructions. Evidence of this approval must be provided by the driver, if necessary. We will be checking expiration dates on harness systems at Tech Review. We recognize five-year FIA expiration cycles... if your harnesses are more than five years old, they'll be expired.
If you are running stock/DOT approved 3-point restraint system (stock seat belts) additional head and neck restraints are not required. The Las Vegas Region PCA will not rent/provide head and neck restraint systems. Participants must provide their own systems if required.
2. Gates open at 7:00 am. The 8:00 am Mandatory Drivers Meeting will be held outdoors in the paddock.
3. All entrants must be 18 years of age and possess a valid state, province or country Driver's License. Be sure to bring it with you to registration check-in. We will be checking them.
4. All car occupants must wear a Snell approved SA2010, SA2015, or SA2020 certification auto racing helmet. Motorcycle helmets are not allowed.
Note: SA2010 helmets will be allowed for the rest of 2021. For those of you with Snell SA2010 certified helmets, we encourage you to move to a 2015 or 2020 Snell certification. Snell 2020 helmets are becoming more available for sale from most retailers, and there's some great deals on SA2015 helmets at most retailers.
Helmet rentals will not be available at the track.
5. We no longer rent transponders.
6. Clothing: Full-length pants, long sleeve shirts. Shoes must be enclosed, non-slip, with a relatively smooth sole. Hiking type deep lugged soles are not acceptable. No short pants allowed. Clothing must be of natural fibers, no synthetics except approved fire resistant material. If the weather is very hot, we MAY declare a "hot day" and allow short sleeves to be worn in street cars, but don't count on it. Bring long sleeved shirts.
7. Occupants in cars that are race-prepped with a full cage, or have had the interior removed, must wear a SFI or FIA approved fire resistant driving suit that conforms to PCA Club Racing rules. See PCA Zone 8 Rule Book for suit specifications. If we declare the event as a "hot day," you must still wear the fire resistant driving suit mentioned at the beginning of this paragraph.
8. All convertibles and "open" cars must have roll bars unless equipped with factory "pop-up" rollover protection, such as Porsche Boxsters and newer Carrera Cabriolets. Convertibles must run with the top closed - this includes T-tops, Targa tops and sunroofs. Face shields or protective goggles are required in all open cars and cars without a windshield.
9. Arm restraints are required for all open top cars.
10. The Drivers Meeting is MANDATORY for all drivers. Critical topics will be discussed including Flags, Passing Rules and Track Entry/Exit. For this event the Driver's Meeting will be held in the paddock.
11. A Tech Review Form will be required to be completed prior to the event and brought with you to the track to present to Tech Review. Technical Review Form 2019.pdf
12. If there are two people in a car, one of them must be a certified PCA instructor who is registered to instruct at the event. No other passengers are allowed at any time.
13. PCA National now requires all persons, both drivers and guests, to sign a PCA event waiver during registration on the day of the event, as we used to do before the Covid-19 restrictions. You will no longer need to download and fill out a waiver and bring it with you. As of this writing, PCA no longer requires a "communicable disease waiver" to be signed.

We look forward to seeing you there!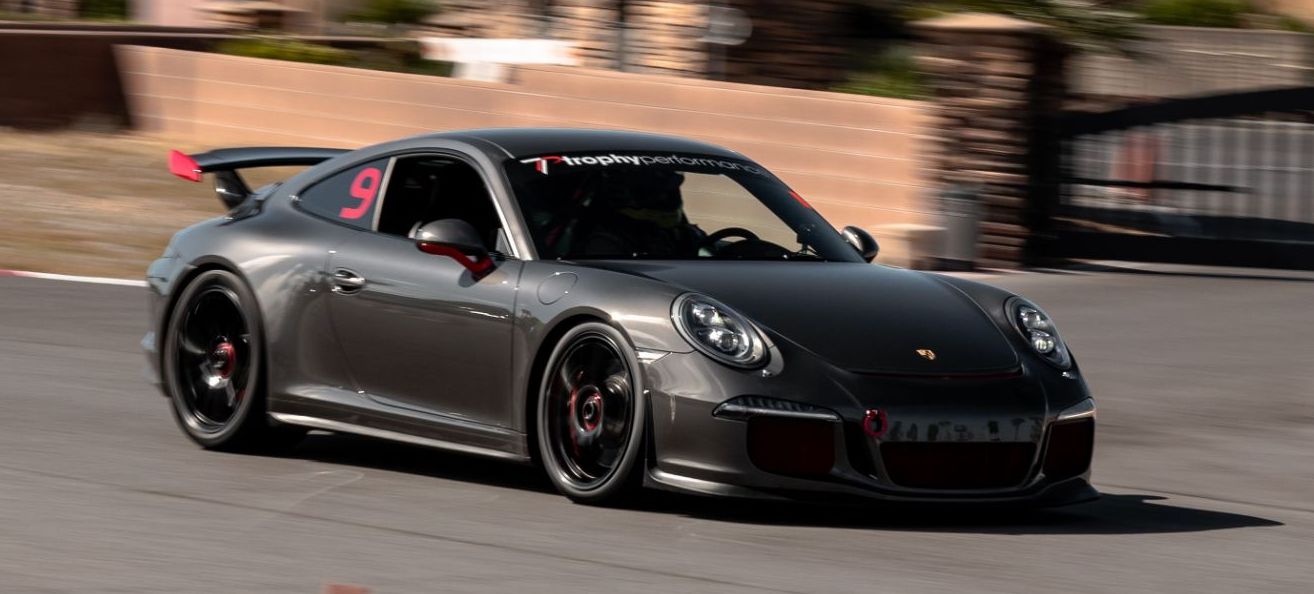 Spring Mountain
Pahrump, NV
Download track map
Watch a video tour/lap