About this event
The Las Vegas Region of the Porsche Club of America presents:
Driver Education and Open Track Driving at
Spring Mountain Motorsports Ranch, Pahrump, NV
March 6 & 7, 2021
The Las Vegas Region of the Porsche Club of America presents two great days of Driver Education and Open Track Driving at Spring Mountain Motorsports Ranch on March 6 and 7, 2021
NOTE: As of 9:30 am Sunday, Feb 21, the Green/Intermediate and Yellow/Student run groups have sold out. If you register for those groups after this time, you will be placed on a waitlist.
Breaking News!
With the lessening of some Covid-19 restrictions by the state of Nevada and Spring Mountain, we have decided to add a Student/Yellow group ground and track school to this event. There will be 8 slots available in the school, and there will be a registration priority of PCA Las Vegas Region members first, then PCA members from other regions, then non-PCA members. All are based on date and time of registration.

If you are interested in attending the Ground/Track School, please read this very carefully:
Yellow group Students will be instructed with in-car instructors in the right seat only. YOUR SAFETY and the safety of others, is of the HIGHEST importance to us. What we are offering is a very personal choice, so you must be absolutely comfortable with this arrangement and willing to abide by our strict safety mandate before you register for this group. Our volunteer instructors for this class have also been asked if they are comfortable with this arrangement before they registered for the event to instruct, but this does not guarantee your health or theirs.
In-car instruction safety measures for both driver and instructors: Masks will be mandatory when you are outside of the car and anytime inside the car without a full face helmet. The only exception to the mask rule will be when your Full Face helmet is on with the visor down. If you have an Open Face helmet, you will be required to wear a mask at all times... even with your helmet on. Social distancing will be enforced even if you are standing at the track map. Hand washing will be encouraged multiple times throughout the day. We do not want this event to perpetuate more transmission of the virus.
For full directions for how to register as a Student, please see the "Registering as a student is easy" section below.
THE OTHER THREE RUN GROUPS FOR THIS EVENT WILL REMAIN FOR QUALIFIED SOLO DRIVERS ONLY
We do not have enough instructors to provide full in-car instruction, or checkout rides for drivers new to Spring Mountain. As a result, the Red, Green, and White groups are still only open to qualified drivers who have been cleared to drive solo on the Spring Mountain track. Drivers who have not run with us before, and/or have not run on Spring Mountain, will be considered on a case-by-case basis for this event, based on review by our DE team. To be considered, you will need to have a large amount of recent trouble-free and verifiable experience of HPDE on-track driving, with well-known event organizers.
Please see and follow "Guest Driver/Student Waiver Policy" below.
All run groups will run with passing only by point-by, and only in designated passing zones

Private instructors/coaches are not allowed at this event.

We are running the 3.4 mile Mansell Course, Option "C"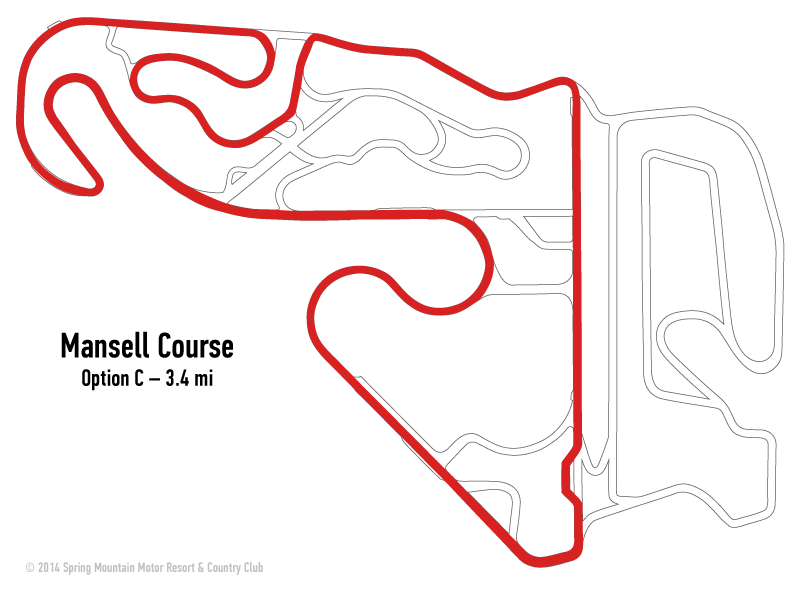 Please read this information carefully, as some of our registration and at-track requirements have changed.
Our events focus on Safety, Education and Fun, and feature 30-minute driving sessions with four sessions each day.
Very Important: Please fill out your MotorsportReg.com profile with past experience and emergency contact information. If your profile does not have an emergency contact listed, it will delay your registration confirmation.
All car makes are welcome!
Registering as a student is easy:
Please read the following carefully: When registering as a student, you will automatically be placed on a wait list, Your status in your MotorsportReg dashboard will be labeled as "on hold." As qualified instructors register for the event, we will change your status to "confirmed" and send you an email saying you have been confirmed for the event's Ground/Track school. Please make sure to monitor your email and MotorsportReg dashboard in the last three weeks before the event, to keep tabs on your status. We will charge your credit card when you register, but you will receive a prompt refund in the event you are not confirmed.
For this event there will be a registration priority of PCA Las Vegas Region members first, then PCA members from other regions, then non-PCA members. All are based on date and time of registration.
Note: Students must register for either Saturday and Sunday, or Saturday only. There is no Sunday only registrations accepted for the Student School. Two Students cannot share a single car for the ground school. A Student cannot share a car with a driver registered in a regular run group.
Instructors: We appreciate all the work that the PCA Trained Instructors have done in the past and will do in the future. For this Driver's Education weekend, Instructors who have volunteered to instruct the Yellow group will get the usual discount. Those not working, will pay the same fee for the weekend as all other participants. If you were contacted, and instructing, please register and pay, we'll apply the discount and refund fees right after the event.
Lunch will be available for purchase both days for $10, a buffet as usually provided by Spring Mountain in the past, with hamburgers, hot dogs etc. It will be served to you by someone from the track's catering. It will be located in the paddock, or up just outside the classroom if there's inclement weather.

Note: The large hospitality tents, carpet, and chairs will not be set up this weekend due to COVID-19 social distancing.
See the Las Vegas Region Porsche Club of America Web Site for more details of the event at https://lvs.pca.org/driver-education/
We run rain or shine.
Registration Fees for this event are:
Saturday Only: $300
Sunday Only: $300
Both Days: $450
REMINDER: Registration closes at midnight on March 1, 2021. There will be no registration or fee payment at the track.
Sell Outs:
These events have become very popular the last few seasons and many have sold out. We also limit the number of cars in each run group for a better driver experience. Your spot in a run group will be determined by your registration date and time.
Guest Driver/Student Waiver Policy:
If you have not previously attended one of our track events, you are considered a Student unless you have completed our Yellow group Ground/Track School, have run two clean events with us, or had formal racetrack oriented driving instruction, such as a two or three day paid performance driving school at Ron Fellows, Skip Barber, Bob Bondurant, Porsche Track Experience, or equivalent academy, or a formal two day HPDE ground/track school with the Porsche Club of America, Audi Club, BMW Club, or equivalent. For experienced intermediate and advanced drivers, this requirement may be waived. In order to obtain the Student Waiver, experienced drivers must have significant, appropriate experience, and be endorsed by other track organizations or PCA regions.
By "significant" we mean more than just a few events,
By "appropriate" we mean that such experienced drivers must be able to function in a Driver's Education (as opposed to racing) environment where drivers are given lots of room, passing is via "point-bys," courteous driving is expected and risky behavior is not tolerated.
By "endorsed" we mean that an official from the other driving organization(s) must be able to provide their opinion of your safe behavior on the track and ability to follow event protocol.
If you feel you are a good candidate for a Student Waiver, please do the following:
A) Update your driving experience resume in your Motorsportsreg profile. Be as detailed as possible to give us a good initial review of your track driving experience. Register for the event, then please send an email to Xxxx Xxxxxx at: xxxx@xxxxxxx.com to alert us of your request. If there's nothing about previous track experience in your profile, it's doubtful your request will be considered.
B) If requested, have an official from the other driving organization (as similar to PCA as possible) provide information about your driving experience and their endorsement of your safe behavior on the track and ability to follow event protocol.
Your request and supporting information will be reviewed by us and we will inform you whether your Student requirement has been waived.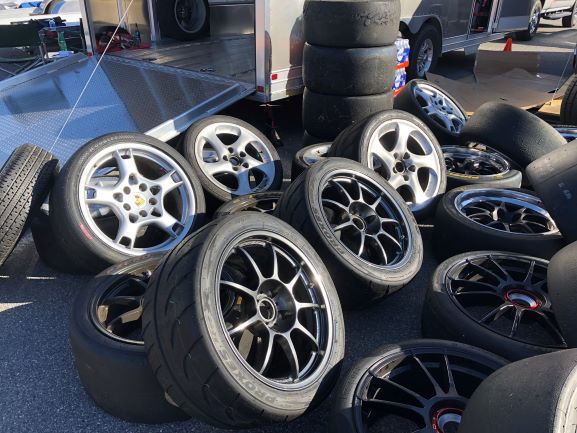 Event requirements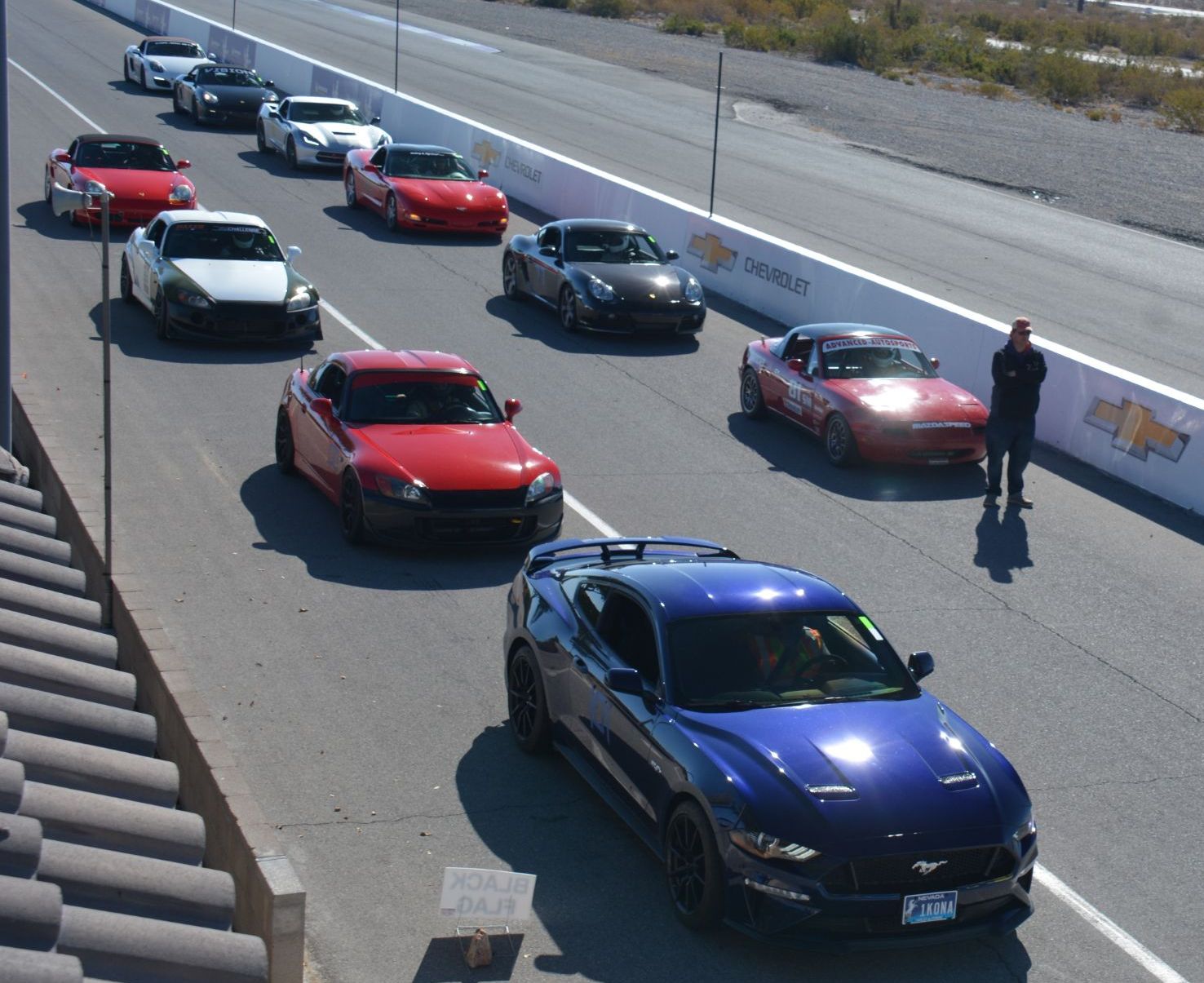 IMPORTANT INFORMATION:
1. Due to COVID-19, we now have to follow additional guidelines set by PCA National and State of Nevada. These include the following guidelines:
Follow the state, municipal guidelines, and the track's rules.
All participants and staff will wear masks at all times (except in the car under your helmet). This is for your safety and the safety of everyone on-site. In the case of incarcerations instruction for the


Yellow group:

Masks will be mandatory when you are outside of the car and anytime inside the car without a full face helmet. The only exception to the mask rule will be when your helmet is on (Full Face) with the visor down. If you have an Open Face helmet, you will be required to wear a mask at all times...even with your helmet on.
Hand sanitizer, disposable gloves, trash baskets, disposal face masks, cleaners and disinfectants will be provided if you do not have any. However, you should bring your own to ensure there is enough for all.
We will limit in-person contact as much as possible between you, other participants, and the volunteer staff. There will not be a hospitality tent at this event.
You are encouraged to stay home if you are at a higher risk for severe illness. Your temperature will be checked at the gate. If it is higher than 100.4 degrees, you and all the occupants in your car will not be admitted to the event and asked to go home. A refund will be given.
The Tech Review will be set up in the paddock - look for the cones that mark out the Tech area. Please be sure to social distance. Be prepared for this to take a little longer to complete.
A Driver's Meeting in written format is avaiable in Item #3 below. Please download, read, and understand fully what is included in the notes. We will still have a mandatory Driver's Meeting in the paddock at 8 a.m. each morning
2. Head and neck restraints are required for all occupants in harness-equipped vehicles. Tech review staff will be checking head and neck restraints expiration dates.
Head and neck restraints are required for all five or six point harnesses. The same type of restraint system is required for both driver and passenger. Harnesses are required to be SFI or FIA approved for competition and mounted in the manufacturer's approved configuration. Any harness approved for PCA Club Racing is acceptable when installed according to the manufacturer's instructions. Evidence of this approval must be provided by the driver, if necessary. We will be checking expiration dates on harness systems at Tech Review. We recognize five-year FIA expiration cycles... if your harnesses are more than five years old, they'll be expired.
If you are running stock/DOT approved 3-point restraint system (stock seat belts) additional head and neck restraints are not required. The Las Vegas Region PCA will not rent/provide head and neck restraint systems. Participants must provide their own systems if required.
3. Gates open at 7:00 a.m. The 8am Mandatory Drivers Meeting will not be held in the classroom this time. The Driver's Meeting will be located at the Tech Review area. There also is a written Driver's Meeting version that should be reviewed prior to arriving at the Track. See attached. DE Written Driver's Meeting Notes.pdf . You must arrive prior to 8:00 a.m. to ensure you pass the Temperature Check, Registration and attend the Driver's Meeting.
4. All entrants must be 18 years of age and possess a valid state, province or country Driver's License. Be sure to bring it with you to registration check-in. We will be checking them.
5. All car occupants must wear a Snell approved SA2010, SA2015, or SA2020 certification. Motorcycle helmets are not allowed, except for the Yellow Student group.
Note: At our May event, SA2010 helmets will no longer be allowed. For those of you with 2010 Snell SA certified helmets, it's time to move to a 2015 or 2020 Snell certification. Snell 2020 helmets are available for sale from most retailers.
Helmet rentals will not be available at the track.
6. We no longer rent transponders.
7. Clothing: Full-length pants, long sleeve shirts. Shoes must be enclosed, non-slip, with a relatively smooth sole. Hiking type deep lugged soles are not acceptable. No short pants allowed. Clothing must be of natural fibers, no synthetics except approved fire resistant material. If the weather is very hot, we MAY declare a "hot day" and allow short sleeves, but don't count on it. Bring long sleeved shirts.
8. All convertibles and "open" cars must have roll bars unless equipped with factory rollover protection, such as Porsche Boxsters and newer Carrera Cabriolets. Convertibles must run with the top closed - this includes T-tops, Targa tops and sunroofs. Faceshields or protective goggles are required in all open cars and cars without a windshield.
9. Arm restraints are required for all open top cars.
10. Occupants in cars that are race prepped or have had the interior removed, must wear a SFI or FIA approved fire resistant driving suit that conforms to PCA Club Racing rules. See PCA Zone 8 Rule Book for suit specifications.
11. The Drivers Meeting is MANDATORY for all drivers. Critical topics will be discussed including Flags, Passing Rules and Track Entry/Exit. For this event the Driver's Meeting will be held socially distanced in the paddock near the Tech Review area.
12. A Tech Review Form will be required to be completed prior to the event and brought with you to the track to present to Tech Review. Technical Review Form 2019.pdf
13. The PCA Release and Waiver of Liability form RELEASE_AND_WAIVER_OF_LIABILITY-PCA2009 (1).pdf and the Communicable Disease Exposure and Infection Assumption of Risk, Hold Harmless, Release, Waiver of Liability and Indemnity Agreement form PCA Communicable Disease Waiver 20200625.pdf must also be completed prior to the event and brought with you to the track to present to the Registration desk.

Without these three forms (PCA Release and Waiver, PCA Communicable Disease Waiver, and Tech form) signed, you will not be able to participate in this weekend event.
We look forward to seeing you there!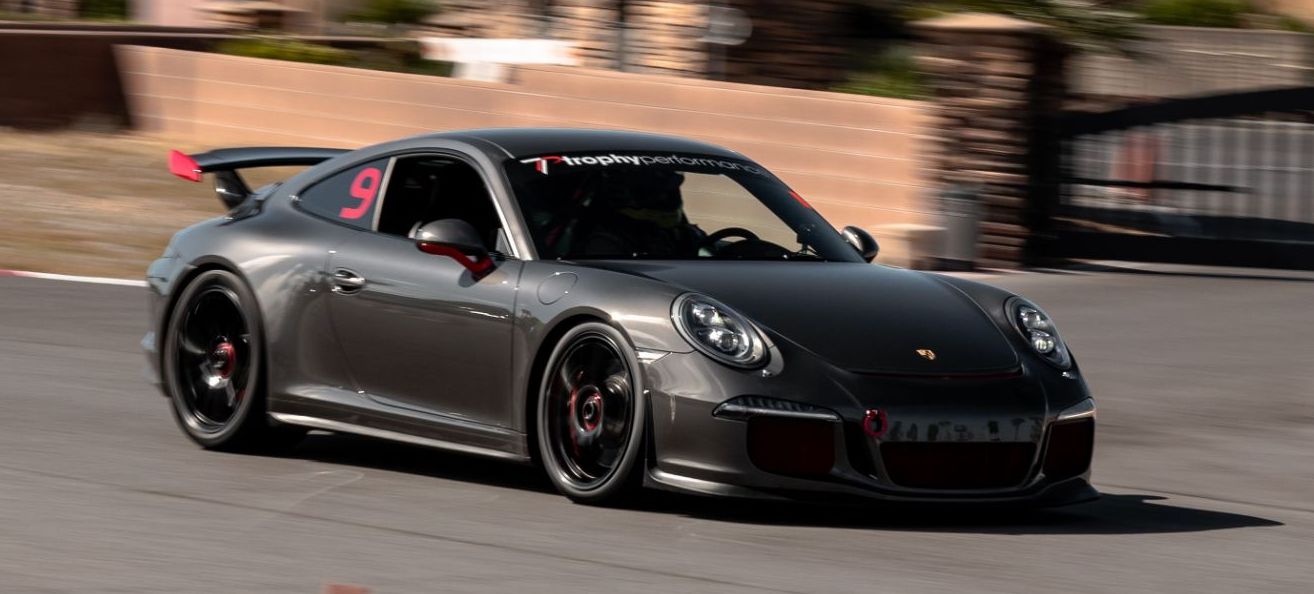 Spring Mountain
Pahrump, NV
Download track map
Watch a video tour/lap