Improve Your Braking & Corner Entry Webinar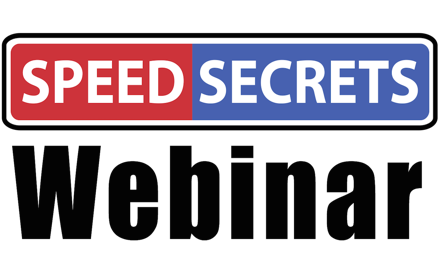 Speed Secrets
Tuesday, January 15, 2019
Registration closed January 13, 2019 11:59 PM on January 13, 2019 11:59 PM PST Registration ends January 13, 2019 11:59 PM on January 13, 2019 11:59 PM PST Registration opens December 17, 2018 12:00 AM on December 17, 2018 12:00 AM PST Registration runs from December 17, 2018 12:00 AM to January 13, 2019 11:59 PM
The real key to driving fast is what you do with the brake pedal, then the throttle – and ultimately the speed you carry into and through corners. Brake later or earlier? Carry more corner entry speed? Trail brake? Rotate the car into a corner? Downshifting while approaching a corner? If you'd like to get better at any of these techniques, join the Improve Your Braking & Corner Entry webinar on January 15th, 2019.
Driving the ideal line, and even accelerating out of a turn, is relatively easy compared to braking late, setting the ideal corner entry speed, and getting the car set up so you can commit to throttle earlier. What happens from the moment you begin braking, all the way to the apex, is what separates the best from the rest. Not only will you learn how to improve this part of your driving, but I'll give you specific practice strategies that will lead to faster lap times. At $69, it's cheap speed! And unlike so many things in our sport, what you learn in this webinar will never wear out!
The Improve Your Braking & Corner Entry webinar is for any driver, of any level and type, who uses the brakes to slow down, the steering wheel to turn the car, and the throttle to accelerate. If that's you, I look forward to sharing what I believe is the "real secret stuff"!
More info at SpeedSecrets.com/Braking-Entry.