About this event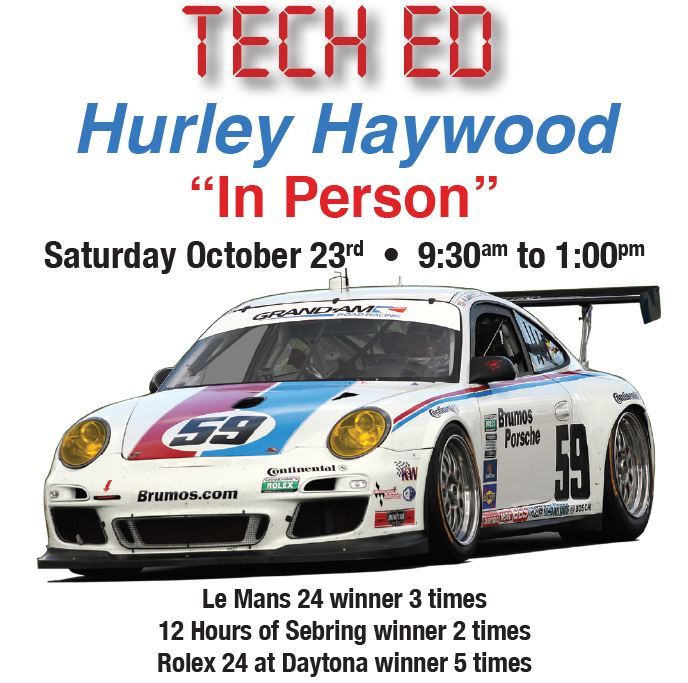 Registration is Open
A "Once in a lifetime" experience!
Meet - Hear - Speak with Hurley Haywood, an endurance racing legend! One of the most successful Endurance Racing Drivers.
Won:
Le Mans 24 Hours– 3 times
12 Hours of Sebring - 2 times
Rolex 24 at Daytona - 5 times
Over the past 60+ years 3 Sports Car endurance races have become legendary: Le Mans 24 Hours - 12 Hours of Sebring - Rolex 24 at Daytona. These races are referred to as the 'Triple Crown', amazingly only 9 drivers have won all 3. Hurley won 10 of these races, more than any other driver. He won all ten races in a Porsche: Carrera RSR - 935 - 936 - 956 & 962.
This TechEd will cover:
Hurley's greatest races

Developing & Preparing cars

Working with legendary drivers & owners

History of Brumos Racing

Behind the scenes

Q&A

Time for you to speak with Hurley
See a famous Porsche race car like Hurley raced
Event Details
Saturday October 23th 2021

8:00 am Doors Open

9:30 am Presentation Begins

1:00 pm Presentation Ends

1:00 to 2:30 pm Pictures with Hurley and Autographing Memorabilia

Coffee - Donuts - Refreshments are included in price
Location:
Chris's German Auto Service
9107 151st Ave. Northeast
Redmond, WA 98052
Charity Event – Automotive Scholarship
$59.00 per person

Everyone is welcome…
You DO NOT need to be a Porsche Club member

Attendance is LIMITED - Please pre-register and pre-pay now
To Pre-Register & Pre-Pay
Scroll…

DOWN page

Click on… RED "Continue" box or BLACK "Register Now" box
Follow…

"Prompts"

in RED boxes

or

BLUE boxes

Pre-Register & Pre-Pay
Registration CLOSES Tuesday October 19th
CANCELATIONS accepted until Tuesday October 19th
Your CREDIT CARD will be CHARGED Wednesday October 20th
Questions:
Email… teched@pnwr.org or 425-836-3963
Read the October Spiel
Click on….. http://www.nwpublishingcenter.com/Spiel_Online_Catalog.html
Event requirements
All attendees are welcome. You do not need to be a member of the Porsche Club ...but you really should consider it. It's about the people.
PNWR / Chris's German Auto Service
Redmond, WA
PCA - Pacific Northwest Region - Tours & Social Events
More events from this organizer