About this event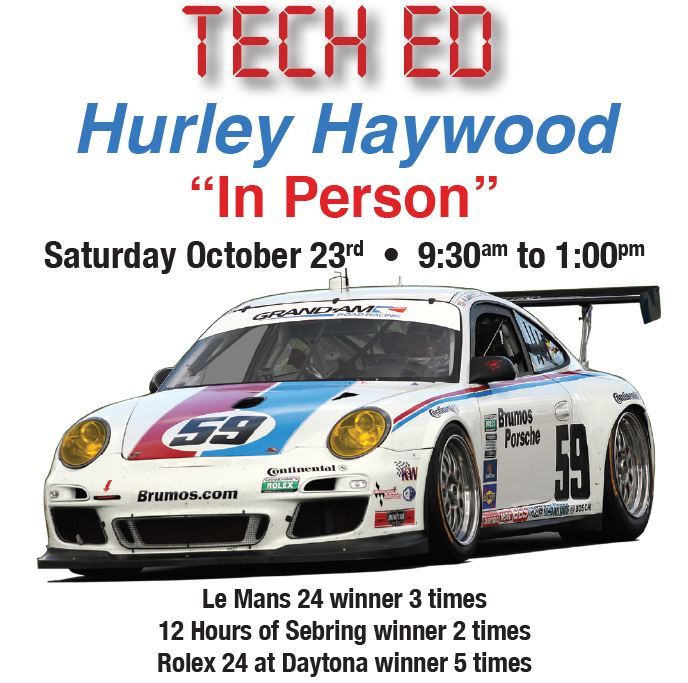 Online Registration is Closed
Pay at the DOOR

NO RSVP required… just come to the event
Pre-Registration is CLOSED
Bring your… 'Proof of Covid-19 Vaccination Card Bring your Mask
A "Once in a lifetime" experience!
Meet - Hear - Speak with Hurley Haywood, an endurance racing legend! One of the most successful Endurance Racing Drivers.
Won:
Le Mans 24 Hours– 3 times
12 Hours of Sebring - 2 times
Rolex 24 at Daytona - 5 times
Over the past 60+ years 3 Sports Car endurance races have become legendary: Le Mans 24 Hours - 12 Hours of Sebring - Rolex 24 at Daytona. These races are referred to as the 'Triple Crown', amazingly only 9 drivers have won all 3. Hurley won 10 of these races, more than any other driver. He won all ten races in a Porsche: Carrera RSR - 935 - 936 - 956 & 962.
This TechEd will cover:
Hurley's greatest races

Developing & Preparing cars

Working with legendary drivers & owners

History of Brumos Racing

Behind the scenes

Q&A

Time for you to speak with Hurley
See a famous Porsche race car like Hurley raced
Event Details
Saturday October 23th 2021

8:00 am Doors Open

9:30 am Presentation Begins

1:00 pm Presentation Ends

1:00 to 2:30 pm Pictures with Hurley and Autographing Memorabilia

Coffee - Donuts - Refreshments are included in price
Location:
Chris's German Auto Service
9107 151st Ave. Northeast
Redmond, WA 98052
Charity Event – Automotive Scholarship
$59.00 per person

Everyone is welcome…
You DO NOT need to be a Porsche Club member

Attendance is LIMITED - Please pre-register and pre-pay now
Proof of Covid-19 Vaccination Required; Read event requirements below
To Pre-Register & Pre-Pay
Pay at the DOOR

NO RSVP required… just come to the event
Pre-Registration is CLOSED
Bring your… 'Proof of Covid-19 Vaccination Card Bring your Mask
Questions:
Email… teched@pnwr.org or 425-836-3963
Read the September Spiel
Click on….. https://digital.nexsitepublishing.com/i/1413755-september-2021/37
Event requirements
All attendees are welcome. You do not need to be a member of the Porsche Club ...but you really should consider it. It's about the people.
COVID-19 Update
PNWR Hurley Haywood Tech Ed – October 23
Due to the high level of COVID-19 infections in our area, and out of concern for member and participant safety, the PNWR Board voted to require proof of COVID-19 vaccination to attend the Tech Ed event with Hurley Haywood on October 23, 2021.
In addition, to complying with the Washington State mandate, masks must be worn by all attendees when inside the building.
What this means:
All attendees must provide proof of being fully vaccinated against COVID-19 to gain entry to the event in the form of a CDC COVID-19 Vaccination Record Card.
To be considered fully vaccinated, the second dose of either Pfizer or Moderna vaccine, or single Johnson & Johnson vaccine dose must have been received by October 9, 2021.
All attendees need to bring their actual CDC COVID-19 Vaccination Record Card

or

a picture of it on their smartphone and show it at the event check-in.
If you are purchasing

multiple tickets, everyone

associated with those tickets need to

check-in with you at the same time

and show their Proof of Vaccination at check-in.
PNWR will NOT accept negative test results in lieu of COVID-19 vaccination.
NO exceptions will be made.
As always, PNWR puts member and community safety above all else. The best way to provide the safest environment possible in these circumstances is to ensure all attendees are vaccinated. We look forward to seeing you on October 23 with your CDC Covid-19 Proof of Vaccination card.
The PNWR Board of Directors
PNWR / Chris's German Auto Service
Redmond, WA
PCA - Pacific Northwest Region - Tours & Social Events
More events from this organizer